Designed to Sell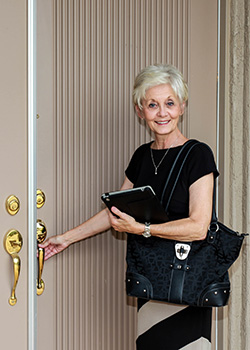 ROB ESTEP
Church is about the only time Linda (Rozeboom '67) Van Peursem is without her phone. Being available 24/7 is key to success as a real estate agent, she believes—along with integrity, listening to the client and being a great resource.
Those are the qualities she came to appreciate in the agents who helped her as she and her husband, Stan, moved several times for his work. The best ones made it easy for her to find the right house and feel at home in the new location. They were her inspiration when, after 17 years as a music educator, she decided to start a new career as a Realtor.
From teacher to Realtor may seem like a big change, but Van Peursem said her main purpose is to educate her clients. "You have to be their source of information, not only about a home's value, but the community, the area, schools—all of that. You're the one answering their concerns and needs."
And, similar to when you see a student learn, there's a thrill in finding someone the right home. "I find the accomplishment is a huge reward—finding a home that, when you open the door and walk in, they say, 'This could be it.'"
by Sherrie (Barber) Willson '98
---
Cross Country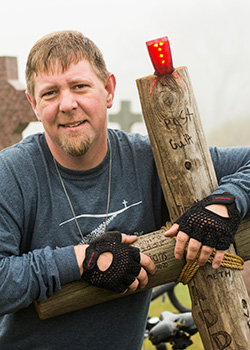 DOUG BURG
For 17 years, Andy Van Ommeren '95 took part in RAGBRAI, the annual summer bike ride across Iowa. A beer bong within easy reach, he wallowed in the weeklong party.
Last May Van Ommeren took a different ride. He pedaled 1,030 miles in 18 days from the grounds of the LifeLight Christian music festival in South Dakota to its festival in Texas, pulling a 5-foot-high, 30-pound cross behind him.
Van Ommeren shifted gears in 2010 when he drove his pickup into the neighbor's house after blacking out from drinking. Following a night in jail, he was challenged by the Rev. Michael Hardeman '00 to write a better end to his life's story.
After 17 years of alcohol addiction, Van Ommeren entered treatment. "I asked, 'What am I doing to my wife and daughters?' I knew I needed help," he says. Six months later he accepted Christ and began working to mend the rifts in his life.
On his ride to Texas, Van Ommeren raised $3,000 for LifeLight, bikes for pastors in India, and the bike trail system in Alton and Orange City. More importantly, he shared about his deliverance from addiction at every opportunity.
"People have to know that Christ can change you," he says.
Van Ommeren became the director of children's ministries at Alton Reformed Church in November. In his new role, he'll share many stories about God's grace—including his own.
by Duane Beeson
---
Made to Write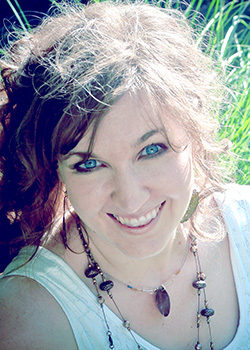 Gina LeFleur
Once upon a time, there was a little girl who loved books more than anything in the whole world. When she heard the enchanting news that it was someone's job to write them, she knew just what she would do when she grew up. And she did.
Although Melissa Tagg '04, one of Bethany House Publishers' newest authors, is living her dream, she couldn't always see her fairytale ending. She has spent a lot of time working hard—and waiting.
"The toughest part was doing a lot of work and not knowing if anything would come from it. But I said, 'I'm just going to keep doing it as long as God opens doors.'"
Now her faith, patience and daily 5 a.m. writing regimen are paying off. Her first Christian romantic comedy, Made to Last, was released on Sept. 15, with her second set to hit the shelves next May.
Although she still works full time as development and community relations coordinator at Hope Ministries in Des Moines, she is living an author's life, complete with an agent and a pitch to make for her next book series. Tagg is as excited as that little girl who couldn't stop reading.
"God doesn't give us a creative spark or a dream for no reason. We don't know the twists and turns we'll take, but he'll finish what he started," she says.
by Beth (Nikkel '02) Gaulke
---
In Pursuit of Peace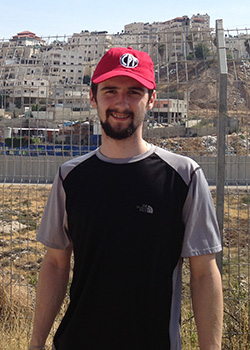 "We think of peace as passive," says Robert Bogdanffy '12, a political science graduate who spent last May and June in the war-torn West Bank. "But peace has to be an active pursuit."
Bogdanffy's passion for peace led him to join a Christian Peacemaker Teams delegation to Palestine and Israel with a goal of learning more about the conflict between the two nations and engaging with peacemakers from both countries.
Bogdanffy describes walking through the streets of Jerusalem where Israelis are allowed to carry weapons and non-Jews—mostly Muslims—are not. He also learned that Israelis have priority access to the water in the region, and that many Palestinian families are allowed to fill their water tanks only once or twice a week.
"This is their daily reality," explains Bogdanffy, who felt heartbreak for both those who are oppressed and their oppressors. "We met people from both sides of the conflict and saw, ultimately, that both Palestinians and Israelis have so much to lose. There are no winners in the current situation."
Bogdanffy has since returned to his home country of Romania, where he is putting his Iowa education to work at McGuire Woods Consulting, a U.S. company in Bucharest whose clients include farmers and agri-business entrepreneurs who want to develop the agricultural industry in Romania.
By Tamara Fynaardt