Jeff VanDerWerff
Politically Committed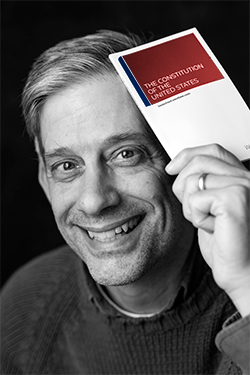 DOUG BURG
What sparked your interest in political science?
When I first arrived at Northwestern, I thought I might be an accountant, and then I briefly considered computer science. During my sophomore year I took a general education class from political science professor Bob Zwier and something just clicked. I really love the subject and am continually drawn to the fascinating intersection of faith and politics.
Is there a particular election memory that stands out to you?
All of the drama in the wake of the 2000 election of President George W. Bush was quite memorable. It was fascinating to watch and observe as countless citizens relearned they do not technically elect the president, but that something called the Electoral College does. To see this play out in real time was truly amazing.
What political issues are you most concerned about?
I'm most interested in comprehensive immigration reform, the ongoing implementation of the Affordable Care Act (Obamacare), and the implications of the Supreme Court's Citizens United ruling on campaign finance and the role of money in our electoral process.
What do you find most rewarding about teaching political science?
Political science is very relevant for all students. It doesn't matter if they plan to be a nurse or a teacher or an actuary, nearly all are citizens of the United States. Moreover, as followers of Jesus, they are also citizens of the kingdom of God. What really gets me excited is exploring what this means—how those two realities might create tension in our lives and, as importantly, how we faithfully deal with it.
How do you spend your free time?
Over the years I've been a fairly regular fixture at the noon-hour basketball association—NBA—which involves pick-up games between faculty, staff and students in the RSC. Basketball is a little harder on my body these days, so I don't play as often as I used to, but I really appreciate the camaraderie and still make it out on the court quite often.
Is there anything about yourself that most people don't know?
I went bungee jumping on my honeymoon; my new bride feared she was going to be a widow much sooner than she expected.