National Coach of the Year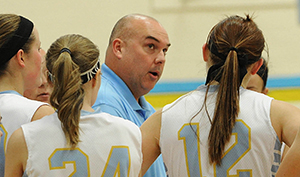 JOCELYN SHEETS, NEWTON DAILY NEWS
Jerry Hulsing '90 has led a successful basketball program known for its intense man-to-man defense for a quarter century, but you would be hard-pressed to hear him taking any credit. Hulsing, head girls' basketball coach at Iowa's Lynnville-Sully High School, boasts only about the impressive young ladies he has coached, his family's sacrifices, and the excellence of the school district and community surrounding him.
In addition to three back-to-back Class 1A state titles in the late 1990s, Hulsing's résumé includes six additional state tournament berths and eight conference titles. Still, he would rather focus on the relationships he has built with his players and the joy of watching them grow on and off the court.
Jessica Maston, a member of Hulsing's state championship teams, says such humility is typical of her former coach. "The work ethic, knowledge and execution of game fundamentals he instilled in each of us helped us find success on the court, but he made sure we knew our families, faith, character and sportsmanship on and off the court were far more important," she says.
Last summer Hulsing's list of accolades expanded to include National Girls' Basketball Coach of the Year, an honor awarded by the National High School Athletic Coaches Association. Though his name is on the award, Hulsing passes the praise on to his players. "I really think this award is for them. It's not my program; it's theirs."
BETH (NIKKEL '02) GAULKE
---
A Place of Hope and Healing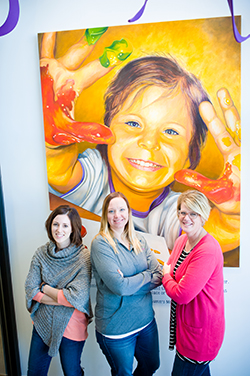 MAGGIE GREVING
When Kim (Vrieze '96) Scorza became CEO of northwest Iowa's multi-location Seasons Center for Behavioral Health in 2010, she brought a dream to offer resources she had found scarce in her previous work with struggling adoptive children and families.
Two years later, Scorza formed a team to develop a state-of-the-art children's center. This October, Autumn's Center opened in Spencer, Iowa, offering specialized services to children who have experienced abuse, grief or other challenges.
Two more NWC alums—Natalie (Bosma '02) Sandbulte, Seasons Center's director of clinical services, and Nikki (Vos '05) Van Ginkel, clinical supervisor—were part of Scorza's team, developing programming and treatment methods for the 10,000-square-foot facility. Both see clients weekly at the center and are excited to be equipped with new, effective tools, such as a sensory room, healing gardens and a therapy dog.
The center also features artwork honoring the center's namesake, Autumn Elgersma, an Orange City three-year-old who died in 2013 from injuries suffered at the hands of her daycare provider. In the entrance, a prominent painting by John Vander Stelt '83 showcases Autumn's bright smile, and colorful metalwork designed by Ronni (Post '12) Postma is hung throughout the building.
With clients coming from across the state, Autumn's Center has already hit capacity and is set for an addition next spring. "Our work is just beginning," Scorza says.
BY BETH (NIKKEL '02) GAULKE
---
A Year at the Movies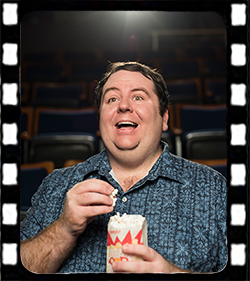 DOUG BURG
What began as an unorthodox New Year's resolution—"I could watch a movie every day"—became a way of life for Matt Austin '05. By the time 2016 faded to black, Northwestern's help desk manager had reached his goal of viewing 365 movies.
"We didn't have cable or see movies much growing up, so this was my chance to catch up," Austin explains.
His watch list included 1920 German silent horror film The Cabinet of Dr. Caligari, Hacksaw Ridge from 2016, and shows from every genre. He watched blockbusters as well as obscure documentaries.
His favorite: Dances With Wolves. "It was almost a religious experience. I was ready for four more hours. I felt better for having seen it."
Most surprising? E.T. and the Bollywood movie 3 Idiots. "I didn't have high expectations for E.T., but it made me feel like a kid again. I had a dopey smile on my face the whole time. I thought 3 Idiots would be stupid, but it was quite affecting."
Austin admits he's not a trained movie critic, but he knows what he's looking for. "If it can engender a deep and visceral emotional reaction in me—fear, anger, anxiety, sadness, joy—it automatically gets a five" (his top rating).
Will there be a sequel in 2017? No, but Austin did recently gift himself an Xbox One S, so there may be a lot of gaming in his future.
BY DUANE BEESON
---
Dignity. Period.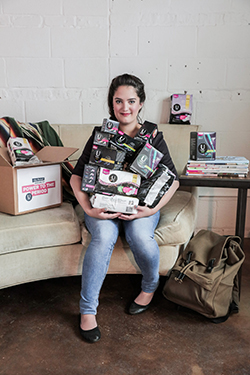 SUBMITTED PHOTO
YouTube star Ingrid Nilsen, fresh from interviewing President Obama in the East Room of the White House, announced in a commercial for U by Kotex, "I'm going to join Holly."
That's Holly (Stewart '13) Sanchez Perry, whose tweet on feminine hygiene needs in homeless shelters inspired the brand to create the first-ever national drive for period products.
Media coverage, including Amy Poehler's Smart Girls website, mentions Sanchez Perry's work with the homeless in Chicago, but the law student traces her inspiration back to a Northwestern internship—and later job—at The Bridge, a transitional shelter for women and children in Orange City.
"The Bridge was my first introduction to the needs of women and how they are not being met," she says. "This is an issue that should not be an issue. People deserve the dignity of having a comfortable menstrual cycle."
One "Power to the Period" participant told Sanchez Perry that while she was homeless, she stole toilet paper rolls from public restrooms whenever she had her period. Approaching her church for donations was an opportunity to share her history for the first time and receive support.
With more than 50,000 participants and nearly 600,000 products distributed, the three-month campaign saw success not only in numbers, but in deep personal connections formed through simply meeting a practical need.
BY AMY PHILLIPS