No Limits
Alumni help impoverished Romanian youth reach higher
BY DUANE BEESON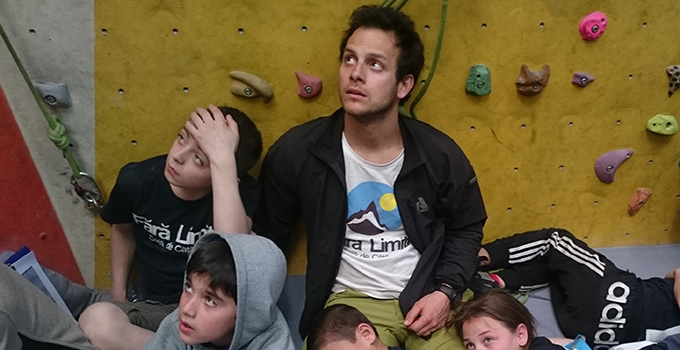 ANDREAS FIESS
CCCU Young Alumni Award Winner
Felipe Silva has been named the 2017 Young Alumni Award recipient by the Council for Christian Colleges & Universities (CCCU). He and his wife, Janelle, will be honored during the CCCU Presidents' Conference in Washington, D.C., Jan. 25–27.
The award is given to individuals who have graduated within the last 10 years and have achieved uncommon leadership or success in a way that reflects the values of Christian higher education. Thousands of people cast their votes for the nominees in October on the organization's Facebook page.
"What made me really excited about this award was how many people voted for me," says Silva. "It was a full month of people encouraging me and speaking about our ministry. Working in a place where you are so far away from those you love and who really believe in you isn't easy, so it's a great blessing when you get a lot of people encouraging you. This award got me more excited and motivated about what we are doing here."
The Silvas will also be recognized at their alma mater the week before the Washington conference.
The CCCU is an association of comprehensive colleges and universities with Christ-centered missions and curricula rooted in the arts and sciences. It includes 115 member campuses in North America and 63 affiliated campuses in 20 countries. Northwestern has been a member since 1979.
In the shadow of several drab, Communist-era high-rise apartments—just kilometers from Romania's Transylvanian Alps—a low-slung, yellow building is teeming with youth. They have come to Fara Limite Sala de Catarare (No Limit Climbing Gym) in the city of Vulcan to climb the brown and blue walls. And because it feels like home.
Felipe Silva '12 and his wife, Janelle (de Waard '11), started the gym two years ago. When they first arrived in Romania's economically depressed Jiu Valley in 2013 to work with Northwestern College partner New Horizons Foundation, they were struck by the number of children hanging around outside without a safe place to go. Many skipped school whenever they felt like it—or had already dropped out. A number of them—most of whose parents don't have steady jobs—resorted to stealing or begging for food.
Felipe, a native of Brazil, loves climbing. His first rock-climbing experience was at the Blue Mounds State Park near Luverne, Minn., while celebrating his second anniversary with Janelle. "It's a great challenge to push yourself, it's a beautiful sport, and you do it in a beautiful place," he says.
When the Silvas planned their first outdoor rock-climbing trip for Jiu Valley youth, 20 joined them. "It was neat to see them enjoying the day and connecting with each other and us," says Felipe, who started to dream of a place where kids could climb year-round and learn so much more than the proper techniques for ascending and descending.
Rock climbing helps develop trust, a characteristic sadly lacking in this country that's still reeling from decades of communistic influence. "They were taught not to trust people; others could be spies," says Felipe. "The basis of rock climbing is trust. You really have to trust the person you're climbing with, yourself, the equipment, and the environment. We're teaching them you can trust people in certain situations."
The Silvas' students also learn discipline, courage, persistence, confidence and skills in problem-solving and teamwork—all of which are needed in 21st-century Romania.
---
Fara Limite sits in an area of the Jiu coal-mining valley known as "Dallas." "It's the poorest region in an already poor area, the Appalachia of Romania," explains Dr. Dana Bates, executive director of New Horizons Foundation and director of Northwestern's Romania Semester.
Ninety percent of the children the Silvas work with are Roma (Gypsy), a very secluded, marginalized people group with a reputation as thieves and cheaters. About 50 youth regularly climb at the gym—most of whom have their $20 monthly membership fee paid by donors. In exchange for the membership, the students commit to stay in school with passing grades, come to a weekly reading hour every Saturday, and climb at the gym at least twice a week. More than 200 youth have used the gym. Vulcan city officials have praised the staff for helping to stem the tide of school dropouts.
The Silvas take their climbers to competitions across Romania, which provides more opportunities to strengthen relationships.
"Most of the kids haven't been out of the Jiu Valley," says Felipe. "We bring them out, and they cling to us as people they trust in this new environment. They get vulnerable, and we see changes happen in their lives."
Janelle describes the group's first trip to a competition, when nearly all of the children got carsick because they weren't used to long rides. "We went to Bucharest, and they couldn't believe we were still in Romania. They saw traffic lights for the first time and started playing on a display of playground equipment at a store because they thought it was a park.
"It's neat to see the world through the eyes of people who are experiencing things for the first time," she says. "And we bond with them in so many ways on these trips because we spend so much time with them."
Competitions also help to meet another of the Silvas' goals: to promote reconciliation between the Roma and others. "Many people in the climbing community come from better circumstances," says Felipe. "We encourage the other climbers and our kids to get to know each other and realize they are a lot alike."
One of his highlights came at an outdoor competition. "The professionals who were winning the competition started giving their prizes to our kids and told us, 'Keep doing what you're doing.' That was an extremely important moment for the gym, to realize the climbing community was showing support. I had tears in my eyes."
---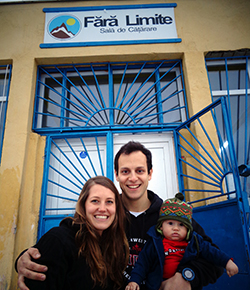 ADRIAN MARIAN
What Felipe and Janelle are doing is mirroring what they saw from so many influential people at Northwestern—like Dr. Michael Andres, Dave Nonnemacher and Dr. Kevin McMahan—pouring themselves into their students' lives. "The great example I saw in many of the faculty and staff I encountered at Northwestern made the biggest impact," says Felipe, a religion major and sociology minor who played on the soccer team and served as an assistant resident director.
"Northwestern gave me the tools to do what I'm doing today," he continues. "The college helped me center everything in my life around my Christian faith and gave me my vision for Christian community development."
Dr. John Hubers '76, a religion professor and director of global education at Northwestern, has witnessed the Silvas' ministry firsthand. "I can say without any qualification that Felipe and Janelle are two of the most powerful witnesses to the love of Christ I have seen in my years of teaching and supervising global missions," he says. "The children come to Fara Limite not only because of the gym but because of the selfless, compassionate care Felipe and Janelle give to them. The Silvas literally radiate the love of Christ to their neighbors."
Bates says the Silvas have tremendous energy, passion and love for the kids. "They have found that sweet spot where they are taking what they love—rock climbing—and doing it for the neediest of the needy and in a way that promotes their holistic development. Felipe and Janelle attract people—kids and adults—not just because of their mission, but because they have such warm personalities."
Today, the youth of "Dallas" have a new identity. They proudly describe themselves by saying, "We are the Fara Limite."
---
Laurentiu is one of the "No Limit" kids. He dropped out of school when he was in the fourth grade. Now 17, he is in charge of his 15- and 12-year-old siblings, as their father left for a job in England and they don't know their mom. They live in an apartment with no water or heat and sometimes stop by the gym looking for food.
"He started coming to the gym but couldn't pay the monthly fee," says Felipe. "We negotiated a fee of five leu (about $1.25). He didn't have the money, so he paid for it by collecting scrap metal from around town."
As he became a skilled climber, he also found an anchor in his relationship with the Silvas. They've seen him become more responsible and trusting, someone the younger climbers look up to. And his violent outbursts have lessened.
Thanks to the donation of an Orange City woman who heard about Felipe's award, Fara Limite has recently hired Laurentiu. He helps children improve as climbers, maintains the gym and is learning leadership skills.
Felipe's goal is that this young man who once scavenged scrap metal to pay for his climbing membership will be sharpened like iron (Proverbs 27:17) and able to pass on valuable life lessons to others in the future. There really are no limits.

For more information about Fara Limite and sponsorship opportunities, visit www.fara-limite.ro.