Legal Leader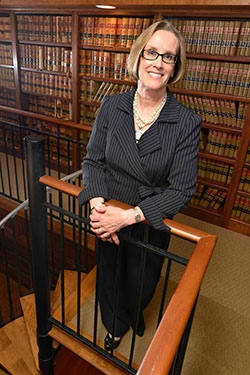 TIM HYNDS, SIOUX CITY JOURNAL
In her 35-year legal career, Cindy (Terhark '74) Moser has been accustomed to being on the forefront of change—from seeing women become more equally represented in the field to pioneering new specialty areas of law.
This year, as president of the Iowa State Bar Association (ISBA), Moser remains focused on the current issues facing the profession. She says her priorities include working to educate voters about Iowa's judicial system and finding new ways to help young lawyers transition from school to career.
"We're seeing a demographic shift from rural communities to larger cities. With that, some rural attorneys are finding it difficult to find replacements when they want to retire," she says.
In response, the ISBA created the Rural Practice Project, which places first- and second-year law students with small-community lawyers for a summer. "We've had a really positive response from all the participants and hope to grow the program," Moser says.
As a history major, Moser first considered law school at the encouragement of one of her NWC professors. She is now a partner at the Heidman Law Firm in Sioux City.
"I've had a very rewarding career," says Moser, who specializes in healthcare law. "Law combines the intellectual stimulation of an ever-evolving field and the opportunity to help people solve problems."
by Emily (Hennager '06) De Vries
---
Her Kind of Town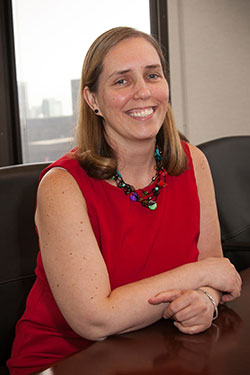 MICHAEL HUDSON
"It's just a semester," Joline Schultz '93 told herself when she left Northwestern to participate in the Chicago Semester her senior year. The Pomeroy, Iowa, native had never really considered leaving northwest Iowa, but a friend convinced her to step outside her comfort zone after four years of staying close to home to help her widowed father and siblings.
Schultz found those three months in the Windy City to be life-changing. Her internship at NDB Bank led to a permanent position, and she's stayed with the same bank (now part of JPMorgan Chase), becoming a vice president.
The transition to a big city had its challenges. "My first week, they said to get on the train and go find lunch. I thought, don't I get a map or something?" she says.
But almost immediately, she found a community—a fellow Pomeroy native living nearby, a coworker hired after an internship via Calvin College, a church where she spends time volunteering. "You soon learn it's not really that big of a city," she says. "At lunch one day, my high school principal drove by and waved at me!"
What would she tell students considering an off-campus program? "Go ahead and step outside of the box. It's only a semester." Or, potentially, a lifetime.
by Sherrie Barber Willson '98
---
Award-Winning Moves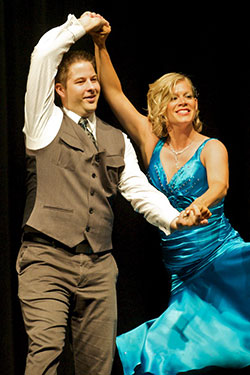 DOUG RUTH FINE ART PHOTOGRAPHY
When Tim '03 and Andrea (Ackerman '05) Van Gelder began ballroom dancing lessons back in March, they needed a space heater to warm their makeshift practice area in the garage.
Just a few months later, the Van Gelders' foxtrot would heat up the floor at Dancing with the Steele County Stars in Owatonna, Minn., where they won the audience choice award and were declared the overall winners.
Tim, a family medicine physician, and Andrea, a worship leader, spent Sunday afternoons at a professional dance studio and evenings at home preparing for the July 9 contest, a fundraiser for a nonprofit that serves senior citizens.
As mom to their two young sons, Andrea admits to enjoying the glamour, spray tan and fake eyelashes. Tim, however, could have done without the two nights spent gluing 150 crystals onto her gown ("I hope I never have to do that again").
The Van Gelders are invited back to kick off next year's contest, a chance to revisit the ups and downs of their challenging routine.
"I had to pick her up and spin her around. I had to throw her in the air three times," says Tim, who accidentally left a five-finger bruise on his wife's arm.
"I was just worried about dropping her."
by Amy Scheer
---
Ready for Some Football?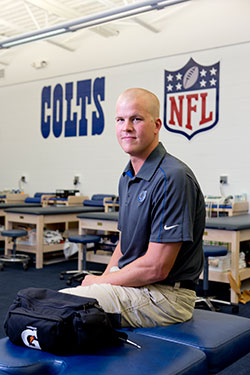 SHAWN SPENCE
Nick Tjeerdsma '10 may have worked harder in training camp than the NFL players he served. For the first-year athletic training intern with the Indianapolis Colts, training camp meant 16-hour days.
They started at 6:30 a.m. Treat players, go to walk-throughs, treat players, go to practice, treat players, do paperwork, prepare for the next day, sleep, repeat.
But it wasn't until the first home game at Lucas Oil Stadium—a 23-20 victory over the Minnesota Vikings—that Tjeerdsma felt he had reached the goal he set his freshman year at Northwestern.
"When we set up the field before the game, I got a chance to look around at the stadium," he says. "It's really grandiose, a little different from Orange City. You know you're in the big leagues.
"I miss a lot of plays during the game," he says. "But there are times I'm standing 20 to 25 yards away. It's the best seat in the house."
Tjeerdsma was "drafted" by the Colts after earning a master's degree in athletic training from Purdue University. His personal game plan calls for him to be a full-fledged trainer for the team by 2014— just in time for training camp.
by Michele Linck