Valuable Profits
Alumni social entrepreneurs are in the business of helping the poor and generating social good
By Tamara Fynaardt
"Give a man a fish," says the ancient Chinese proverb, "feed him for a day. Teach a man to fish, feed him for a lifetime."
The giver sees someone who needs charity; the teacher sees someone who needs skills.
But what if the river is dry? Or polluted? Or overfished? The visionary looks upstream and down at fishermen with slack lines and bare hooks and begins imagining ways to change the scene.
The visionary is a social entrepreneur.
"Social entrepreneurs are not content just to give a fish or teach how to fish," says Bill Drayton, founder of Ashoka: Innovators for the Public, a 30-year-old U.S. organization that invests in social enterprise around the world. "They will not rest until they've revolutionized the fishing industry."
An entrepreneur is someone who starts something—sometimes with a good bit of uncertainty, even risk. Unlike traditional business entrepreneurs, whose bottom-line concerns are financial, social entrepreneurs are focused mostly on generating social value—but not at the expense of producing revenue.
Social enterprises are different than charities, and the most successful ones don't rely primarily on donations to subsidize their efforts. They make money. They improve systems. They change lives.
The label "social entrepreneurship" came into vogue within the last few decades to describe efforts, both historic and modern, to open doors for people who might be poor or in other ways disadvantaged or marginalized.
In 2005 a PBS series about social entrepreneurship, The New Heroes, celebrated visionaries like Kailash Satyarthi, who started Rugmark to certify Indian rugs made in child-labor-free factories and enable customers to make socially conscious buying decisions.
Another episode featured Muhammad Yunus, the founder of Bangladesh's Grameen Bank, a model for microfinancing efforts in developing countries around the world.
Mimi Silbert started the Delancey Street Foundation, which provides housing and education for ex-convicts and addicts who in turn work at the foundation's many for-profit businesses, which include a restaurant and moving company.
Wearers of TOMS Shoes are customers of social entrepreneurship. For every pair sold, the company gives a needy child a new pair of shoes as part of its "One for One Movement."
Enrollees in MOOCs (massively open online classes) are students of social enterprise. They're experiencing a revolutionary educational delivery system that enables anyone with a personal computer to take free courses taught by professors at Harvard, MIT, Stanford and other exclusive universities.
Possible pursuits for social entrepreneurs are as varied as the dreamers whose ideas launch them. What follows are the stories of two Northwestern alumni with heads for business and hearts for the poor—two very different people who believe the same thing: that a little ingenuity, creativity and elbow grease can combine to change lives.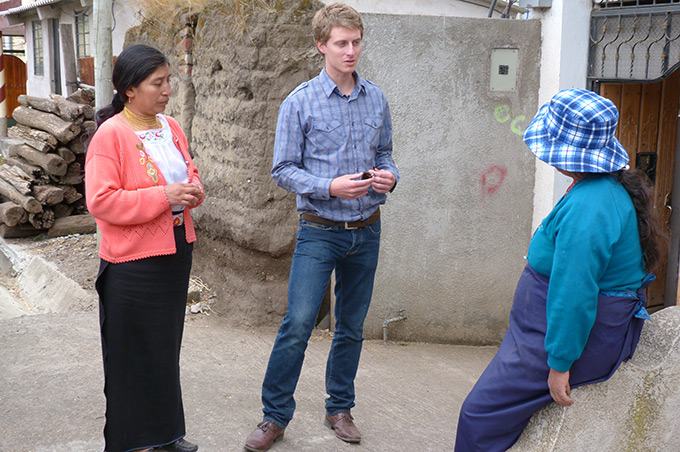 Seeds of Success
On a crisp October afternoon, Curtis Bomgaars '10 is in his Orange City kitchen preparing chicken and quinoa pilaf. His wife of two months, Claudia, a Northwestern sophomore, is hunched over the table, studying for a psychology test.
Claudia grew up in Colombia and is used to eating lots of rice. Quinoa is a great substitute for rice. For dessert? Maybe peanut butter chocolate chip cookies made with quinoa. It's also a great substitute for flour.
Pronounced KEEN-wah, the bird-seed-looking food is a member of the spinach family but tastes and cooks more like rice. Called the "golden grain of the Incas," quinoa is grown primarily in the volcanic soil of South America's Andes Mountains by farmers in Ecuador, Peru and Bolivia who've been cultivating the crop for more than 3,000 years.
Historically regarded as food for the poorest of the Andean poor (when it wasn't being used as chicken feed, says a May 12 article in The Economist) quinoa was recently revealed to be extremely nutritious. High in protein, calcium and iron—as well as gluten-free—it's fast becoming a popular "superfood" in the U.S. and around the world, leading the United Nations to declare 2013 The International Year of Quinoa.
"That should be good for business," says Bomgaars.
Bomgaars' interest in the quinoa business began on a return trip to Ecuador after graduation. The business administration and finance major first traveled to the country on a summer study abroad course with Spanish professor Rick Clark between his sophomore and junior years.
He remembers his first impression: "I thought it was so beautiful," he says, "and so diverse—mountains, coasts and jungles."
The following summer, he returned to work as an intern at a faith-based food bank in the capital city of Quito. While there he met Claudia, a fellow volunteer.
The ministry, helping provide two meals a week to low-income families and people who were homeless, was satisfying. "I identified with the heart of the mission," says Bomgaars, "to meet people's immediate, physical needs first, and then build relationships that enable evangelism.
"But the people we served stayed poor," he adds, which prompted him to ask, "What's a better way to help them?"
Back at Northwestern, Bomgaars continued asking questions about the causes of poverty and sustainable paths to prosperity. His baseball coach, Dave Nonnemacher, told him about HOPE International, a Christian microfinance organization that provides modest loans and training to small-business startups in developing countries.
Bomgaars identified with HOPE's "hand up rather than a handout" philosophy. With a business mind and Christ-like heart, he could also appreciate HOPE's two-pronged approach of fighting both material and spiritual poverty.
After graduation, Bomgaars went back to Ecuador for an additional semester of Spanish and international business courses. While there, he renewed his relationship with Claudia and thought about his future.
Adventuresome and entrepreneurial, he was looking for a business idea. Caring, too, he wanted to do something to help his Ecuadorian friends. Inspiration struck at the local supermarket. Right in front of him, lining the shelves, was a staple of the Ecuadorian diet: quinoa.
As Bomgaars researched quinoa's nutritional benefits and market potential, he met some of the farmers around Riobamba who grow it—farmers like Rosa, Juliana and Maria Amalia. In fact, most quinoa farmers are women, and often they have functioned as single mothers because their husbands have moved to urban areas where there are more jobs.
Wrapped in brightly-colored serapes and wearing hats to shield them from the equatorial sun, the women farm one-to-two-acre fields. Quinoa farming is labor-intensive; as harvest nears, the fields need to be inspected daily because individual plants ripen at their own pace. When it's ready, the quinoa is picked by hand and then threshed and washed before it's stored in sacks.
In order to access the growing international market for quinoa—sales to international markets earn 40 to 60 percent more than local sales—the women had banded together to form a nonprofit foundation, Randimpak, which means "lend a hand" in the indigenous Quechua language of Ecuador.
Randimpak's international sales of quinoa have enabled its 7,000 members to increase their annual incomes substantially. Since 2001, Andean quinoa farmers' personal incomes have risen, on average, from US$135 per year to US$2,390 per year, according to a new documentary, Wild Wealth, co-produced by National Geographic and the Inter-American Development Bank. Increased quinoa demand is also reuniting families, enabling the farmers' husbands to return home and join their wives in the fields.
Bomgaars approached Randimpak and proposed a partnership: He would explore and open new U.S. markets for quinoa, and he also wanted to invest some of his company's earnings back into Randimpak as well as other organizations like theirs that invest in developing countries.
"They liked that I was a potential client," says Bomgaars, "but the idea that we were going to reinvest in them, that we cared about what they were doing and were going to help others too—that sealed the deal."
Over the next 18 months, Bomgaars named his company Feed Adam and hired friends and friends-of-friends to design a company website, promotion and packaging. He researched his competitors—quinoa brands such as Alter Eco, Ancient Harvest, Bob's Red Mill and Roland Quinoa—and figured out the logistics of transporting quinoa from the fields of Ecuador to the shelves of Midwestern stores.
For his diversified "investment portfolio," Bomgaars selected HOPE International and New Vision Renewable Energy as two nonprofit organizations Feed Adam would share profits with at a rate of $1 per pound of quinoa sold or 50 percent of bulk sales.
These days, Bomgaars runs Feed Adam from Orange City. As the company's sole employee, he does everything, including filling orders and contacting stores, one by one, in a territory that currently ranges north to Sioux Falls and south to Kansas City. Online customers can shop at amazon.com or feedadam.com. Two-and-a-half pounds of quinoa sells for $12.99; a 25-pound sack of quinoa flour is $84.99.
"Our prices are competitive," says Bomgaars, who doesn't want Feed Adam's customers to feel like they are making a sacrifice or that part of their quinoa purchase is a donation. Nonetheless, he adds, "You can't compete with our mission."
Bomgaars also oversees Feed Adam's investments in HOPE and New Vision and updates the company's website and blog. The blog includes news of Bomgaars' recent trip to Ecuador to deliver three portable solar-panel-powered light systems. It also shares recipes from fans—including Alyssa, who blogs about her gluten-free diet at "Queen of Quinoa"—and Bomgaars' cousin, Madison Mayberry-Hofmeyer, who won Rachael Ray's "Hey, Can You Cook?!" competition in 2008 and is currently a food editor for Better Homes and Gardens.
Anyone who's curious about the culinary qualities of quinoa can eat it three meals a day: sweet potato and pineapple quinoa waffles for breakfast, a bowl of roasted red pepper quinoa soup for lunch, and shrimp stir fry with quinoa rather than rice for dinner. Got kids? Try PB&J cookies made with quinoa flour or mac 'n' cheese made with quinoa pasta.
Bomgaars hopes the U.N.'s Year of Quinoa will convince more customers to try the "golden grain." The publicity is good for his bottom lines, plural. "Claudia and I aren't living off Feed Adam yet, but that's one goal. Another is that Feed Adam will inspire other entrepreneurs by proving you can create profit in ways beyond just monetarily."
The United Nations' endorsement has convinced one potential customer to visit Ecuador for herself: Martha Stewart recently got in touch with the women of Randimpak and is planning a visit in the next year to highlight their enterprise. Bomgaars hopes cooking with quinoa will make Stewart's list of "Good Things."
The Business of Beating Poverty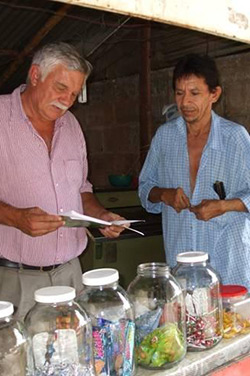 Just a week before he met students in his first business class at Northwestern, Dr. David Befus was in Haiti. Since the country's 2010 earthquake, he has been working with Compassion International to help with reconstruction.
The lending agency he helped establish employs 10 Haitians and has financed around 300 business startups: bakeries and barbershops as well as companies that make things like clothing and juice.
The author of Where There Are No Jobs: Enterprise Solutions for Employment and Public Goods for the Poor, Befus is bringing a career's worth of social entrepreneurship experience to Northwestern's students as a new faculty member in the business and economics department. His resume includes employment and entrepreneurial partnerships with Opportunity International, World Vision, the World Bank and the United Nations.
Next semester Befus will teach Entrepreneurship and New Venture Initiation, and he's proposed a summer study abroad course in Honduras, where he's currently working on a small-business project.
"When I look at what the apostle Paul did to impact people's lives, he took them with him traveling," says Befus, adding that the best way he knows to help students understand the poverty—and the potential—of the developing world is to take them there.
As a 'Kingdom entrepreneur,' Befus says, "I care about using good business principles and practice as a way to help the poor make a living.
"The majority of the world is poor. I want to explore with students what we, as Christians—as citizens of a rich country—can do about it. We are used to thinking of missionary doctors and teachers, but business and economics can be tools for Christian ministry too."
Role Model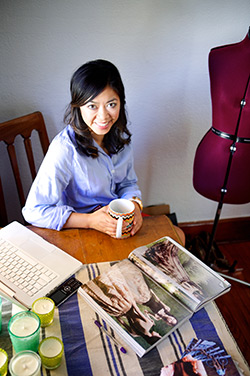 Developing countries aren't the only field of opportunity for social entrepreneurs. Sometimes an innovative idea for lifting people out of poverty takes root right in your backyard.
Julia LoVan's career path since graduating in 2003 is kind of a patchwork. A business, then education, then art major who veered into fashion, LoVan was inspired to design during her senior-year London internship with textile artist Zandra Rhodes.
Fashion is a field best networked into, so unsure what to do first after college, LoVan signed up for Mission Year. She lived in Atlanta and volunteered with FCS Urban Ministries, an organization that describes itself as "a collective of visionaries and social entrepreneurs, transforming distressed urban neighborhoods through Christian community development."
To save money, LoVan bought a sewing machine and began sewing clothes for herself and her teammates. She also took in mending from men at a rehab center near her church, asking as payment that her customers read Brennan Manning's The Ragamuffin Gospel.
When the year was up, LoVan moved to L.A., where she worked at fashion-related jobs and began developing her own label. She also enrolled in the DeVos Urban Leadership Initiative and continued volunteering with inner-city teens. When her designs hit the runway during a show inspired by DeVos, she realized social justice can be fashionable.
"My two loves came together," she says, "I thought, 'I can create jobs [and fight poverty] through fashion.'"
Soon LoVan had returned to her home state, training and employing seamstresses and craftspeople in the Des Moines area to create reworked and original vintage designs, which she sold at a local retailer and on etsy.com.
Recently, talked into leaving the high pressure world of fashion design by work-weary designer friends, LoVan dabbled with making candles and crafting other home goods. Self-described as "Martha Stewart-y," she nonetheless found the prospect of a career as a chandler a little off-script. So this summer, while searching for a new business idea that would weave her passion for fashion with her passion for people—especially unnoticed underdogs—LoVan caught an episode of the CW's Remodeled.
Hosted by Paul Fisher, an L.A. modeling agent who's represented a long list of supermodels—including Naomi Campbell, Gabrielle Reece and Eva Herzigová—the reality TV show follows Fisher as he travels to small towns and cities across the U.S., remaking middle-America modeling agencies to join his super-agency, The Network, so their clients can gain access to modeling markets in New York, L.A. and Europe.
"I watched the whole first season and couldn't sleep," remembers LoVan. "I've gone through a lot in my faith walk, and I've learned how I hear from God—how he speaks to me. I decided I'm going to start a modeling agency. It was so clear to me; I knew it was the right thing."
Since then LoVan has made quick work of launching LVN Models, one of just three Des Moines agencies. The biggest, Peak, represents nearly 500 models. Within a week, LVN Models had a website, lvnmodels.com, and LoVan, toting a Vogue, had roamed malls and college campuses to scout and sign her first five models.
Model management as mission? LoVan laughs. She realizes her new enterprise may not strike some as a way to offer poor urban youth a hand up. But, she says, recounting her seemingly bi-polar experiences in the fashion industry and impoverished communities, she trusts God that everything she's done so far has led her to this new venture.
The world of casting calls, fashion fittings and photo shoots can be brutal. What about that? "It's a business like other businesses," says LoVan. "Modeling is hard work and requires particular professional skills and qualifications, like being 5'9" or taller, for starters."
LoVan got comfortable with the image-driven business of modeling while living in California and producing several fashion events, including one for Hope in the City (part of L.A. Fashion Week), a runway show that supports a different Los Angeles nonprofit each year.
"One of the other volunteers was 5'2", not slender, and she wanted to model for the show," LoVan recalls. "She thought since this was a fundraiser for a nonprofit, anyone should be able to model, and at first I thought, 'She has a point.'
"But then I realized, we have professional designers and professional sound and lighting people—it's OK to insist on professional models too. This is how they make a living."
LoVan's management of her models includes being available as a mentor to them. Most models start in the business when they're between 14 and 17 years old and are finished modeling by 25. LoVan is honest with her models about the short career lifespan and encourages them to use the money they earn to save for college and plan for life after modeling.
Now that LVN Models is in business, LoVan is turning her attention to what has always been her personal and professional mission, in every role and city she's journeyed through since leaving Northwestern: Create jobs for urban youth through creativity.
Before starting her agency, LoVan was already volunteering with teens at Freedom for Youth, a faith-based afterschool program in urban Des Moines. She'd been teaching the kids who hang out there skills—like sewing—that they could turn into job opportunities.
LVN Models, though, could open doors to much bigger opportunities—and incomes—for some of them. "One Rolex ad, and you've made $7,000," she says. LoVan has plans to expand her agency to market talent too, and she believes the kids she's met at Freedom for Youth are a raw, untapped source of beauty and talent.
"They're gorgeous inside and out. They have so much potential," she gushes, "but who will notice them? LVN could represent them and show casting directors around the U.S. what they have to offer. You need someone to breakdance in your commercial? Call me. I've got someone with moves for you."
In October, LoVan did get a call: "Paul Fisher wants to talk to you about being part of The Network." The Network doesn't yet have an agency in Des Moines; LoVan hopes hers might be the one, an opportunity she and Fisher of Remodeled are currently exploring via phone calls and Skype meetings. "Paul said he loved the fact that my background is in nonprofit work," LoVan says.
Someday soon, kids LoVan has discovered might appear in a glossy magazine spread or strut their stuff on a Paris runway. Regardless of the circumstances they came from, LoVan will advise them to walk tall and hold their heads high.