Pink Power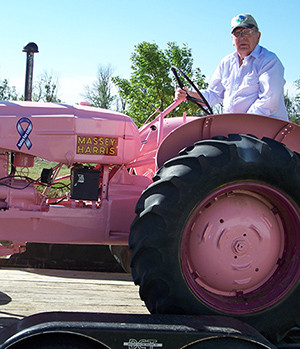 CLEO SYMENS
In Marshall County, S.D., where Irwin Symens '56 lives, donations to fund breast cancer research exceeded those from any other small county in the state last year. The American Cancer Society marked its sixth straight year of setting fundraising records in the county, and Symens' wife, Cleo, serves as chairwoman of Relay for Life, the organization's annual event.
All the money in the world, however, couldn't prepare them for the call from their daughter, Susan, in March 2011, saying she had been diagnosed with breast cancer.
"It was kind of a shock," Symens says. So he did what any grieving farmer might do: He painted his tractor pink. With one last look at the paint job he had ordered a decade before that returned the 1951 Massey Harris to its original yellow and red, Symens asked the body shop for all pink, to represent breast cancer awareness. And for purple wheels, to honor survivors.
Each time Symens displays the tractor—at Relay for Life parades or a benefit for a local family battling the disease—he shows a poster listing the names of cancer survivors in his family and those they've lost. Susan, thankfully, is on the survivor list.
"People ask when I'm going to paint it back. I say I'll paint it back when they find a cure."
BY AMY SCHEER
---
Pointing to Jesus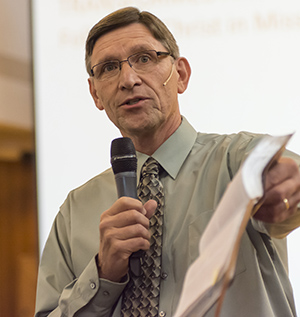 DOUG BURG
After more than three decades of local and regional ministry in the Reformed Church in America (RCA), the Rev. Carl Boersma '75 finds his leadership expanding beyond Faith Reformed Church in Brookings, S.D., to the entire denomination.
As the current president of the RCA General Synod, his calendar is filled with meetings, speaking engagements and trips to share the RCA's new 15-year strategic goal and his personal passion, "Transformed and Transforming: Radically Following Christ in Mission Together." Boersma views his role as one of informing and inspiring, following the tradition set by last year's General Synod president, the Rev. Tom Smith '75, Boersma's NWC roommate.
Though Boersma is not blind to the hurdles to faith in American culture, he is encouraged by what he sees in the RCA today. "I've been richly blessed by the many servant-hearted, Christ-following people with compassionate hearts who just want to fulfill their call in the power of the Spirit."
The RCA's 15-year goal and its accompanying priorities, passed during General Synod 2013, will see fruition the same year the denomination celebrates its 400th anniversary in the United States, a milestone Boersma eagerly anticipates.
"I can't even begin to imagine the potential impact for Christ over the next 15 years. It's a joy to just be pointing people to Jesus," he says.
BY BETH (NIKKEL '02) GAULKE
---
The Business of Friendship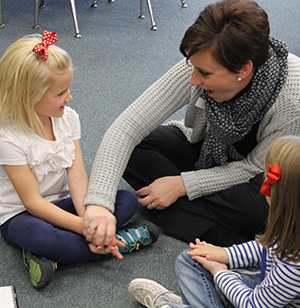 Chrystan (Fuller '04) Ferrell
Sarah Greenwood '05 and Chrystan (Fuller '04) Ferrell have gone from best friends and Red Raider teammates sharing ideas across the soccer field to business partners sharing ideas "across the pond."
Co-owners of a growing language acquisition company, The Language Project (TLP), Greenwood, of Sevilla, Spain, and Ferrell, of Kansas City, Mo., are passionate about helping children learn different languages through small-group immersion classes. TLP uses games, music and play to teach languages to kids from 12 months to 11 years old in after-school clubs, daycares and in-home programs.
The company is the fulfillment of an entrepreneurial dream Greenwood developed during her study abroad semester in Spain. Launching TLP in 2009 in Spain, she hoped to someday expand to the United States. That dream became a reality when Ferrell, who directed a large childcare facility, offered to pilot the program in her center in 2012. Seeing the results, she was sold and soon became a partner in the company, which now serves 45 locations across five states.
Greenwood and Ferrell, both married with children, say their partnership is a lot like a marriage. "You have to be committed every single day to one another," Ferrell said. "It has really deepened our relationship."
BY BETH (NIKKEL '02) GAULKE
---
He's Got Game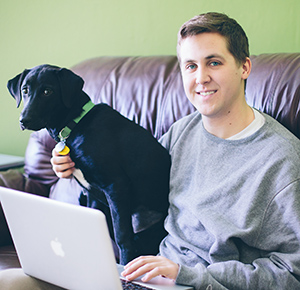 Jenni (Sybesma '09) Ochsner
Celtics superfan Tom Westerholm '13 has written his ticket from couch to courtside sports reporting.
While in college and writing for classes and an online magazine he helped establish, the writing, rhetoric and journalism student also started writing about basketball, contributing to blogs for his two favorite teams, the Minnesota Timberwolves and the Boston Celtics.
After graduation, Westerholm worked as a newspaper journalist by day and blogged about basketball by night, capturing the attention of ESPN's TrueHoop network, which hosts team blogs and publishes select entries in their "Daily Dime" coverage of the NBA. Westerholm was added to the list of official bloggers for celticshub.com and makes an occasional appearance in the "Daily Dime," which is worth more than a few extra dimes in his paycheck.
With games nearly every weekend and at least two nights most weeks from November to June, Westerholm drafts around seven blog posts per week, speculating about the Celtics' prospects and marveling about the moves of point guard Rajon Rondo.
Just before March Madness (Westerholm tunes in for NCAA play too), he and his wife moved from Orange City to Springfield, Mass., where he was recently hired to cover sports for MassLive.com, a leading New England news source.
Westerholm's new job is a hoop dream: In addition to a press pass for area high school games, he now has credentials for in-person reporting on Beantown's team in green.
BY TAMARA FYNAARDT