Called to the City
Service learning and community development are focus of Northwestern's Denver Urban Semester
BY ANITA CIRULIS
PHOTOS BY BARRY GUTIERREZ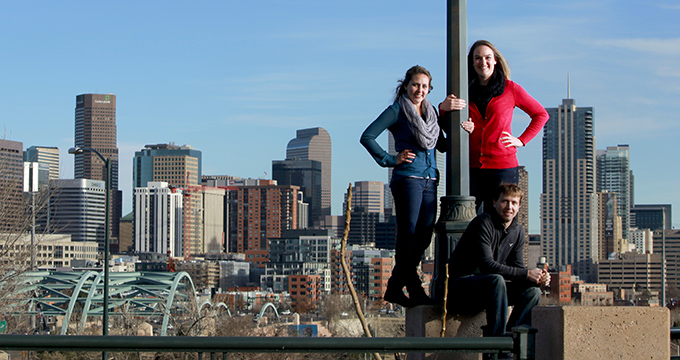 Confluence Park in Denver, located in the heart of the downtown business district, is a favorite destination for residents of the city. With the South Platte River as a backdrop, it fills with runners, bikers and families on warm summer evenings and weekends.
Most visitors to the park, however, are unaware it is also home to teens who set up camp in the thick bushes topping the park's hills and take shelter underground to escape the heat or cold.
"They're purposely working in multicultural, underserved neighborhoods and schools … places where most people don't want to work." Greg Fuchs
Sean Guthmiller, a senior at Northwestern, learned of this unseen world while on a "turf tour" in January. "They showed us, right off of downtown where all the rich and successful people are, these drainage tunnels for the river where kids our age who are homeless will crawl in at night and sleep."
Guthmiller is one of eight Northwestern students living and working in the Mile High City this spring through the college's Denver Urban Semester (DUS), a program designed to introduce collegians to the needs and opportunities of the city. Each is placed in an internship with an urban ministry, school or nonprofit that serves Denver's marginalized populations. They also take two to three classes from a curriculum that includes courses on race and ethnicity, intercultural communication, global urbanization, and living out one's faith.
"They're purposely working in multicultural, underserved neighborhoods and schools," says Greg Fuchs, director of the Denver Urban Semester. "That's the only setting we place students in—places where most people don't want to work."
Fuchs himself grew up in the non-culturally diverse community of Wheaton, Ill. After earning a master's degree from Denver Seminary, he served as a youth pastor and then did leadership development with college students through Young Life in Colorado and Europe. Eight years ago he started the Denver Urban Semester in partnership with Mile High Ministries, an organization that seeks to mobilize neighborhoods, equip leaders and empower the poor.
"We really want to help students find their vocation—not just a job or a career, but something God made them for," Fuchs says. "This gives them an opportunity to put their education, their calling and their career aspirations all together, integrated with their faith."
Urban Immersion
DUS students live in community in the heart of the city, the men in a house a block off of East Colfax Avenue and the women nearby in a more residential neighborhood.
"Colfax is a very diverse and interesting street," says Guthmiller, who grew up in Orange City. "It's not really a street we're supposed to be on at night, which is a little invigorating and a little nerve-wracking at the same time. So we're definitely immersed in the inner city."
"I had fears and anxieties about living in Denver—trying to get around with public transportation, navigating the city, and just working with a different population of people," says Audrey Wheeler, a senior from Montezuma, Iowa, a town of just 1,500. The social work major received encouragement from Northwestern professor Dr. Valerie (Roman '93) Stokes to stretch herself and take advantage of the Denver Urban Semester.
Fuchs begins the semester with an orientation that teaches students how to conduct themselves, read the streets, understand a neighborhood and use Denver's bus system. "It takes about a week or two before that whole process is over, and then they just sort of flow into the life of the city," he says.
Also helping with the transition are the classes the students take. Their Urban Cross-cultural Integration Seminar occurs not in a classroom but out in the city, with the students learning about graffiti from someone who once painted it and about homelessness while under a bridge where homeless people live.
"They're learning how to be in the city and how to understand it and the culture they're serving," says Millie Cline, who works as a spiritual director and mentor for students in the program. "It's fun to watch their confidence grow and to see them blossom."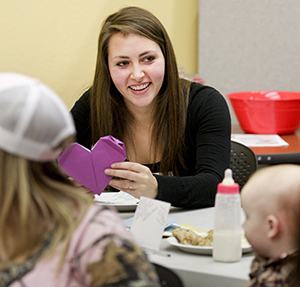 God's Leading
Through their internships, students gain confidence, too, in their calling and in their preparation for that calling. Wheeler is a case manager intern at the Crossing, a transitional housing program for homeless families. As such, she's become aware of how prevalent homelessness is. She's also learned the homeless aren't just those living on the streets. Anyone without an adequate place to sleep every night—who goes from friend's house to friend's house or from one family member's home to another—meets the definition of homeless.
"Learning about social work in a classroom is completely different than the real-world experience," Wheeler says. "My eyes have definitely been opened to the need for social workers. I'm excited to graduate and find a job because I know I've had the education and training that will enable me to open doors for those who sometimes go unnoticed."
Fuchs has connections with more than 40 internship sites to choose from as he places students in work settings. He meets with the students when they are applying to the program to learn about their interests in order to make the best match.
As a sophomore, Guthmiller switched his major from education to social work when he realized he loved kids but didn't want to be in a classroom. His goal is to work with troubled youth, perhaps those in the juvenile court system. Rather than placing Guthmiller in such a setting, however, Fuchs arranged for an internship at SOAR Academy, an alternative school that serves kids who are at risk of failing or who have been expelled.
"He doesn't have a lot of experience yet," Fuchs says of Guthmiller. "A detention center may be where his heart is—and that may be where God is leading him—but if he jumps into that right away, it's a big leap."
At SOAR, Guthmiller helps students stay on task with their schoolwork, participates in group counseling sessions, teaches life skills, and works to improve attendance.
"With a lot of these kids, there's so much stuff going on in their lives that interferes with school," he says. "Sometimes kids don't come to school because they have jobs or they themselves have kids—or they're the head of the household and they're in charge of all their siblings. Greg matched me with SOAR Academy because he thought it would be a really good fit with my interests, and I've loved it."
Abby Van Gorp likewise is at the perfect internship site for where—to use the words of theologian Frederick Buechner—her "deep gladness and the world's deep hunger meet." The senior social work major from Sioux Falls first became interested in working with teen moms after watching a reality TV show that follows the lives of four 16-year-olds and their babies. When she saw a social worker conduct a home visit with one of the girls to talk about her options, Van Gorp realized that's what she wanted to do.
Through the Denver Urban Semester, Van Gorp is completing her social work practicum at Hope House of Colorado, a nondenominational Christian organization that helps parenting teen mothers become self-sufficient. Hope House runs a GED program so teen moms can get their high school diploma, matches girls with trained volunteer mentors, and provides a residential home for single teenage mothers and their children who are homeless or living in an unsafe environment.
Van Gorp participates in informational lunches held for the teen moms, gives them rides to school and the grocery store, and helps them navigate governmental forms and requirements for public assistance. "I love my placement—just seeing all the different ways I can help teen moms," she says. "It can be hard, but it's also rewarding."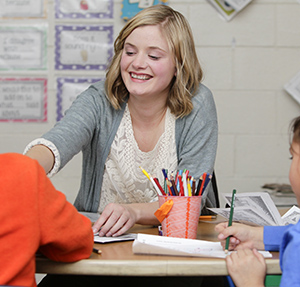 Real-World Experience
Social work students aren't the only ones who are benefitting from the Denver Urban Semester. This spring's participants also include five education majors, all seniors, who are student teaching in public and charter schools in the city that serve diverse student bodies and low-income families.
"We have a lot of students going into education because they want to teach underserved populations," says Dr. Derek Brower '89, an assistant professor of education. While the college provides student teaching experiences in and around Orange City, for the most part, those schools are fairly homogenous. "That's why Denver is so attractive," Brower says. "It gives students a more realistic perspective of what teaching in a diverse classroom looks like."
Rebecca Rens, an elementary education major from Sioux Falls, is among those students who want to work with disadvantaged children. She is student teaching at Columbine Elementary, a diverse school that serves many families living in poverty.
"I can't get in a setting that's any more challenging or that has students with any more behavior issues," she says. "It's really prepared me for what I have a heart for doing. I've been blessed with a phenomenal cooperating teacher, so I'm able to see how she pushes the students and maintains academic rigor while still understanding what they can and can't handle."
Rens gets similar praise from Elizabeth Yates, the principal of Columbine, who describes her as a high-quality student who came ready to teach. "Rebecca loves the students," Yates says. "She puts them first and has a very calm manner. I think she knew about the challenges, but until you live it, you don't really understand. Being here has opened her eyes to students who come from poverty."
Exposure to economic and cultural diversity is important in today's world, says Fuchs. "While becoming culturally competent is a lifelong learning process, more and more, students who have that training and experience are the ones who will be hired."
Fuchs believes Northwestern's Denver Urban Semester students do well in cross-cultural settings because of the preparation they receive at NWC and because of their faith and values. "Especially in the public schools, people notice Northwestern students are different from the other student teachers they get," he says. "The same thing is true with social workers."
For Fuchs, it's obvious why Northwestern students are able to adapt to challenging internship sites so quickly. "They're learners," he says. "They're intelligent, but they come with a humble confidence. They are sure of God's leading, but they don't have all the answers. Their desire is to be in God's will and to follow Jesus."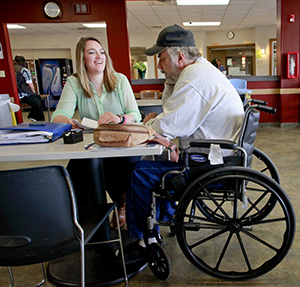 Launching Pad
The similarity in the values of NWC and Fuchs is one reason he selected Northwestern as a DUS partner school. While 14 other colleges send students to Denver in the summer and fall, the Denver Urban Semester's spring program is offered exclusively through Northwestern. Three social work majors enrolled in its inaugural year in 2013. Ultimately the program could handle as many as 18, and Fuchs hopes to attract students from even more majors: pre-law students to work at a legal aid clinic, for example, and those majoring in Spanish translation and interpretation for internships in a city that is 40 percent Latino.
Whatever the students' majors and wherever they are interns, Fuchs' goal for them is the same: that they would learn to integrate their faith in all they are and do. God's calling, the students are discovering, has as much to do with who he's made them to be as what he's asking them to do. Through personality tests and one-on-one mentoring, they are encouraged to explore their strengths and weaknesses.
"I've learned the real world happens and there are experiences that are going to wear me down," says Wheeler, "but I've also been taught how to rejuvenate myself based on my personality and the social work profession. It's important to take that personal time for ourselves. If we're not taking care of ourselves, then we can't do our job of taking care of others."
For some Denver Urban Semester alumni, that job and the inner city will go hand-in-hand. For others, they may find themselves serving God in small towns or rural communities.
"Our hope is not to keep people here," Fuchs says of the program. "But after living in the city, the students' worldview will always be different. When they think about what missions looks like or consider the 'other' in their neighborhood or realize the brokenness in their community, they'll have experiences to draw from and wisdom to offer."
In other words, whether Denver Urban Semester students stay in the city or make their home someplace else, where they serve isn't the important thing. It's how.