Strongman
Powerlifter Jona Leo raises the bar, setting bench press world record
BY TAMARA FYNAARDT
PHOTOS BY GREG LATZA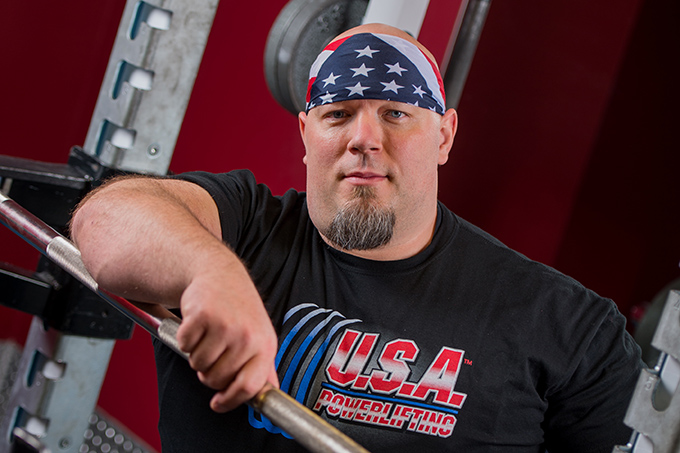 On March 2 Jona Leo '99 set a bench press world record, lifting 826.7 pounds. That's about the same weight as four standard refrigerators. Or two upright pianos. Or one fully loaded soda vending machine.
Powerlifting
A strength sport, powerlifting resembles weightlifting but focuses on different lifts: the squat, bench press and deadlift. Leo has competed in all three lifts but now focuses just on bench press, his best event.
At competitions like the one where Leo set the world record, he attempts three lifts, each judged by six International Powerlifting Federation (IPF) referees. The lifter's technique must meet with the judges' approval for the lift to be scored.
Although not yet an Olympic event, powerlifting is recognized by the International Olympic Committee and is a sport in the World Games. An IPF athlete, Leo follows the same drug-testing protocols as Olympic athletes. IPF officials are lobbying the IOC to add powerlifting to the summer Olympic games.
Leo has been pumping iron since high school, starting mostly as a way to gain gridiron strength but meanwhile claiming four Nebraska state powerlifting titles. A defensive lineman for the Red Raiders, he thought after college his winning days were over. But after a year and a half, he started lifting again, and his competitive urge surged.
"From the first time I picked up a barbell, it was apparent this is one of my God-given gifts," says Leo, who joined U.S.A. Powerlifting in 2002 and has since won three national powerlifting titles (2010, '12 and '13) and one world title (2013).
Between meets, Leo balances five-day-a-week workouts at a Sioux Falls gym with his responsibilities as wellness director at Trail Ridge Retirement Community and dedicated family man to wife Michelle (Jongeling '99) and kids Lyncoln, Lennox and Liberty.
While Leo's kids don't often travel to his national or international competitions, they do get in on the action when he runs the annual December powerlifting meet at McCrossan Boys Ranch, a Sioux Falls school and social services provider for at-risk boys. Leo and fellow Red Raiders Phil Brinks '05 and Mike Smit '07—who also live in the Sioux Falls area—raised funds to establish a weight room at McCrossan in 2006. The men also coached McCrossan lifters from 2006 to '09.
Brinks trains alongside Leo one day each week, and Leo routinely sends video for technique analysis by several powerlifting experts around the country, including Bill Gillespie, a former Seattle Seahawks strength coach.
Leo is his own toughest coach (and biggest critic). A kinesiology major at Northwestern, he says he has hit the books more since college than he did while a student-athlete. "At the end of every training cycle, I pick something I wasn't happy with and crack open the books to find a solution," he says. "Every ounce of my programming—from warm-up through workout and cool-down—has been improved through studying and trial and error."
Between now and his fourth appearance at the world championships in Denmark in May, Leo will continue his intense training regimen, eating natural foods ("anything put here by God," he says) and consuming around 350 grams of protein a day (the equivalent of about 16 chicken breasts). He'll try to gain a few pounds because "weight pushes weight," says Leo who, at more than 300 pounds—and with 22-inch biceps—competes in the super heavyweight class.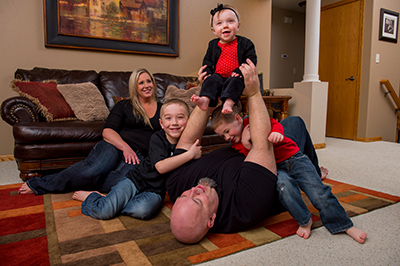 Currently in peak form, Leo says the top of the podium is a powerful platform for honoring God with a strong body, mind and spirit. He marvels at the opportunities he's had to demonstrate his Christian faith.
He also embraces the other heavy lifting required of a world-class athlete and role model. He's helping build the next generation of powerlifters and strength athletes through his website, leostrength.com, and by e-coaching a number of up-and-coming lifters, including three who will make appearances at the world championships this year. In addition, Leo is a volunteer coach for a Sioux Falls high school lifter who qualified for the sub-junior world bench press team and will join Leo in Denmark in May.
One of Leo's competitors at the 25th World Bench Press Championships will likely be Ukrainian powerlifter Victor Testov, who broke Leo's world record the last time he set it and will be aiming for it again.
Leo is unfazed. He says if Testov breaks the record, "then I'll just have to break it again." Tough talk. Thankfully he's got the guns to back it up.