Gotta Be God's
California rap artist finds soul-saving rhythm
by Amy Scheer and Tamara Fynaardt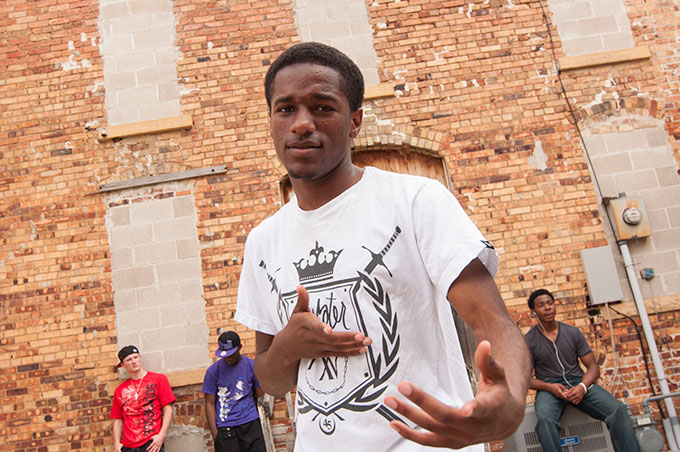 DOUG BURG
During a performance at an Orange City coffeehouse, just as the rap group Unique performed "Redeemed," with the lyrics All my saints in the building get your hands up/ … /we 'bout to tear the roof down, they nearly went through the floor. (The maximum capacity audience on the building's second story was taxing the floor supports.)
Entertaining the enthusiastic crowd was a group of artists presenting soul-saving music in a historically African-American style. At the helm is Jeriah Dunk, a junior from the West Coast who says Northwestern College is a good fit for him.
Dunk grew up near Los Angeles. His family is active in their African-American church, and yet his parents are sensitive to the stereotypes a young black man can face, and also those he perpetrates (as tragedies like the death of Trayvon Martin illustrate).
"My parents raised me to act maturely, respect authority and be a positive role model for other young people," Dunk says. "My mom taught me the way one carries himself can give him a good or bad association, and she doesn't want bad associations for me.
"My parents were skeptical about rap at first because of its reputation for negative, even anti-Christian messages," Dunk shares. "But when they saw and heard that God can use even rap for his glory, they accepted the style of music I write and perform."
Dunk became fascinated with Christian rap as a unique way to preach the gospel. He'd play TobyMac's songs and everything by LeCrae, and experiment with creating some of his own. But in high school, when his faith took a stage dive, Dunk decided to explore the roots of rap by listening to secular artists.
The music was rough. It was all his parents worried and warned about. And yet, the fast flows of Eminem and the high pitch of Lupe Fiasco ("I don't have the deepest voice, and he doesn't either") met the young Dunk where he was and helped him refine his own artistry. He'd try on different styles, keep what worked and add his own special spin.
"I tried to be like other people," says Dunk, who eventually gave up listening to secular rap, "but now I want to be what God wants me to be."
Writing lyrics is a way for Dunk to explore his identity and experiences. In "Grow," he writes, Even when the dark clouds are rollin' in/it seems the walls are closing' in/soakin' in your lowliness/this is where we grow. The words' simplicity achieve depth in Dunk's masterful beats, which he records on his MacBook, and in the source of the song: The athletic Dunk was unable to run for most of this season with Northwestern's track team due to a pulled hamstring. Last year he set school records in sprints and made it to nationals; this year, he didn't qualify.
"Every song I've written has something to do with what I've gone through and what I feel," he says. "When I talk about my experiences, I can put my heart into it. It sounds more real"—he corrects himself—"it is real."
In the song "Runaway," Dunk interweaves the story of the prodigal son and his own doubts:
And he now finds hope/not just to cope/nope/he grabs his coat/walks off of the street/you
see the runaway's runnin' home/and out of the smoke/out of the cold/the father is there
waiting/arms open/rejoicing/saying/son/welcome home.
"'Runaway' is about me falling away from God," Dunk says. "I had a death in the family; it was kind of a hard time for me. It's better to run to him instead of away from him because he has the answers."
Friends in the music business back in California want the rapper to tour after he graduates, but he's waiting for God to show him what's next, he says. Meanwhile, Dunk is thankful to have found himself at Northwestern, where he performs with Unique on campus and at local festivals, and where his graphic design major is developing yet another side of himself with talents to offer.
Dunk's parents have embraced his musical style with enthusiasm, and his sister now lays down her own beats as "Soul Sista." When his mom asked if his rap name, "Jay-Rah," has any special meaning, Dunk went online and found that the name he chose at random comes from the Hebrew "Jarah," which means "God gives sweetness." And among its derivatives?
Jeriah. Sweet.