Bomb Scene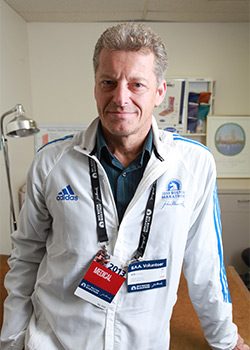 JIM HEEMSTRA '72
The boom was deafening. Des Moines podiatrist Kirk Neustrom '82 remembers first hearing it, then feeling the ground shake beneath his feet as he tended to a runner's blistered foot in the medical tent, paces away from the Boston Marathon finish line.
April marked Neustrom's 19th stint as a volunteer medic for the marathon, but no amount of experience could have prepared him for what he encountered when he stepped outside the tent after the first blast and saw a white plume of smoke.
"The second one went off and immediately I knew it was a bomb," says Neustrom.
Within 30 seconds, Neustrom, a former Navy doctor, was on the scene triaging and comforting victims—many with missing limbs, protruding bones and severe bleeding.
"It was like a war zone," he says. "Even though I've been out of the Navy for quite awhile, [your training] still kicks in. You know what you've got to do, so you do it."
After the site cleared, Neustrom finally had time to reflect. "I sat down, and I was shaking."
Neustrom will never forget the terror of that day, but he refuses to let the bombers win. "We can't live our lives in fear," he says. "I'll be there next year."
by Sarah Asp Olson '03
---
Wowed on the Water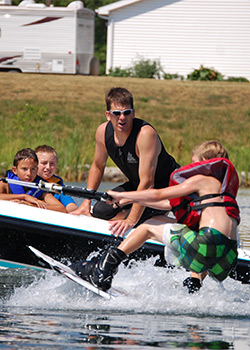 CJ SWART '93
What started over a decade ago as a hobby for Damon Huibregtse '98—digging a lake on some land near Oostburg, Wis.,—has turned into a unique ministry opportunity.
Huibregtse, who works at a family-owned excavating business, has long been a water-skiing enthusiast. After enjoying his new lake with friends, they decided to start Walking on Water (WOW), a youth water-skiing camp that lets them share two of their passions: water-skiing and Christ.
Four years later, the camp is so popular that all 80 of this year's spots were filled in one week. All the instructors, which include Jen (Manders '93) and CJ Swart '93, volunteer their time, taking a week off work to run two morning sessions and two afternoon sessions. The 20 kids in each section rotate among activities: learning to ski, playing beach games, and studying the Bible. At the end of the week, they put on a show for family members and friends that also serves as an outreach.
"If not for the faith tie-in, it would be just another water-ski camp," says Huibregtse. "We started because we enjoyed skiing, but really the only thing that makes it worth it is seeing the joy on the kids' faces when they open a Bible—sometimes for the first time."
by Sherrie Barber Willson '98
---
Remembering Quinn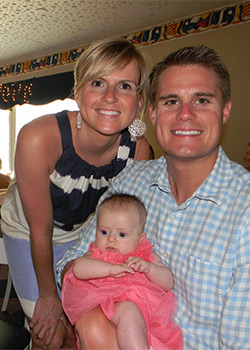 MARCIA SADLER
Alison (Sadler '05) and Tim Ter Horst '05 approached March 12, 2013, with dread. It would have been the first birthday of their daughter, Quinn, who died the previous July from sudden infant death syndrome.
"We were really worried that we might not even be able to get out of bed," Tim says.
The Ter Horsts found a reason to get up, marking March 12 as "Celebrate Quinncidence Day," a day to honor Quinn's life through random acts of kindness. They could not have predicted the response when they invited others to join them.
Friends, family, Alison's students in Sioux Falls and even total strangers—including U.S. Rep. Kristi Noem—shared "Quinncidences" such as buying coffee for others, leaving money on vending machines, and handing out candy. Others wrote notes of appreciation to their moms or spent more time with their children.
One of the most meaningful "Quinncidences" came when the Ter Horsts arrived home. They found 30 balloons tethered with birthday cards for Quinn written by their relatives and friends. Quinn's birthday had offered something hard to come by: hope.
"We expected so little out of it, and it was so much bigger than we could have imagined," says Alison. "They say it takes a village to raise a child, but after this, I believe it takes a village to bury a child too."
Read more about the Ter Horsts' journey at ohmydearone.blogspot.com
by Beth (Nikkel '02) Gaulke
---
Boston Strong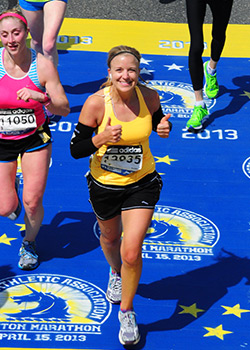 MARATHONFOTO.COM
It was thumbs up for Monica Pearson '06 as she checked an item off her bucket list: running the Boston Marathon. But by the time she finished 4 hours and 17 minutes later, the Houston schoolteacher was having trouble breathing and was steered into the Boylston Street medical tent. She'd just sat down when two booms shook the area.
Bewilderment was followed by shock as two men raced into the tent: a dark-haired man in a cowboy hat running alongside the wheelchair of a man with a bloodied, smoke-blackened face and the mangled remains of his lower legs.
Still gasping for air, Pearson and other runners receiving medical attention were moved to the perimeter of the tent as more victims with grisly injuries were brought in. After 45 minutes, Pearson convinced her attending medical volunteer she was OK to leave, and she headed out into a city on lockdown.
Months after the event, Pearson is most struck by the kindness of the people of Boston. "Out on the streets, stranded for a few hours, I had people I didn't know take me into their homes to cook me a meal, let me use their shower, and just listen as I was processing everything," she says. "I hope I can pay it forward to someone that way in the future."
by Tamara Fynaardt