Driven
Life-changing accident doesn't stop professor who loves learning
by Amy Scheer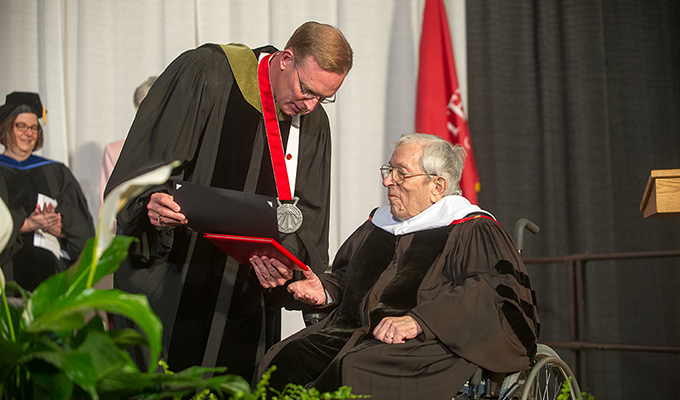 DAN ROSS
Syl Scorza fiddled with the dials on his shortwave radio, picking up British broadcasts and the latest on the war. It was 1945, and doctors weren't convinced the young man would survive the traffic accident that paralyzed him from the chest down. Scorza, confined to his California bed 23 hours a day, would listen to the latest on the Belgian Congo and plot his next move.
Advance a rook? Pin the bishop to the king?
Scorza, born in Switzerland to an Italian immigrant and his American wife, found that correspondence chess took him around the world while stuck in a bed. Players from as far away as Siberia and Argentina mailed him their moves, written in numerical notation to avoid language difficulties. Between rehab and wound dressings, Scorza set up the board, decided his move, and mailed it back.
"It took a lot of time, but I had a lot of time," Scorza says. "I was rather sick for at least a year. As far as my attitude, I was rather positive; I didn't expect to die. I was planning to live my life out."
To recognize the drive and sense of adventure that kept him moving then and has barely diminished at age 90, Northwestern awarded the professor emeritus of religion an honorary doctorate at commencement this spring.
Scorza's first degree had come about between chess moves, as he finished up his courses at Hope College by correspondence. His family had moved from Chicago to California for the warmer climate and acquired an Autoette, a minicar marketed as an early electric wheelchair. As his health improved, Scorza drove around the neighborhood at 10 miles on a charge, meeting kids on the street and giving them rides to a Bible study he started just for them.
The logical next step on his route: studying the Bible more intensely back in Holland, Mich., at Western Theological Seminary, and later, at Princeton Theological Seminary, where he would earn a doctorate in Old Testament. Scorza also spent 13 months pastoring three rural churches in central Pennsylvania.
In 1959, he and his wife, Phyllis, moved to Orange City just as Northwestern was developing into a four-year institution. Scorza became one of two faculty members in the religion department, serving a growing student body.
"I had the reputation of academic strictness and tough love," says Scorza, who earned a second doctorate—in linguistics—from the University of Illinois in 1972. "They'd say, 'Scorza's awful tough in Greek and religion. If you want to pass, you better take another prof.'"
When Scorza first arrived at Northwestern, only one building—Van Peursem Hall—was accessible without a step. "When I went to chapel, I had to be hauled up manually," he says. "Eventually they put an elevator near my office to take me up to the back hallway, and they built a library that was accessible. The campus was more or less built with the idea that I'd be rolling around."
Themes of accomplishment and accommodation trace the arc of Scorza's 90 years, with each, at times, complementing or thwarting the other.
In 1991, Scorza was named Disabled Person of the Year by the Iowa Commission of Persons with Disabilities. He traveled to Washington, met with Barbara Bush at the White House and stayed at the famous Watergate hotel, which turned out to be highly inaccessible.
In 1962 as part of a course at New York University, Scorza and his wife traveled through Israel for eight weeks. Getting around was difficult, and their bus wasn't equipped for people with disabilities. At each stop, he'd have to be carried up the stairs and put in a seat so his wheelchair wouldn't block the aisle.
"People made accommodations for me so I could achieve what I wanted to achieve," he says. "I was helped along the way."
Due to health complications, Scorza now spends at least 20 hours a day in bed. As a result, he had to discontinue his practice of taking at least one Northwestern course every semester since retiring from teaching in 1990.
From his bed, he reflected on being honored. After joking that what he really wanted was an honorary bachelor's degree for his 220 credits, he makes clear that he's just an ordinary guy grateful for all his "enablers." "I'm not the great hero that I'm being pictured as this year," he says.
And then he mentions the Israel trip. He was at the mercy of his fellow travelers at every stop, until they brought out the chessboard.
Competing against his professor, Scorza wheeled around so he couldn't see the pieces—and beat him blindfolded. No accommodation necessary.