Workplace Investments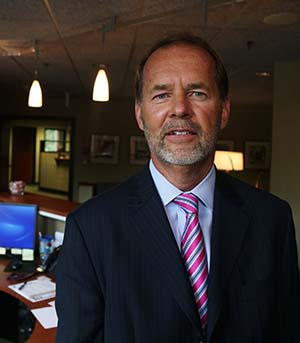 KELSEY KREMER, DES MOINES REGISTER
So far in 2016, Mark Stadtlander '74 and his team at Foster Group in West Des Moines have done more than 60,000 pushups. While this may seem like an unusual activity for a bunch of financial planners, it is part of the team philosophy that Stadtlander, longtime CEO, says has always set them apart.
The team of just over 40 employees discusses client interactions and decisions weekly, shuts down the office to complete service projects together, and, yes, pauses for (optional) pushups each day at 2:30 p.m.
Foster Group also emphasizes generosity in all aspects of its business. This year all employees are being encouraged to use some of their six weeks of annual paid vacation to serve the community, with teams vying to see who can tally the most volunteer hours. The company promotes giving among its more than 1,000 clients as well, directing more than $20 million to charity in the past five years.
These innovations have not gone unnoticed, as the growing wealth management firm was named the Des Moines Register's Top Workplace in Iowa in 2015 among businesses with fewer than 150 employees. Stadtlander, who has been with Foster Group since shortly after it was founded in 1989, credits the firm's servant approach, team emphasis and commitment to its mission. "We don't just talk about things. We actually live them," he says.
BETH (NIKKEL '02) GAULKE
---
Presidential Potential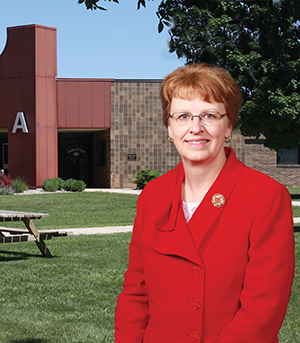 LORI RICHARDS
Dr. Alethea (Steenhoven '87) Stubbe never set out to become a college president. In fact, she didn't even intend to go to college.
Though she was the valedictorian of her high school class, Stubbe had wedding plans and a job at the local Ford dealership, deeming college simply unnecessary. But when her father died in the early '80s, the young wife and mother of two started to wonder about her purpose.
That's when Northwestern College entered the scene. Enrolling as a commuter in 1982, Stubbe pursued degrees in business and accounting, which, as it turns out, also became an education in her own potential and passion.
Her nearly 30-year career as a teacher and administrator in higher education has been focused on helping students realize their own potential. Since 2011, she has served as the president at Northwest Iowa Community College in Sheldon, one of the nation's highest-ranking community colleges and her professional home for the last 25 years. Though she has held many important titles—from Faculty of the Year to chief finance officer and chief academic officer—she added another honor in February when she was named Outstanding Chief Administrator by the Iowa Association of Community College Trustees.
"My time at Northwestern helped me see myself as a servant leader," Stubbe says. "Now my greatest reward is enabling others to be successful."
BY SHERRIE BARBER WILLSON '98
---
Courtroom Drama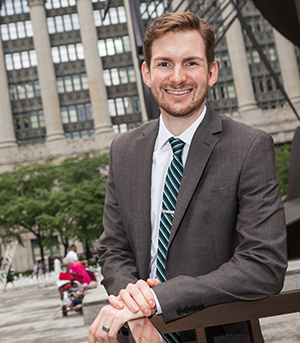 You've lived in the same apartment for 20 years, and bedbugs now infest the building. You blame the landlord; he blames you. Eviction looms.
An improv scenario from Matt Hulstein's theatre days at Northwestern?
If only.
Hulstein, a 2008 theatre and writing/rhetoric major, has stepped into a starring role in the lives of Chicago's powerless. A staff attorney with Chicago Volunteer Legal Services (CVLS), Hulstein fights foreclosures, evictions and bankruptcy cases—and trains other volunteer professionals to aid low-income locals.
"We fight tooth-and-nail to keep a person's housing," he says. "The stakes are really high. It might be a long shot, but it's worth the effort."
A participant in the Chicago Semester his senior year, Hulstein had selected international human rights law as his area of interest. Instead, he was assigned an internship at CVLS and initially took exception to the lack of drama.
"I'm helping with evictions," he thought to himself, "but I want to liberate people from slavery!"
The work, he soon noticed, could result in major change on a smaller stage. In 2012, after passing the Illinois bar exam, Hulstein returned to CVLS to work full time.
"I quickly realized this is human rights stuff; it's just here, in Chicago. This affects people profoundly. My role is to give them their best shot."
BY AMY SCHEER
---
Tokyo Roles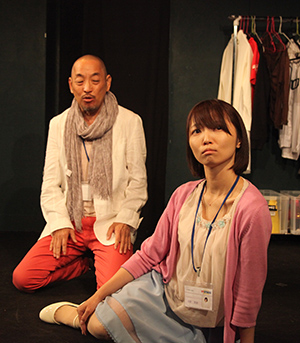 SUBMITTED PHOTO
Yuika Ida '11 may come across as quiet, but that hasn't stopped her from staging a career as an actor in one of the largest cities in the world.
Since graduating from Northwestern and returning to Japan, Ida has worked steadily on Tokyo stages, in TV and, most recently, in a movie, Jujika. She supports herself with part-time work, currently at a restaurant, and also takes acting classes twice a week.
Ida's first love is theatre, which she credits to her time at Northwestern. While a student, she had roles in such NWC productions as Asian Folk Tales and Picasso at the Lapin Agile. Theatre professor Karen Barker remembers that Ida "came in pretty tentative, but few people worked harder than she did.
"She jumped in with both feet," Barker says. "She was easy to direct. The humility of her spirit allowed for hard-won growth as an actor."
Ida says her favorite part of acting is sensing the audience's enjoyment. Her advice to other theatre majors is to take every opportunity to see plays, especially in theatre-rich cities like Chicago and New York.
She says, "I haven't gotten on a big stage with famous actors; I still have to study hard to be a good actress." If Ida continues to approach her craft with the tenacity and willingness to learn she showed at NWC, each new role will be one for which she can take a bow.
BY SHERRIE BARBER WILLSON '98