Cultural Exchange
BY ANITA CIRULIS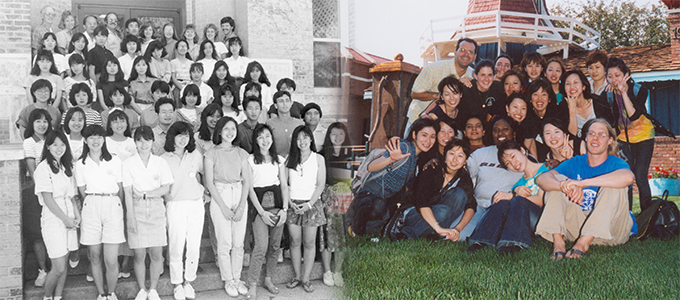 Rachel (Starr '05) Heath was in Osaka, Japan, when missionaries she was working with during her Summer of Service encouraged her to return and teach English after she graduated.
"I thought getting involved with the Summer Institute would be a great way to see if teaching English was a good fit for me," she says.
Northwestern's Summer Institute for International Students was established in 1985 by the late Dr. Lyle Vander Werff. The college's professor of religion and director of international programs was a former RCA missionary to Kuwait who had a heart for students from other countries. For more than 20 years, the institute helped students improve their English skills and prepare for college-level study in the United States.
In addition to an English as a Second Language (ESL) course, Summer Institute students took classes from NWC professors that helped them learn more about American culture and the Christian faith. Participants lived and learned on campus with Northwestern students—like Heath in 2004—who were hired as Summer Institute tutors for the four- to six-week-long program.
"Our tutors were engaged in a lot of spiritual discussions and talk about Jesus," says Anila Karunakar '03, a former multicultural affairs coordinator for NWC. "It was a very safe space where students felt like they could ask questions freely."
While the majority of Summer Institute participants came from Japan, where Northwestern had sister schools, the program also attracted students from countries that included Bahrain, Brazil, Cameroon, China, Côte d'Ivoire, Cyprus, the Dominican Republic, Ethiopia, Ghana, Hong Kong, Hungary, India, Mexico, Morocco, Nepal, Nigeria, Pakistan, South Korea, Sudan, Taiwan and Ukraine.
In Orange City, they experienced the American Midwest through pairings with host families and field trips to a local farm, the Iowa State Fair, a Native American powwow, and a camping trip to the Black Hills to see Mount Rushmore.
The Summer Institute annually attracted as many as 40 students, approximately half of whom stayed and enrolled in Northwestern's ESL certificate or baccalaureate degree programs. Ultimately, however, competition with other schools and programs offered in major U.S. cities caused the institute's demise.
"Our program was more experiential," Karunakar says. "It was hard to advertise what we did relationally."
Those relationships, however, have lasted longer than the Summer Institute. Through Facebook, Heath continues to stay in touch with institute students. And when she taught English in Japan for two years after graduating from Northwestern, she met with several who lived in the Tokyo area.
"It was wonderful to see them in their home country and to learn from them about Japanese culture, food and language," she says. "Our roles were reversed, which was great!"