All In the Family
Iowa Business Hall of Fame recognizes achievements of Frank and Drew Vogel
BY ANITA CIRULIS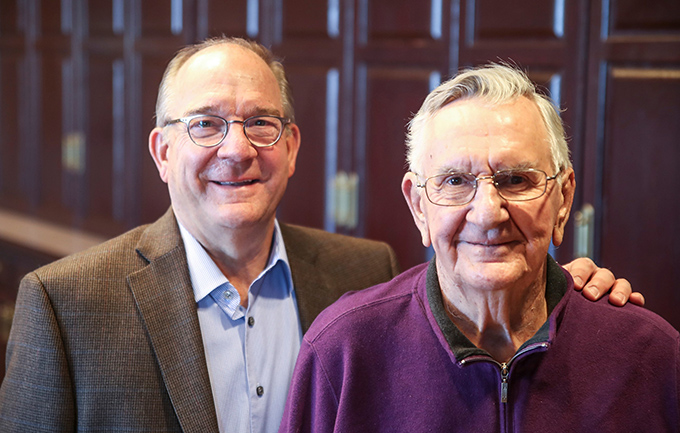 SUBMITTED PHOTO
Frank and Drew Vogel both ended up in the family paint business, but their routes there were vastly different.
"My father was a pretty strong-willed person," recalls Frank '47 of Andrew Vogel, who founded Diamond Vogel Paint in 1926 in Orange City. "He just told me that's what I was going to do, and I never questioned his decision."
By contrast, Drew Vogel '72 never felt pressured to follow in his father Frank's footsteps. Faced with two job offers after graduating from college, he called his dad for advice. Frank didn't make any recommendations but instead asked Drew a question: What makes your eyes light up?
"I've always enjoyed whatever I've done with the company," replied Drew, who had summer jobs at Diamond Vogel loading trucks, working in paint stores and making paint in the factory. "Is there an opportunity?"
"You'll have to interview with your uncles," was the reply.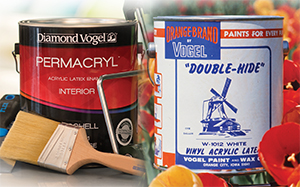 SUBMITTED PHOTO
Drew did interview, was hired, and eventually succeeded his father as president and CEO of Diamond Vogel Paint. Last December the father-and-son duo were inducted into the Iowa Business Hall of Fame, which honors the achievements of Iowans who have made outstanding contributions to the development and enhancement of the state's business climate.
The two are the first Iowa Business Hall of Fame inductees from northwest Iowa. "I feel it's more of a recognition of the company and its history and heritage than it is of the individual," Frank told a local newspaper. "It's a tribute to Orange City. It was very evident we were recognized as being from Orange City as well."
Though Drew initially reported to one of his uncles when he joined the company, that changed when he became a branch manager in Omaha. "Dad was my mentor for most of my career," Drew says of Frank. "He and I joke that I was always at least 150 miles away when I reported to him, but I couldn't have asked for a better boss."
Like his son, Frank remembers working for the family business as a youth.
"In those days, it was just red barn paint and white house paint," he says. "Sometimes they would tint the white to a cream or gray. The painter did that right on the job."
The business began in what was originally a barn—a structure that eventually became known as the Old Factory. A showroom occupied the center of the building, the paint factory was on the west end, and a glass shop, on the east. They bought truckloads of wallpaper, 40 rolls to a bundle, and sorted the rolls by pattern number using a numbered grid painted on the upstairs floor.
Frank was 18 years old and fresh out of the Navy in 1946 when his father put him in charge of the construction of a new factory, located on the site of what is now Jaycee Park next to Hospers Hall. When that factory burned down in 1964, the company built its current facility south of Northwestern College.
Frank was the company's first president in 1958. Nine years later, he purchased the Diamond Products Company in Marshalltown, Iowa, expanding the corporation's technology and geographic reach. During his 36 years as president, he oversaw Diamond Vogel's growth from a small local paint business to a strong regional supplier of architectural and industrial paints and coatings. Sales grew from less than $150,000 to more than $100 million annually.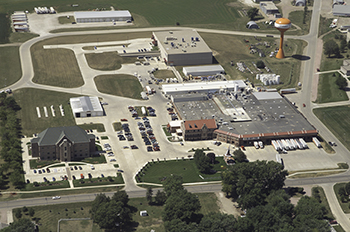 SUBMITTED PHOTO
Then, at the age of 60, he began a second career in banking and was equally successful. He purchased Iowa State Bank and grew that financial institution to nine branch operations in three counties.
"I felt that if I didn't get out of the way, Drew wouldn't be able to develop into leadership," Frank says of his decision to leave Diamond Vogel. "It's a great gift that Drew took over. He's a better manager than I was."
Drew continues to expand the company's territory and products. Diamond Vogel Paint is much larger than its headquarters in Orange City implies. The company runs eight production facilities, two in Orange City, and one each in Minneapolis; Sheboygan Falls, Wis.; Lincoln, Neb.; Tulsa, Okla.; and Marshalltown and Burlington, Iowa. It employs 850 people and has 65 service centers in a 15-state region.
Its products include paints, stains and finishes; painting equipment; automotive coatings; industrial wood coatings; industrial liquid and powder coatings; and pavement marking paint and equipment for airports, parking lots, roads and highways.
Mere growth, however, isn't how the Vogels measure success. Throughout the company's 92-year history, it has remained true to the core principles and values of its founder, Andrew Vogel: fairness, stewardship, integrity and service.
That commitment is one reason it's important to Frank and Drew that the corporation remain family-owned. "When ownership and management are in step with one another, there's a lot better chance of those values permeating the whole organization," Drew says.
The emphasis on stewardship is why Diamond Vogel Paint invests in every community in which the company is located—none more so than Orange City.
"Orange City has been good to the company, and it's been a great place to call home base," says Drew. "Northwestern College is part of that. It's integral to the lifestyle, the experience of living in the Orange City area—and its Christian mission plays a big part in our motivation to be part of Northwestern."
In fact, Northwestern is another way Drew has followed in his father's footsteps. Both Vogels have served on the college's Board of Trustees, Frank for 28 years and Drew for 23. And not surprisingly for company CEOs, both have served as the board's chair.

Town & Gown
Last fall, Diamond Vogel Paint and Northwestern College were both part of a 10-page feature in The New Yorker magazine, which asked the question, "As America's rural communities stagnate, what can we learn from one that hasn't?"
In the Nov. 13, 2017, issue, reporter Larissa MacFarquhar interviewed current and former Orange City residents about the benefits and challenges of living in the small close-knit community. Stephanie (Smit '01) Schwebach, Joe Clarey '09, Steve Roesner '83, Steve Mahr '09, Justin '01 and Vicki (Dykstra '01) Schrock, and Julie Vermeer Elliott '97 told why they chose to stay—or leave and eventually return.
With 204 full-time faculty and staff, Northwestern is Orange City's fifth-largest employer; its annual budget is $27 million.
"Orange City is the size it is, in part, because of the college," says Doug Beukelman, vice president for financial affairs. "You don't have to go very far to find main streets that aren't nearly as full as ours with the variety we have."
Duane Feekes '78, Orange City's city administrator, had an internship and summer job with Diamond Vogel Paint before he was hired by the city as an accountant.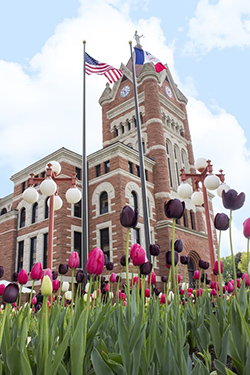 SUBMITTED PHOTO
"There are a number of people in our community who are Northwestern graduates and have stayed—or come back," he says. In fact, more than 2,300 of the college's alumni live within a 100-mile radius of Orange City.
According to Feekes, Northwestern contributes greatly to the community's quality of life, providing residents with an array of sporting events, art exhibitions, theatrical productions and musical concerts. The nearly 900 students who live on campus shop at Orange City's retail businesses, attend local churches, fill internships, participate in local service projects, and staff city recreation programs. Northwestern's facilities also serve as venues for everything from youth soccer games to concerts by nationally known Christian bands.
Northwestern's faculty and staff, meanwhile, bring their expertise to community boards and volunteer with organizations like the Orange City Arts Council and the Tulip Festival.
"We bring employees who are highly educated, and they become integrated into the community," Beukelman says. "And because many of them come from different parts of the country—and even world—they enrich our community with their unique perspectives, experiences and talents."