Leading Teachers
Northwestern's Master of Education graduates are transforming teaching, learning, and the way education is delivered and received
BY TAMARA FYNAARDT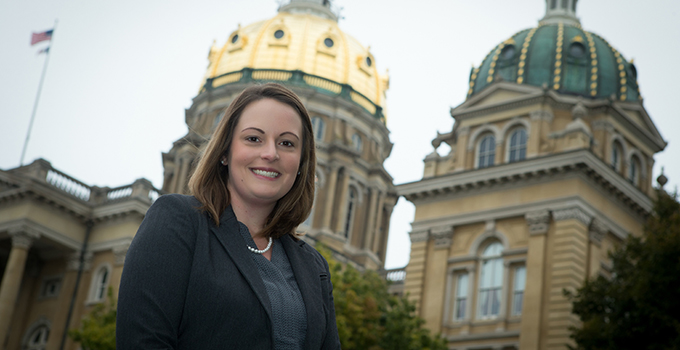 LON MONAHAN
Amanda Winslow (M.Ed. '17) is a busy working mom (a redundant phrase, as any mom knows). In the dozen years since graduating from Iowa State University with a bachelor's degree in elementary education, she's progressed from lead teacher for a room full of 2-year-olds to assistant director and then director for a childcare organization.
Three years ago, she capitalized on those experiences to earn a position as an early childhood consultant for the Iowa Department of Education. Now, as an expert on the cognitive, social and emotional development needs of children ages 0 to 5, Winslow works with teachers, caregivers and organizations across the state to promote high-quality early childhood care and education that's accessible and affordable for all of Iowa's families.
When she's done supporting other families, Winslow goes home to her husband and 7-year-old triplets for supper, homework help, soccer games, dance classes and more. So when the working mom decided she wanted to earn a master's degree, she looked for a program that fit both her busy life and her budget.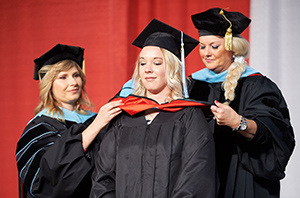 DAN ROSS
A colleague recommended Northwestern. Winslow hadn't heard of the college before, but she looked it up and discovered "a hidden gem," she says. Northwestern's Master of Education degree in early childhood checked her busy-working-mom boxes: It was one of the most affordable programs she'd found and—because it's completely online—it offered the flexibility and convenience to make earning another degree doable.
Winslow says Northwestern's program also delivered something she wasn't necessarily looking for but has come to value the most: a Christian perspective and strong sense of community. "I enjoyed the integration of Christianity and the supportive philosophy that educators are servant leaders," she says.
And the community—in a program where students may never meet their professors or peers face-to-face—exceeded her expectations. "Northwestern really established a sense of community, even online. I mean, I went to Iowa State, and there I expected to be a number. But I'd taken classes at another small university that prided itself on personal attention, and I didn't get it. At Northwestern, I really did. The graduate school staff and professors showed a genuine interest in me and how I was doing."
---
Northwestern began offering online classes consistently around 2011, hiring Dr. Rebecca Hoey, now dean of the graduate school, to develop an alternative way of delivering Northwestern courses that quickly grew into delivering whole programs online. In February of 2015, the college received approval from the Higher Learning Commission to offer graduate programs, and in May of that year Northwestern's graduate school enrolled its first students: a promising initial cohort of 81.
In just three years, the graduate school's enrollment has grown by more than 250 percent to 207 students. And last year's first class of 49 Master of Education graduates was larger than the total number of graduates, 34, who earned master's degrees when Northwestern offered an on-campus M.Ed. program from 1988 to 1996. Students can earn a Master of Education degree in one of seven tracks—early childhood, early childhood + birth through grade three endorsement, educational administration + PK-12 principal endorsement, master teacher, special education, special education + instructional strategist I or II, and teacher leadership—with additional tracks under consideration.
Master of Education director Dr. Sara Waring-Tiedeman attributes the explosive growth to the program's rigor and responsiveness. She oversees a geographically, ethnically and experientially diverse faculty of around 30, all content specialists with extensive education and experience in the courses they teach. They're also all Christians who view teaching as more than just a profession. It's a mission—a mission that compels them to demonstrate the same care for their graduate students that they've demonstrated in the preschool through high school classrooms where they've also taught.
"Our instructors and enrollment counselors are constantly working with our M.Ed. students to ensure they're successful," says Waring-Tiedeman. "I see some of their messages to students where they encourage: 'I know this is challenging. I know it's hard with a family. What can I do to help?' Of all our students in the program so far—including one who had heart surgery during her program and another who had a baby between semesters—only two who reached the capstone course haven't completed the program."
---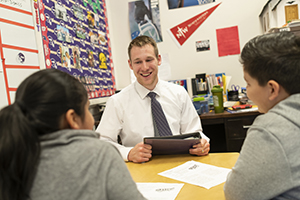 DOUG BURG
The high degree of support is a strong selling point for a program with high standards. At the conclusion of the program, each master's student completes a research project in her or his classroom or other educational arena. Waring-Tiedeman teaches the capstone course and coaches her sometimes research-rusty students through rigorous project planning, implementation, and data gathering, evaluation and dissemination.
Transitional-Kindergarten (T-K) teacher Shari Lehnhoff (M.Ed. '17) had always regretted not getting her master's degree. When she heard about Northwestern's program from a friend, the 20-year classroom veteran decided the time was right.
Lehnhoff appreciated Northwestern's emphasis on helping students learn the latest educational theories as well as best-practices strategies she could implement in her classroom. For her capstone project, she collected data that challenged her to develop new methods of literacy instruction for her TK classroom at Marcus, Iowa, Elementary School. "The program made me better at my job," she says.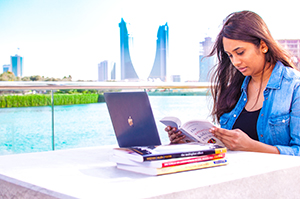 MATT EALIAS
Nathan Fischer (B.A. '13, M.Ed. '17) also gained appreciation for the role research plays in helping teachers become better at their jobs. The third-grade teacher at Orange City Elementary School used his capstone research to pilot a supplemental reading curriculum he and his colleagues were considering. "My research showed a positive correlation between the program and reading comprehension, so we now have full confidence going forward that it will be beneficial for our students."
Christine Roy (B.A. '12, M.Ed. '16) explored the role professional learning communities and peer support can play in Arabian schools for her capstone research. As a literature teacher at the Al Raja School in Manama, Bahrain, Roy really put the "distance" in distance learning when she enrolled in the teacher leadership master's track from more than 7,000 miles away.
"I loved it," she says. "The material was challenging and thought-provoking. Growing up in Bahrain, with Indian roots, my ideas of education were being confronted. The reading and questions posted for discussion helped me reflect as a teacher and better myself. The professors, despite the distance, didn't feel far away. They were always present and understanding."
Roy says both her undergraduate and graduate education at Northwestern helped her grow as a teacher, an encourager and a leader. And it's expanded her understanding of teaching as a mission—so much so that she's now aiming to teach in another Arab country where she also hopes to minister to refugees. "I want to help them learn things they haven't been able to and in return learn from them too."
---
Merit badges
Northwestern's online Master of Education program is getting good grades not just from students, but also from organizations that evaluate academic excellence and affordability.
| | |
| --- | --- |
| | Most affordable in educational leadership or administrative degrees among private colleges GradSchoolHub.com |
| | 2nd among the nation's top low-cost online master's programs BestMastersDegrees.com |
| | 3rd among the nation's 25 most affordable online master's of educational leadership and administrative degrees AffordableSchools.net |
| | 4th among the top-20 online master's of early childhood education programs TheBestColleges.org |
| | 7th on a list of the best online colleges in Iowa BestValueSchools.org |
Blake Wieking (B.A. '08, M.Ed. '16) can't imagine any better career than teaching middle schoolers. "What isn't to love?" he asks. "Middle schoolers are still young and green enough where they're excited about learning and new ideas. They're going through immense and awkward changes. They ask good questions and are usually honest. They're funny—sometimes without intending to be."
Wieking is excited about learning and new ideas too, so the MOC-Floyd Valley educator enrolled in Northwestern's master's program in teacher leadership. He says the program helped him think not only about the needs of his students, but also about the needs and challenges his colleagues and administrators face.
"Education seems to be an easy target for many people when they look at our changing culture and what needs to be addressed," Wieking says. "Public education in the U.S. has the great opportunity— and challenge—of creating an environment that fosters learning, excellence and civic responsibility in the minds and attitudes of millions of students from a variety of backgrounds."
Wieking believes communities should invest in good teachers. "Increased value needs to be placed on the development of teachers beyond their training as undergraduates," he says. "The teachers I know are not just educators but also mentors, coaches, sponsors, social workers, advocates, translators and so much more."
Northwestern has a longstanding reputation as one of the best places for teachers to develop further—as educators and as servants called to embody Jesus' love for children in their classrooms and schools. "A lot of students come to Northwestern for the convenience and because we're very cost-effective," says Waring-Tiedeman. "In their final reflective essay on their master's experience, they say things like, 'I came out of convenience, but by the time I left, I realized how even as a public school teacher, I can show God's grace in my classroom.'
"Through Northwestern's program, their passion for teaching is coming from a different place of awareness. They realize their job is a form of God's work."
They're teachers on a mission.

Growth in Numbers
| | |
| --- | --- |
| 7 | Master of Education degree tracks available: Early childhood, Early childhood + birth through grade three endorsement, Educational administration + PK-12 principal endorsement, Master teacher, Special education, Special education + instructional strategist I or II, Teacher leadership |
| 153 | Current enrollment in Northwestern's Master of Education program (total enrollment in graduate courses, including non-degree-seeking students, is 207) |
| 49 | Master of Education degrees awarded in 2017 when the first class graduated from the online program; in 2018 another 46 received their M.Ed. diplomas |
| 15.7% | Percentage of Northwestern's M.Ed. students who also earned their bachelor's degree at NWC |
"The percentage of M.Ed. students who also earned their bachelor's at Northwestern has dropped since the program began, which is a good sign. It means growth is coming from a more diverse background, and we're able to recruit effectively even if a prospective student doesn't know us from their undergraduate experience. Northwestern's online programs truly are broadening the availability of the Northwestern experience to students we wouldn't otherwise reach." – Dr. Mike Wallinga '01, director of institutional research