Running Thoughts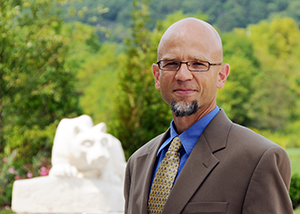 KATE MORGAN
The starting line for the Lehigh Valley Health Network Via Marathon is just 10 minutes from Dr. Douglas Hochstetler's house. Hochstetler '89, who runs most mornings and uses the time to reflect and pray, trained to run the Via a few years back. He trained hard, hoping to race fast enough to qualify for the Boston Marathon.
Except he didn't. Hochstetler failed, which fascinated the kinesiologist in him.
"I was a wreck," Hochstetler says. "I called my wife and was fighting back the tears. And then I wondered, 'How did this qualifying time become so important?' The training process had been a journey, a fine-tuning that came as a result of taking on that risk, but there was also a tangible outcome—I didn't make it."
Such musings are the material for Hochstetler's academic papers. The longtime kinesiology professor at Penn State Lehigh Valley (and also its interim director of academic affairs) writes about the places where sports and American philosophy meet. He finds that 19th century philosopher and psychologist William James' emphasis on risk as a road toward developing human potential pairs well with endurance sports such as running.
These interdisciplinary observations won Hochstetler the 2018 Distinguished Scholar Award from the National Association for Kinesiology in Higher Education.
It's a tangible outcome worth writing about.
BY AMY PHILLIPS
---
Unity Enthusiast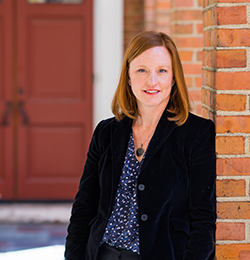 JOE MAHER
Dr. Monica Schaap Pierce '99 chose an obscure 16th-century meeting between Catholics and Protestants as the topic for her Northwestern Honors Program thesis, and now she thinks she knows why.
As ecumenical associate for the Reformed Church in America since 2016, Schaap Pierce fosters dialogue and cooperation between the denomination and other Christian traditions—with a passion for unity she's had from the start.
"Unity does not mean uniformity, but the biblical mandate is clear," Schaap Pierce says. "Our goal is to live into the reality that Christ has already made us one."
Thanks to now-retired religion professor Jackie Smallbones, who encouraged her teaching gifts, Schaap Pierce went on to pursue advanced degrees from Lutheran and Roman Catholic institutions: Trinity Lutheran Seminary and Fordham University. This diversity readied her to address issues of theological division that have existed, in some cases, for thousands of years.
Schaap Pierce connects with local churches and partners with organizations like the National Council of Churches to produce educational materials on topics such as racism and mass incarceration.
"One of my goals is to get the next generation involved in ecumenism," she says. "It's almost intuitive for them to connect with each other, and I want to give them the opportunity to forge those relationships."
BY AMY PHILLIPS
---
Mom's the Word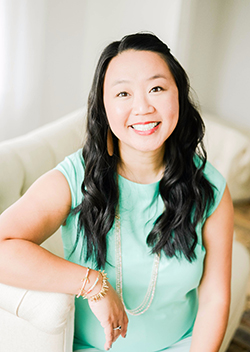 ANA WOODS
Kara (Dehmlow '05) Knaack co-owns a business, but there's no storefront to see or even products to buy. She is in the business of making connections. Knaack, a wife and mother of two from Grimes, Iowa, is co-owner of the Des Moines Moms Blog, which seeks to help area moms make connections with ideas, local businesses and, most of all, each other.
Knaack started as the blog's sponsorship coordinator after the birth of her second child; she was approached about becoming an owner shortly afterward. While the idea was exciting, she preferred to share the responsibilities. It was her local friend Andrea who came to mind—ironically an "internet friend" she knew mostly through her own blog. As it turns out, the online friends are a mom-match-made-in-heaven, complementing one another beautifully on their mission to create an online community for moms.
Knaack, a communications and advertising professional by trade, handles all advertising, sponsorship and business development for the Des Moines Moms Blog (desmoinesmomsblog.com). She enjoys partnering with businesses, especially highlighting local ones run by other moms. But most of all, she loves offering the opportunity to connect and give voice to thoughts and feelings that sometimes go unsaid in motherhood.
"It's special for me to create that community of moms where we're not competing, not being judgmental," Knaack says.
BY BETH (NIKKEL '02) GAULKE
---
CSI: Superpowers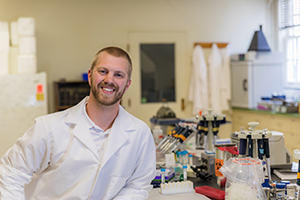 360 PHOTO & DESIGN
Zach Landhuis '16 thought he would spend his career correcting alignments in a chiropractic office, not helping law enforcement agencies align evidence with suspects. But a turn in his interests during his junior year at NWC led him to connect his love of biology with his fascination for criminal justice.
Now he is on the cusp of completing his master's degree in forensic science with a concentration in forensic biology/DNA analysis at Michigan State University, planning to work as a criminalist in a state forensics laboratory upon completion of his thesis.
While most of us only see television's fake forensics, Landhuis indicates some of that "magic" is real. DNA analysis, considered the "gold standard" in forensic sciences, excites Landhuis because of its incorporation with population genetics. "With full DNA profiles, the probability of a profile matching another random individual can be far lower than one in hundreds of trillions, which makes it such a convincing argument in court," Landhuis says.
An interesting addition to Landhuis' graduate studies included another unique intersection: forensics and superheroes. As a special project with his supervising professor, Landhuis was a co-consultant in offering accurate technical information for the Batman and Robin Crime Scene Investigation Series, a children's book series that explains the types of forensic science.
No cape yet, but Landhuis clearly has some scientific superpowers of his own.
BY BETH (NIKKEL '02) GAULKE