Rocket Man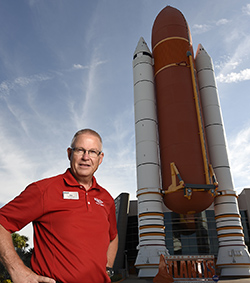 TODD ANDERSON
Place a LEGO man in a clear container. Drop the container from a height and watch as he is suspended mid-flight, weightless—as Jim Christensen '79 was while aboard a reduced-gravity aircraft, a trip typically reserved for astronauts and researchers. Only an award-winning former science teacher would think of an object lesson like that, right?
"Having that experience gives me an incredible advantage to simulate microgravity for others," says Christensen, director of education at the Kennedy Space Center Visitor Complex in central Florida. "We're coming up with some ideas that are going to be mind-blowing."
Christensen landed the position at the space center when he started the countdown to retirement. After years as an educator and science and technology consultant in Iowa, he first entered NASA's orbit when they asked him to lead a workshop for teachers. That led to 10 years of heading a NASA educational research center, and he leapt at the chance, in 2014, to develop popular programs such as the Astronaut Training Experience for Kennedy Space Center.
The space center is a working launch site, with 39 blast-offs scheduled this year. If one takes place during Christensen's workday, he dons a "Launch Team" shirt and fields questions from observers. And if liftoff occurs in the wee hours of the morning, he wakes at the sound of the rocket's roar and heads outside, eyes to the sky and full of wonder.
BY AMY SCHEER
---
A Freshman Again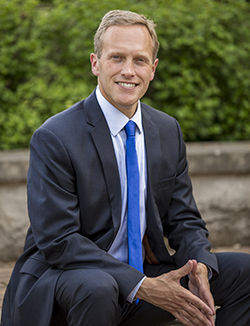 TRINITY CHRISTIAN COLLEGE
If someone were to describe the ideal preparation for a role as college president, it might look similar to the career path of Kurt Dykstra '94. Attorney, finance executive, politician, professor—Dykstra is drawing on all of those experiences as he begins his job as president of Trinity Christian College in Palos Heights, Ill.
Dykstra, who started in July, has been busy learning the college's past and present while developing plans to steer it toward a solid future. "Our biggest challenges in the short term are questions of enrollment and budgetary impact, and trying to get our fiscal situation to the point where we can say confidently we're on a path to assured sustainability," he says.
While his new presidential role leverages his past experiences, Dykstra says, "Taking that knowledge and translating it into a new industry is going to stretch me. Working with a wide array of persons with differing perspectives and corralling that energy toward advancing a common purpose will be a challenge—a very enjoyable one."
The role is also bringing Dykstra full circle in a sense. The former Northwestern student government president describes his four years at NWC as "transformative" and says he's looking forward to being part of that same kind of experience for Trinity students. "It's an opportunity to be a part of students' lives at a pivotal time."
BY SHERRIE BARBER WILLSON '98
---
Rookie Rewards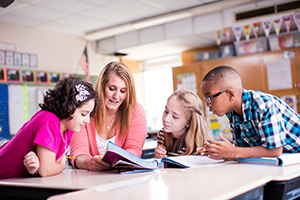 GEOFF JOHNSON
Parent-teacher conferences. First-year teacher Krissa Hetletvedt '14 was nervous for her first round. She was especially anxious about the frank conversation she needed to have with one student's parent.
As she described the second-grader's attention and learning issues and the measures she planned to take to address them, the boy's mother began crying. Krissa asked if she was OK. "I'm usually crying because I'm so frustrated," the mom said, "but this time I'm crying because I can tell you care so much about him."
Hetletvedt's classroom passion for students and their learning received special recognition last April when she was named Rookie of the Year by the Omaha Education Association.
Her colleagues at Catlin Arts Magnet School described her in their nominations as "extraordinary" and "amazing." They wrote about her "unrivaled enthusiasm" and "unwavering commitment." The school's instructional facilitator said Hetletvedt "treats each child as if he or she is the only one in the class."
Soft-spoken and seeming a little embarrassed by all the attention, Hetletvedt credits Northwestern's teacher-as-servant philosophy with showing her how to put students first. "I'm here to serve my students—whether that's using a different teaching approach for students who are struggling or just being a caring and dependable adult in their lives. I'm here for the students. They're my motivation."
BY TAMARA FYNAARDT
---
Beyond Words
LON MONAHAN
As a college sophomore undecided about her major, Kelcee (Foss '04) Murphy took the phrase "career search" literally. After a summer working in a state psychiatric hospital, she had decided to enter the mental health field, but she was unsure how to incorporate her artistic side. So she Googled it.
With a few key words, Lesley University's master's program in expressive arts therapy popped up. Immediately it clicked. Murphy wrote her own major in therapeutic arts at NWC, and five years later completed her master's at the graduate school in Cambridge, Mass.
Now in private practice in Des Moines, Murphy integrates all forms of creative expression in her therapy sessions. Though oral communication is one of them, it does not always prove the most valuable. "Sometimes there are experiences we don't have words for," she says. "There are alternatives to verbal communication that can be really enlightening, empowering and honoring to people."
Murphy has seen art and other creative techniques enhance therapy in cases of PTSD, addiction and trauma. Most recently, she has seen its impact at Studio E, a six-week art program for teens and adults with epilepsy. In open-studio sessions, she helps participants explore identity and self-esteem, as well as build connections.
Murphy has learned to listen, even when the voice is inaudible. "My favorite moments in therapy happen when people feel known and their experience honored. We don't always need words to get there," she says.
BY BETH (NIKKEL '02) GAULKE