Strategic Cutbacks
Program review leads to reductions
BY DUANE BEESON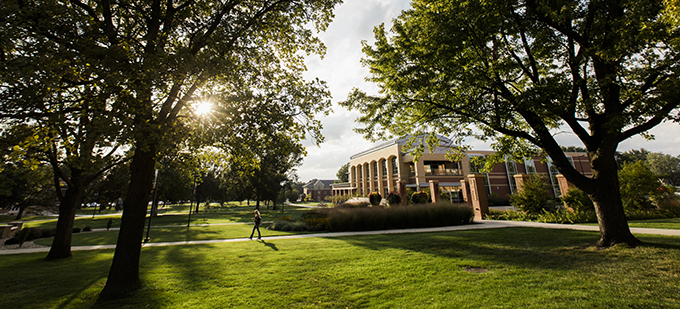 Geoff Johnson
Northwestern is dropping its journalism and music ministry majors as the result of a right-sizing process that will result in cuts to the equivalent of eight full-time faculty and staff positions by the 2016–17 school year. The cuts were announced this summer after a five-month review of costs in an effort to bring staffing and program offerings in line with enrollment.
The majority of the cuts involved open positions that were not filled or were reduced, but one current full-time staff member will no longer have a job at NWC after this academic year. Among the departments affected are athletics, communications, computer science, English, global education, intercultural affairs, music and religion.
The cuts are among a number of decisions projected to save nearly $2.2 million by the end of next year. In addition to the personnel reductions, other budget changes include a salary freeze for next year, a decrease in the college's annuity benefit, and modifications in financial aid packaging.
"We've had only two budget deficits in the last 30 years," says President Greg Christy, "but the Board of Trustees said we needed to address challenges in our operating budget. We've been tightening our belt the last few years, trying to eliminate unnecessary expenditures, but that hasn't been enough."
Christy announced to faculty and staff in February that a right-sizing process would begin. A group of 11 faculty and staff members was charged with the task of making recommendations regarding academic program cuts. From March to June, the committee reviewed extensive data on programs, with a focus on those with high costs and/or low enrollment. Meanwhile, the Administrative Council did similar reviews of each staff division.
"Our goal was to do what's in the best long-term interests of the college in accordance with the strategic plan," says Christy. "Programs were evaluated based on their centrality to our mission, distinctiveness, quality and demand."
While cuts were necessary to get the operational budget in shape, Christy emphasizes that Northwestern is on very sound financial footing. A number of financial indexes rank NWC in the top 75 percent compared to peer institutions. Northwestern's $48 million endowment is nearly twice the national median per student, and the college has only about $5 million in debt.
Enrollment Challenges
After reaching a record high of 1,342 students in 2006, Northwestern's enrollment has ranged between 1,205 and 1,243 over the last eight years. The struggle to increase enrollment is due to many factors, including the decline in high school graduates in Iowa and surrounding states, intensified competition—from community colleges and state universities as well as for-profits and private colleges—and a growing concern about college costs as a result of economic challenges affecting the country since 2008.
Last year another obstacle emerged. Iowa's Board of Regents, which oversees the University of Iowa (UI), Iowa State University and the University of Northern Iowa, proposed tying funding for those universities to their in-state undergraduate enrollment. Because of that, UI—which stood to lose $47 million if the funding model was implemented—embarked upon a multimillion dollar advertising campaign, and its counterparts also increased their advertising. The University of Iowa also significantly increased the financial aid it offered to in-state students.
As a result, Iowa and Iowa State both set enrollment records this fall, with Iowa's freshman numbers increasing by nearly 12 percent. Meanwhile, many Iowa private colleges did not meet their recruiting goals, including Northwestern.
NWC officials saw what was happening last spring, when an analysis showed, for the first time, that all three Regents institutions were among the college's top five competitors.
The Board of Regents funding plan wasn't approved, and UI has reduced its advertising campaign. Meanwhile, several changes have been implemented in Northwestern's admissions office, including using a lead-generation firm to help recruiting efforts. The result has been a record number of applications for fall 2016.
"I'm encouraged by the much higher interest we've had from prospective students," says President Christy. "Northwestern has a lot to offer, and it's important that we expand our reach."
"We're a tight-knit community, and there were no easy choices. It has been extremely hard because we're dealing with the lives of people we care about."
A strategic decision a few years ago to offer a Northwestern education to adult learners by entering the online and graduate education markets is already paying off. While the number of freshmen was down this fall, NWC's total enrollment actually increased due to a strong enrollment in the new Master of Education programs, as well as a record rate of freshman-to-sophomore retention.
Painful Process
Christy describes the right-sizing process as gut-wrenching. "We're a tight-knit community, and there were no easy choices. It has been extremely hard because we're dealing with the lives of people we care about."
But he says he sees a great resiliency in NWC's employees and an unwavering commitment to the college's mission.
"We can draw tremendous strength from the fact that God has blessed this institution for more than 130 years and used our alumni to further his kingdom both locally and around the globe," says Christy. "The world needs the kind of faithful and courageous Christian servants and leaders we produce. God will be faithful as we are faithful to the mission he has for us. We will come out of this process even stronger, and not only survive, but thrive."