Things
Raiders

Say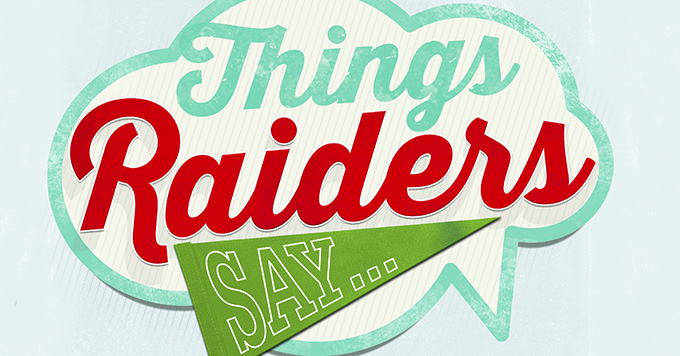 Insider speak. Every community has it, and Raider Nation is no different. Who else would know that Juff (pronounced "Yuff") is Dr. Ron Juffer, beloved former education professor and legendary hook-shot threat on the basketball court? The Classic asked staff and students: What are some of today's Raiderisms?
P 'n' Dub. Short for P and W, which is what students call Sunday night's Praise and Worship gathering in Christ Chapel. P 'n' Dub happens every Sunday night at 9. It's student-led and one of Orange City's most popular worship services.
Walk of shame. Nope, not what you were thinking. Walk of shame is how Northwestern students describe that awkward moment when someone reaches the chapel attendant, realizes he left his attendance card in the pew, and has to make the long walk back to retrieve it.
PGC isn't the only NWC leader abbreviated by students. They also have nicknames for these profs:
Darnett (sometimes pronounced "Darn it!") Dr. Dave Arnett, chemistry professor
DMG Dr. Tim McGarvey, music professor (notably, students made "Dr." an official part of his monogram)
Dr. J-C Dr. Heather Josselyn-Cranson, music ministry professor
Dr. No Dr. Byron Noordewier, biology professor
Dr. Ruth Dr. Ruth Daumer, nursing professor
Prof Professor Virg Muilenburg, former biology professor and current member of NWC's lawn-mowing crew
Christy's cross. It has nothing to do with chapel, and it doesn't describe the presidential burdens of Northwestern's top administrator (or any kind of medieval-style student discipline). Christy's cross is what students call the Northwestern cross made of light-colored pavers in the landscaping in front of Zwemer Hall (location of President Greg Christy's office, or as students might say, the office of "PGC.")
Stoop-a-thon. An annual spring event, Stoop-a-thon is a week of round-the-clock sitting and sleeping outdoors to celebrate the community of the former Heemstra Hall. The brotherly camaraderie was cultivated by hours of socializing and philosophizing near Heemstra Hall's main entrance, or stoop. After Heemstra was razed in 2010, a wing in Colenbrander Hall was designated as the place where the spirit of Heemstra would live on. Now Stoop-a-thon squatters drag sofas and sleeping bags to the campus green and welcome those who don't even remember Heemstra Hall to sit a spell.
Applesmash. A visitor to the caf might witness Applesmash. Invented by men in Hospers Hall, Applesmash starts with a chant followed by one of the chanters' tablemates violently smashing an apple on his forehead. (As antics go, seems kind of fruitless.)
"Roots!" Its origin traces to men in North Suites. "Roots!" means, "Me too!" As in, Student A: "I just saw a guy smash an apple on his forehead." Student B: "Roots!"
The Fernace. When Fern Smith Hall gets too hot....
Coly. Colenbrander Hall's nickname is a great fit for the dorm's annual Christmas celebration and hall decorating competition, O Coly Night.
Steggy. Stegenga Hall. Steggy women also have a hall decorating competition, followed by a party with root beer floats: the annual Steggy Keggy.
Heaven, h*ll and purgatory. Parking lot near your residence hall? Heaven—it's divine if there's an open spot there. Have to walk a ways? Purgatory parking. Only spot available is behind the former Bushmer Art Building? Sorry; you're parked in perdition.
NWC Acronyms
CDC – Career Development Center (not the Centers for Disease Control, as one new employee thought)
CMT – Campus Ministry Team
DME – Drama Ministries Ensemble
DMH – DeWitt Music Hall (a freshman once thought it meant Dr. McGarvey's Headquarters)
RSC – Rowenhorst Student Center
SOS – Summer of Service
SSP – Spring Service Projects
TPE – Theatre Production Ensemble
VPH – Van Peursem Hall