Big Times in the Bultman
10 of the Best Moments on the Raiders' Court
BY DUANE BEESON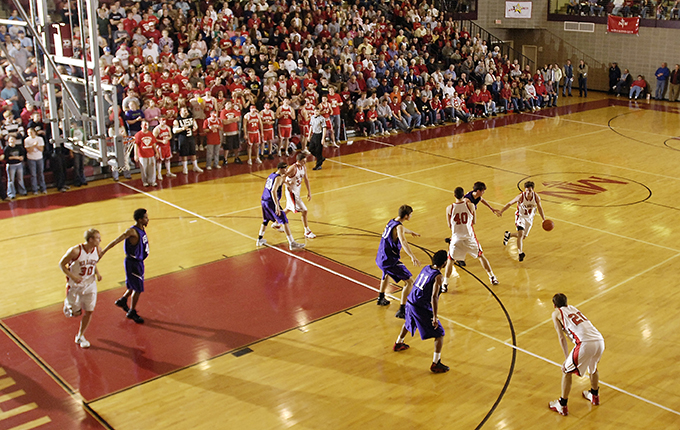 DAN ROSS
For 25 years, Red Raider standouts have been making memories in the Bultman Center. From exhilarating team comebacks to record-setting individual performances, athletes and coaches have given NWC fans countless moments to celebrate. Here are some of the most memorable.
Rookie's Got Game
Dec. 13, 1997
NWC Men's Basketball 87, Dordt 83 (OT)
Early in the game, Ben Gerleman '01 air-balled a 3-pointer and the Dordt crowd started chanting, "He's a freshman! He's a freshman!" Gerleman proceeded to make his next four shots from beyond the arc, inspiring the Northwestern crowd to take up the chant. Fittingly, Gerleman hit another with :05 left to send the game into overtime. He finished with 22 points.
Multiple Threats
Feb. 23, 2001
NWC Men's Basketball 115, Sioux Falls 112 (2 OT)
In a GPAC semifinal-round game, the Raiders trailed 45-41 at the half. At the end of regulation, it was 91-91, and Gerleman had 36 points. Brandon Woudstra '03 hit 3-pointers to send the game into both overtimes. Brandon Jacobson '02 scored all the points in the second overtime to seal the victory.
DAN ROSS

Shooting Star

Feb. 13, 2006
Deb Remmerde-Leusink free-throw shooting exhibition on CBS' The Early Show

After having broken all known organized basketball free-throw streaks with 133, Deb Remmerde-Leusink '08 showed a national audience how she did it, connecting on 580 of 585 free throws in front of a crowd of Raider fans. She made 256 in a row.

Nearly Perfect

Nov. 3, 2006
NWC Women's Basketball 97, Valley City State 65

In the season opener, Remmerde-Leusink hit 15 of 16 field goals, including 9 of 10 from 3-point territory. She scored 15 points in the first nine minutes and ended the game with 41 points.
Raider Magic
When the Raiders take the court in the Bultman Center, there's a strong chance they will be victorious.
Here's how they've done so far:
Men's Basketball
284-79 (78.2%)
Women's Basketball
289-55 (84.0%)
Volleyball
298-74 (80.1%)
Wrestling
36-31 (53.7%)*

*Wrestling dual records since 2005, due to incomplete data
Buzzer-Beater
Jan. 29, 2011
NWC Men's Basketball 85, Dordt 82
Dordt was up by 10 with 11:40 remaining. The Raiders came back to take the lead, but Defender All-American Cliff Warner hit a 3-pointer with :05 left to tie the score. After Coach Kris Korver '92 called a timeout, Jon Kramer '12 sank a 25-footer with Warner in his face as the buzzer sounded.
Raining Threes
Feb. 19, 2011
NWC Women's Basketball 109, Sioux Falls 64
The Raiders played a nearly flawless first half, compiling a 67-24 lead. Northwestern made 11 of 14 first-half 3-pointers, with Becca (Hurley '11) Kramer going 6 for 7. Four other NWC players also made 3-point shots that half.
Floored
Nov. 6, 2013
NWC Volleyball 3, Dordt 2
Dordt won the first two sets, but Northwestern came back with resounding victories in the next two and won the final set, 16-14. With the score 12-12 in the fifth set, a kill by Brooke (Fessler '15) Vander Voort knocked a Defender to the floor. Kaitlin Floerchinger '15 recorded the final two kills.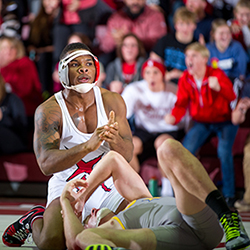 DAN ROSS
Upperweight Takedown
Jan. 30, 2016
NWC Wrestling 20, Morningside 19
Many Raider alumni and fans were in the Bultman Center to celebrate the dedication of the Bartlett Wrestling Room. Northwestern hadn't beaten Morningside since Coach Rik Dahl '97 started in 2008. After Austin Boles '19 won at 125, the Raiders lost four matches. Needing some big wins, Northwestern won the final five matches, including Brandon Shuler '18 at 165, Zach Fishman '16 at 174, Luis Rivera-Santiago '17 at 184 and Tyree Cox '17 at 197. Nick Null '18 bumped up to heavyweight and recorded a 10-5 win to tie the dual at 19-19. The Raiders won by virtue of taking the most match victories.
Offense Beats Defenders
Dec. 6, 2017
NWC Men's Basketball 116, Dordt 111 (OT)
With 2:28 to go, the Defenders led 95-86. A furious comeback culminated in three free throws by Colton Kooima '18 with :06 left to send it into overtime, 102-102. The Raiders made all five of their field goal attempts in the extra period. Nathan Wedel '18 poured in 46 points.
Killer Match
Oct. 16, 2019
NWC Volleyball 3, Dordt 2
The Raiders won the first two sets but lost the next two. The fourth set went 37-39, a new GPAC record. Northwestern regrouped and took the last set, 15-11. Anna (Kiel '20) Wedel set a single-match kill record with 32.

Honorable Mention
Athletic Director and Head Men's Basketball Coach Todd Barry made the first shot ever taken in the Bultman Center—even before the gym's floor was laid. As construction workers watched, he settled for a sure-thing layup.

During warmups before a women's basketball game about 10 years ago, a racquetball suddenly bounced onto the middle of the court. Months earlier, summer maintenance student employees had tossed it into the speaker system's bass cannon hanging from the ceiling. They'd spent more than an hour on the attempt before finally "scoring a bucket."

Marcus Leloux '04 and Megan Gort '06 got engaged in the men's locker room on Jan. 24, 2004. Following his game, Marcus convinced her to come in and say hi to a friend. Instead, she found a bouquet of red roses and a message on the whiteboard: "Will you marry me?"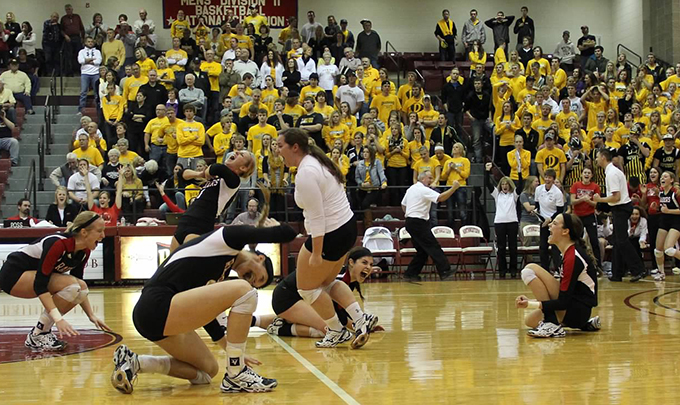 SUBMITTED PHOTO