Standout Courage and Faithfulness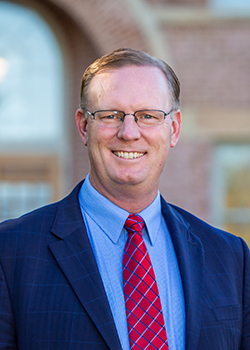 LEM MAURER
Having just completed my 12th year as Northwestern's president, I have been reflecting on the thousands of amazing alumni I have gotten to know. One of the joys of serving in this role is the opportunity to meet so many incredible people who are difference makers in big and small ways.
With our vision of becoming the leading Christian college focused on student success and Christ-centered work for the common good, Northwestern is truly different from other colleges and universities. In this issue, you'll read about several alumni who are not only living differently but also making a difference as a result of their Northwestern education.
At Northwestern we believe excellence honors God and serves others. This is what I have witnessed in the lives of countless alumni, including those you'll read about later in this issue, and a few I'd like to mention below.
I have had the privilege of watching Greta Hays '11 grow from a standout student in public relations and theatre to now serving the Council for Christian College & Universities as director of communications and public affairs.
In my first weeks on campus, I met the Rev. J.P. Sundararajan '00, who grew up in India and worked with Audio Scripture Ministries to enable people to hear the word of God in their native languages. He is now director of global missions for the Reformed Church in America.
Dr. Jono Taves '13 attended physical therapy school at the Mayo Clinic, and his wife, Janet (Pitsenberger '14), worked as a nurse there before they moved to Colorado Springs. Now Jono owns a physical therapy practice, Novera Headache Center, and Janet serves as a nurse at Centura.
And Marty Guthmiller '82, who has served more than 25 years as the CEO of the Orange City Area Health System, has also found time to serve eight years on Northwestern's Board of Trustees, including five as board chair. In 2012 he was inducted into the Iowa Volunteer Hall of Fame in recognition of all he has done for the Orange City community.
What do these alumni have in common? They stand out as people who are Christ followers—as excellent professionals who care deeply about others and lead lives of significance.
Our mission is to engage students in courageous and faithful learning and living that empowers them to follow Christ and pursue God's redeeming work in the world. The world we live in is desperate for courageous and faithful leaders and servants. These alumni—and numerous more like them—stand out in this way. As a result, Northwestern College stands out.
And ultimately, Christ stands out as alumni achievements reflect Northwestern's motto: Deus est lux (God is light). May God's light continue to shine brightly through our faculty, staff, students and alumni.