Double Threat
BY DUANE BEESON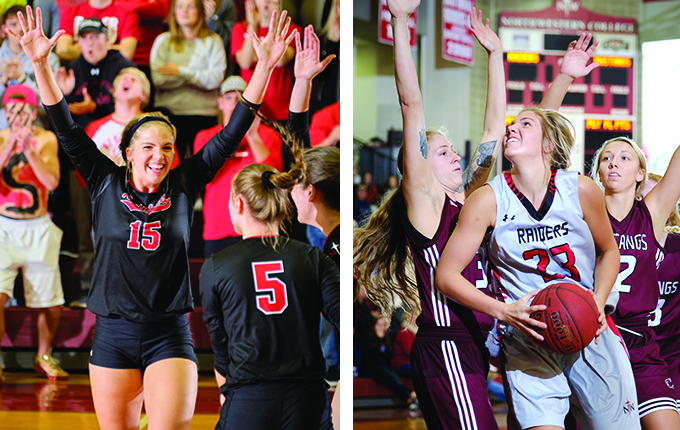 DAN ROSS
Anna (Kiel) Wedel was a prized volleyball recruit for Iowa State University in 2016. The Des Moines Register's Female High School Athlete of the Year, she was a three-year all-stater in volleyball and leader of two state championship basketball teams at Orange City's Unity Christian High School. In her first volleyball match playing for Iowa State, she recorded 10 kills and appeared headed for a strong career as a Cyclone.
There was just one problem: Iowa State didn't feel right.
"I wanted a smaller Christian school, and Northwestern was the right fit," she says. Wedel went through the transfer process, and by Dec. 30, 2016, was playing basketball with two high school teammates for the Red Raiders.
Three years later, she knows she made the right choice. She enjoys being able to play both volleyball and basketball for Northwestern. The psychology major and two-sport NAIA Scholar-Athlete points to academic and spiritual growth. And, she says, "The community here is incredible. I've loved the relationships I made."
The 6-0 All-American outside hitter has been named national player of the week three times. A redshirt junior, Wedel was second in the conference in kills per set and hitting percentage in 2019.
Meanwhile, Wedel has earned all-conference honors in basketball three years in a row, averaging double-digit scoring each season.
Her coaches describe the Northwestern student-athlete as a hard worker, highly competitive and very coachable. But there's more.
"She's very good at making personal relationships with each girl on the team," says volleyball coach Kyle Van Den Bosch. "She probably gives the most high-fives in practice and matches."
"She doesn't leave any doubt in anyone's mind that she cares about them," says women's basketball coach Chris Yaw '92, "and that sets the stage for leadership."
That leadership continues for one last season in basketball, with her final volleyball season next fall. She'll graduate in December 2020. Until then, Raider opponents, beware.
For more on Raider sports, visit nwcraiders.com