Good Medicine for Kids
BY DUANE BEESON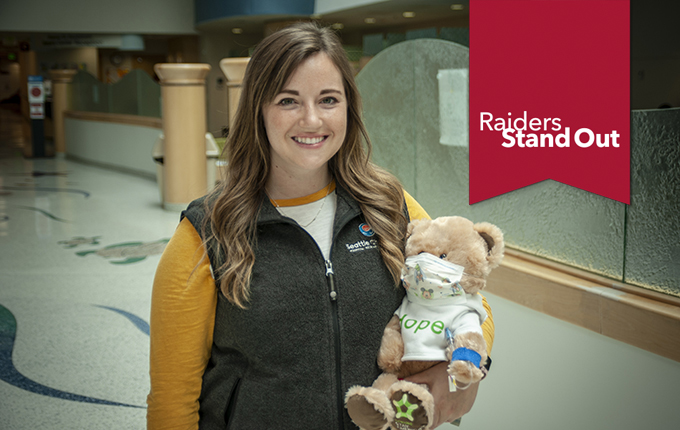 SUBMITTED PHOTO
Owen's* family was stressed. The 7-year-old boy had a gait abnormality, and doctors at Loma Linda Children's Hospital determined a scan of his whole spine was needed. The procedure would take an hour and a half under anesthesia—and there was a seven-month wait. Then Rachel (Muilenburg '14) Kinsinger stepped in.
A child life fellow at the hospital at the time, Kinsinger had pioneered a method that enabled many children to undergo MRIs without anesthesia—which meant shorter wait times, reduced cost and less worry. Previously, most kids under 12 were automatically given anesthesia because of assumed anxiety caused by the confined space and loud noises, as well as the need to hold perfectly still for a long period of time. The wait time was at least three months, which increased apprehension for patients and their families.
Kinsinger reviewed the records of the children on the wait list and determined if they would be good candidates for a scheduled practice MRI session—and potentially a non-anesthesia MRI. Then, using a decommissioned MRI, she set up a practice area with a gurney and slide board and offered free appointments to eligible patients.
Kinsinger, a psychology major who earned a master's degree in child life from Loma Linda University, used images and sounds to imitate a real scan experience and talked to children about their individual fears. She implemented a variety of techniques to reduce anxiety and promote cooperation. Patients could squeeze "bravery balls" when they had an urge to move. And they were encouraged to wear comfortable clothes without zippers so they wouldn't have to change into a hospital gown.
After preparing children for the practice session and working through their specific concerns, Kinsinger observed them in the scanner. Children who could stay still in the scanner for two minutes were cleared to schedule an appointment without anesthesia.
After just a few months, 37 patients were able to complete the MRI awake. Kinsinger's success rate was around 93%, and children as young as 4 were able to be scanned without anesthesia. The Association of Child Life Professionals took note, describing the results in an article at childlife.org.
Owen was one of Kinsinger's successes. After undergoing a practice session, he entered the MRI for the lengthy spinal scan five months earlier than if he'd had to wait for anesthesia. As the machine created detailed images of Owen's spinal cord and fluid, he fell asleep while watching Finding Nemo. He successfully completed the scan—and his parents soon learned everything was OK.
"No one believed he could do such a long scan," Owen's mother wrote Kinsinger in an email. They were excited—and proud.
Kinsinger says her passion for child life and assisting people going through challenges stems from her Christian faith. "Even small acts of kindness and love can make a big difference," she says.
Today she is a child life specialist at Seattle Children's Hospital. She works with patients from 44 different specialty clinics, preparing kids for pokes and scopes. One day Kinsinger could be helping a 5-year-old girl who needs a genital exam. At other times she's preparing kids for a scope of their throat or a blood draw.
"I tell them I'm like a teacher," she says. "I'll talk you through what the procedure will be like, help you know what will happen next, and give you advice on how to cope with it. And I'll be there during the procedure to help with any anxiety."
Kinsinger says her work at Seattle Children's is expanding to a wide variety of procedures and diagnoses—something she enjoys. "While at Northwestern, I developed an eagerness to learn that was inspired by the passion of my professors. They cultivated an environment of learning, exploring and questioning, which is an amazing setting for growth."
The daughter of a doctor, Kinsinger was always interested in health care. After considering a number of science-related careers, she fell in love with psychology as a Northwestern freshman. She discovered that a career as a child life specialist would enable her to combine her interests in health care and child development. After volunteering to play with kids at two hospitals twice a week one summer, she knew she wanted to become a child life specialist.
Now more than three years into her career, Kinsinger sees confirmation of that calling. "I love being able to make hard things easier for kids and their families," she says. "It's really rewarding."

*Name changed to protect the patient's privacy.