Guiding Principles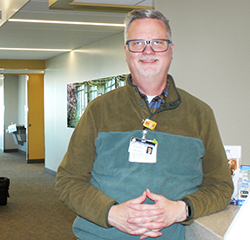 ABBY DISTLER
Two Bible verses guide the approach Dr. Randall Haight '88 takes as vice president of medical affairs at Capital Region Medical Center in Jefferson City, Missouri.
The first is Proverbs 27:17, which proclaims that iron sharpens iron, or as Haight puts it, "one person sharpens another." The second is Philippians 2:3-4, the admonition to put others first.
As Capital Region's chief medical officer since 2010, Haight oversees quality and patient safety. He works to foster an environment of collaboration and humility, bridging the gap between the administrative and clinical departments of the hospital. He also brings those values to patient care, which comprises about 30% of his time.
When the coronavirus pandemic hit the United States last year, Haight and colleagues had to completely rethink how they provided care and then convince patients it was safe to come in. The experience reinforced his guiding principles and the goal of being transparent, even when there are no easy answers.
"It's always been true that you should be open and honest with your patients and your colleagues, but I think that's especially true when there are so many unknowns," says Haight, who was recognized last year by Becker's Healthcare as one of the "100 hospital and health system chief medical officers to know."
BY JARED KALTWASSER
---
Mutual Benefits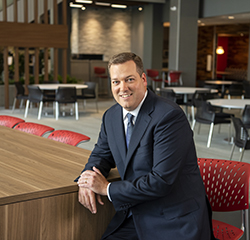 SUBMITTED PHOTO
A year from now, Bill Westrate '94 will be CEO of American Family Insurance, a Fortune 300 company. But today, the CEO-elect is holed up in his home's laundry room, working remotely like so many people across the country.
He does get into American Family's headquarters in Madison, Wisconsin, once or twice a week, but when he's there, Westrate is joined by few others in the 1.5 million-square-foot facility.
While the pandemic has rocked society, Westrate says it has provided American Family an opportunity to shine.
His company was the first auto insurer to send relief checks to customers in recognition of fewer claims—and was followed by many others. That action helped earn the firm record customer satisfaction levels and a top rating for response to the pandemic by the J.D. Power market research company.
As a mutual insurance company, American Family's focus is on delivering value to policyholders—its owners—rather than to investors. That's one of the reasons Westrate has been with the corporation for 23 years—starting as an actuary and advancing into various VP roles, the chief operating officer position in 2014, and the presidency in 2017.
"I'm proud of what we do. We serve an important role in the lives of our customers," says Westrate, whose goals include continuing to increase inclusion in the workplace to attract and retain great talent.
BY DUANE BEESON
---
Enabling Communication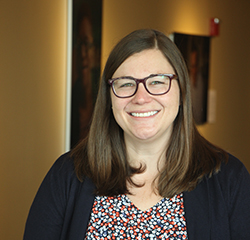 SUBMITTED PHOTO
From an early age, Dr. Sarah Connolly '09 understood that nonverbal children have something to say.
Her mother, a special education teacher, ran a side business adapting computers for children with disabilities. Connolly and her sister tagged along.
"In the '80s and '90s, this was cutting edge; not a lot of people knew how to use technology to help a child who doesn't know how to talk," says Connolly. "I spent a lot of my childhood in the homes of children with disabilities—and we still keep in touch."
Connolly started as a special education major at Northwestern but soon sensed she wanted to serve this population outside of the classroom. She earned master's and doctoral degrees in school psychology from Ball State University and became a licensed clinical psychologist and a board-certified behavior analyst with a focus on establishing communication skills in minimally verbal children.
Now director of early intervention for the May Institute in Randolph, Massachusetts, Connolly oversees programs for children and their families. She's watched as children who previously had no way to express themselves learn to communicate with their families and friends.
"The earlier and more intensively we can start, the better," she says. "Our goal is not to suppress or change a child from who they are, but to help them become the most authentic versions of themselves they can be."
BY AMY PHILLIPS
---
Clearly Inspiring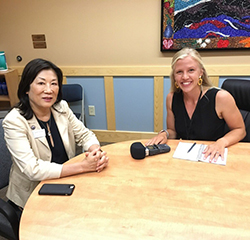 SUBMITTED PHOTO
Sometimes inspiration springs from surprising sources. As a high school freshman, Sarah (Wedel '16) Schweinsberg wore square glasses that reminded her friends of then vice-presidential candidate Sarah Palin. Spurred to learn more, Schweinsberg studied Palin and discovered her education in journalism, sparking her own desire to use her love of words in that field.
Now a radio reporter for WORLD News Group, a news organization that reports current events grounded in biblical truth, Schweinsberg continues to find inspiration in often unnoticed places to share in WORLD'S daily news podcast, The World and Everything In It. Even without the square glasses, Schweinsberg has a sharp eye for a story that shines light on human goodness.
For example, driving through Wyoming last year for an assignment, she happened upon a sign for Heart Mountain, an unfamiliar landmark that triggered her curiosity. She had discovered Heart Mountain Relocation Center, a former Japanese internment camp. Invited back two months later, she witnessed the reunion of dozens of Japanese-American families who shared stories of both their internment and their resilience.
Schweinsberg loves meeting people wherever she is and harnessing words to tell their stories in powerful—some might even say inspiring—ways. But she would say it is her subjects who inspire.
"What I love about my job is that I get to find amazing people. They're not on big stages, but they're doing such incredible, Godly work."
BY BETH (NIKKEL '02) GAULKE