Building Women Leaders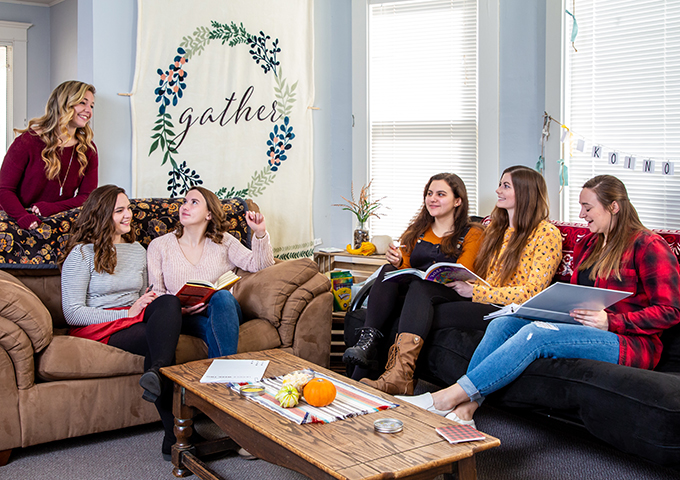 LEM MAURER
The Koinonia House, a new living opportunity for women on campus, is designed to help its residents develop their leadership skills. The brainchild of Lindsay Hubbell, resident director of the campus apartments, the house is designed to be a place that encourages women to grow in their Christian identity and as leaders before graduating.
Named after the Greek word for Christian fellowship, the Koinonia House is home to six students. In addition to providing the normal perks of apartment living, it's also a place for Christian women to improve their communication skills and gain hands-on experience with leading.
As adviser of the house, Hubbell uses her own experiences to mentor the young women.
"The living-learning community provides a space for a small cohort of women to be intentionally mentored so they will leave Northwestern as confident women, prepared for their workplaces, relationships and the Kingdom of God," Hubbell says.
Throughout the year, the women read books about community, being unified in Christ, and expressing honesty and vulnerability. They focused on building their identity in Christ during the fall semester so they can practice leadership on campus in the spring.
"I feel a lot more confident in my strengths as a leader as these women have spoken out against my insecurities and reassured me of my unique abilities, while still challenging me to take risks," says resident Jessica Rogers.
In addition bonding with each other through deep conversations and times of laughter, the women have each had an opportunity to mentor a first-year student, passing down the lessons they've learned through the Koinonia House.
With hospitality as one of their core values, they hope to host more events that focus on education, socialization and spirituality in order to become more confident in their leadership skills.
"The women came together as strangers," says Hubbell, "but ended up having the best time of their college experience because they've never felt more known."