Raiders Sport a New Logo
BY JULIANA PENNINGS '12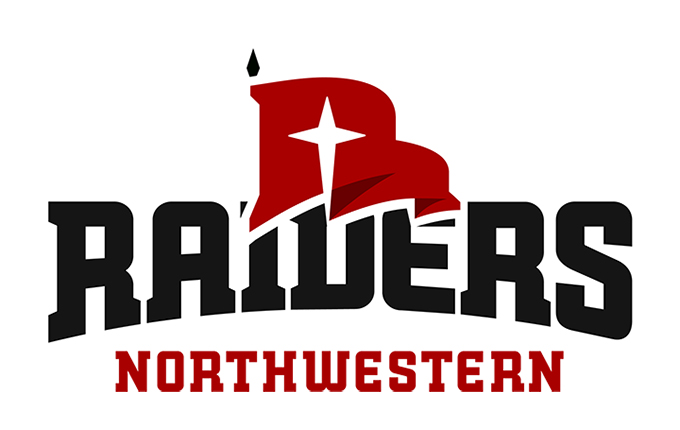 The Raiders started the 2020–21 sports season with a new athletics logo. Revealed in August, the new graphic aims to represent the college's definition of a Raider: "one who is fearless, confident and prepared to finish the task through discipline, sacrifice and the relentless pursuit of excellence."
The primary logo combines a bold font with a new Raider flag (which is also a stylized "R") that symbolizes courage and leadership. Central to the Raider flag is the Northwestern cross, signaling Christ as the focus of everything at Northwestern, including athletics.
"The reputation of the Raiders continues to grow, and we saw a need for a visual that is complementary to the college's word mark and logo while also making an even more commanding impression in the athletic arena," says Chris Yaw '92, head women's basketball coach and member of the task force that commissioned the logo.
Variations of the logo—including a distinct Northwestern "N" with the Raider flag—are also part of the new athletics identity. Utilizing a robust visual identity guide, Northwestern coaches have flexibility in how the branding is used on team apparel and uniforms while fulfilling a strategic goal of having a consistent identity for Raider athletics.
Dr. Micah Parker, vice president for athletics, describes the new logo as a "powerful image" and says it's beneficial for expanding the Raiders'—and Northwestern's—brand. "The logo is an excellent representation of what Northwestern athletics are about: honoring Christ by developing leaders and performing with excellence."
In addition to the new logo, Northwestern announced in October a seven-year agreement with Nike and BSN Sports for team apparel and facility branding.
"This is another important step toward a unified brand and the marketing of Raider athletics," says Parker. "It will benefit all programs and have a direct impact on student-athletes."
The new athletic logo, designed by Greg Elliott of Authentige Branding, will be implemented on team uniforms and apparel and in facilities over the next few years.
For more on Raider sports, visit nwcraiders.com