A Different Direction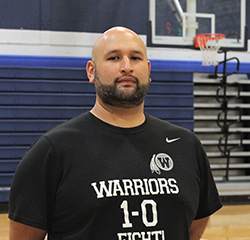 CAROLYN DUKE
Daniel Solis '11 knew he was called to make a difference in the lives of young people. After earning his degree in sociology and criminal justice, it seemed obvious that it would be through the criminal justice system. The Texas native started his career as a juvenile corrections officer in Waco, Texas, providing guidance and resources to steer troubled kids in a better direction.
When his wife, Sara, got a job offer they couldn't refuse in Plano, Texas, a couple years later, it was Solis who went a different direction. He earned his teaching license and began to work with kids in a whole new way. But he says it's not so different.
"The biggest thing that draws me to being both a probation officer and a teacher is just trying to see who the kid is, listen to them talk, not judge them for their background, and just try to guide them where they need to go," Solis says.
Serving as athletic director, football coach and physical education teacher, Solis now influences nearly 1,200 freshmen and sophomores at Williams High School in Plano. His standout work doesn't go unnoticed: His fellow teachers voted him the school's 2021 Experienced Teacher of the Year.
"I'm still shocked," says Solis, who serves as vice president of the National Hispanic Coaches Association. "I get up every day and feel blessed to do something I love."
BY BETH (NIKKEL '02) GAULKE
---
Nurturing Nurse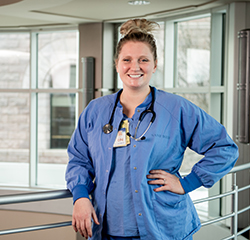 GREG LATZA
Nurse Alex (Brower '14) Overweg says she wants to be known for loving people well and being an encourager.
She's meeting that goal, according to Abby Brock, who works with her at Sanford Health in Sioux Falls. "Alex's positive and uplifting attitude is contagious," says Brock.
For her impact on those around her, Overweg received Sanford's 2020 Patricia Van Wyhe Nurse of the Year Award.
Overweg is the manager of Sanford's Post-Anesthesia Care Unit (PACU) and Patient Center, where she and her team help patients coming out of surgery move on to their next phase of recovery.
"I work with a great team and great leaders," she says. "I like the huge variety we see in patient acuity and concerns, because it keeps me learning. It's fulfilling to be able to recognize needs, find solutions and serve people at critical times in their lives."
Overweg, who began working for Sanford while still in college, says she felt very prepared for her nursing career. "I got great clinical experience that prepared me for my first job. Northwestern did an excellent job!"
As she seeks to positively influence those around her, Overweg draws inspiration from her experience at NWC. "Coaches, professors, staff and friends all invested time and energy into me and helped me grow into the person I am today. I'm very grateful."
BY DUANE BEESON
---
A Whole New Ballgame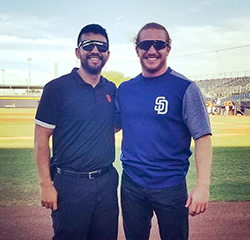 SUBMITTED PHOTO
Vito Maffei '14 can't watch baseball like a casual fan.
"I'm pretty nervous just watching and making sure each guy's healthy," says Maffei, an athletic trainer with the San Francisco Giants' Low-A affiliate in San Jose, California.
Then again, being a fan was never Maffei's goal. His goal was a career in professional baseball.
Ben Loftis '15 is also living his dream, though not on the athletic field he expected.
"I was always going to be a college football strength coach," says Loftis.
After college, though, he found kindred spirits and a new career path while working with the University of Arkansas baseball team. He is now a strength and conditioning coach with the San Diego Padres' High-A affiliate in Fort Wayne, Indiana.
Both Maffei and Loftis say their duties are broader than their titles suggest, including injury prevention, post-injury rehabilitation, interfacing with team officials, and lately, ensuring players follow COVID-19 protocols.
"Things get thrown at us," Maffei says, "but you know, we're ready for it."
Loftis says he loves that his job allows him to encourage players through the ups and downs of sports, and of life.
"Those are the moments where I say, 'OK, God, you have me here for a reason.'"
BY JARED KALTWASSER
---
A Picture of Love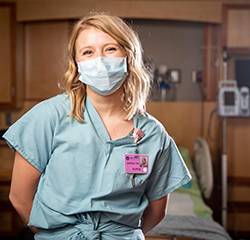 ZACH BOYDEN-HOLMES – USA TODAY NETWORK
A labor and delivery nurse in Ames, Iowa, Cherish (Henry '19) Shuka bonds with her patients over the miraculous experience of childbirth.
As a professional photographer, she's bedside for their most challenging times, too.
On a night shift when Shuka had brought her camera to photograph a coworker in labor, a stillbirth occurred on her unit. COVID-19 restrictions prevented the hospital's photography service from capturing the grieving family's final moments with their child—so Shuka stepped in.
"Some families have had weeks to prepare for this; some don't get to process things until the baby has been delivered," Shuka says. "It's special that I'm also a nurse, and I understand what they're going to go through physically. I'm there to do exactly what they need."
Shuka continues to provide remembrance photography free of charge to families who have lost a child, including two of her own patients. Reflecting on the nursing program at Northwestern, she's grateful that professors emphasized the personal and emotional aspects of real-world scenarios, rather than a sole focus on physical needs.
"We were challenged to think about how to take our personal gifts into those circumstances," Shuka says. "I felt very prepared to walk though these very low moments and to be vulnerable."
BY AMY PHILLIPS