Little Big League
BY JULIANA (PENNINGS '12) BLOEMENDAAL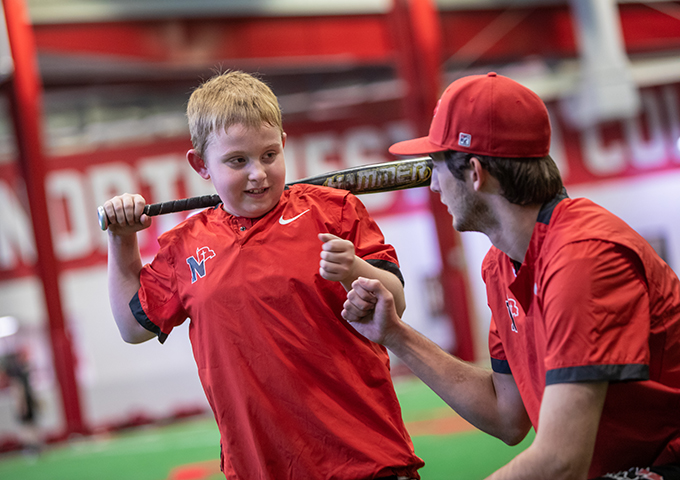 LEM MAURER
Chad Rutledge takes batting practice with Northwestern's baseball team every Monday. Sporting his Raider gear, he swings for the fences as his teammates cheer him on. The catch? Chad is only 8 years old.
Chad officially became a Red Raider in January 2020. The team held a signing day celebration, complete with media coverage, a letter of intent and a locker full of team apparel for Chad.
Connected through Team IMPACT, an organization that matches children facing serious and chronic illnesses with collegiate athletic teams for two years, Chad and the Raiders have learned much from each other.
At age 2, Chad had a portion of his right foot amputated following a lawn mower accident. He also has asthma. "Chad fights through adversity with a positive attitude," says Brian Wede, head baseball coach.
Chad's mom, Kari (Henryson '09) Rutledge, says the Raiders have become his "baseball brothers," adding that Chad is much more confident and outgoing since joining the team.
"Through Northwestern athletics, we're empowering our athletes to live faithfully and courageously, and that means not being afraid of someone who's different or younger," says Wede. "We have the opportunity as a team to have a positive impact on Chad's life, but the impact he's having on our guys is just as significant."
LEM MAURER
For more on Raider sports, visit nwcraiders.com