Going Viral
Trick-shot artist garners millions of followers on TikTok
BY JULIANA (PENNINGS '12) BLOEMENDAAL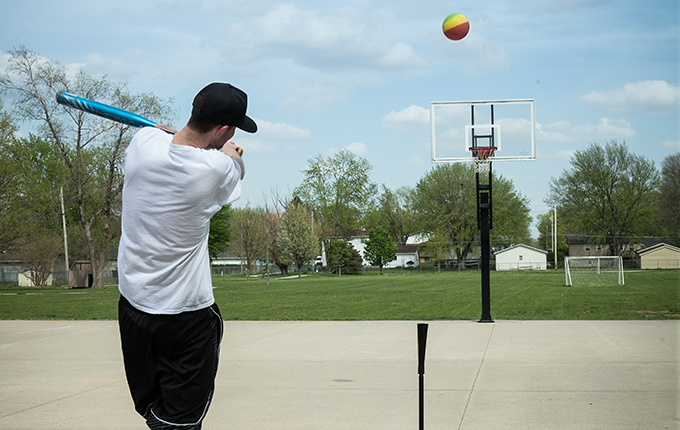 LON MONAHAN
Michael Shields '11 is hesitant to answer when asked to choose his favorite trick shot. "That's like asking me to pick a favorite kid," the father of four says with a laugh.
A financial adviser with Edward Jones by day and a trick-shot artist by night, Shields has a niche on social media, garnering more than two million followers in the last 15 months.
His tricks range from tossing a marker into a glass bottle to throwing discs into a Wii console to chipping a table tennis ball into a water canister.
"Trick shots were always something I loved, but I never had time to create a presence online with them," says Shields. Extra time at home during the COVID-19 pandemic, however, gave Shields the opportunity he'd been looking for.
Seeking a way to share his hobby, Shields turned to TikTok. "It was the easiest place to grow a following," he says, noting that the social media platform was seeing an increase in popularity at the time.
He chose the name "That'll Work" for his new brand. "I wanted the name to be fun and memorable, and also an antithesis to the idea that trick shots have to be perfect. Hence, 'That'll Work.'"
Shields posted his first trick-shot video in April 2020, featuring him chipping a roll of toilet paper— which was sparse at the time—onto a paper tower holder. "That trick should have been impossible," he says. "But completing it inspired me to keep going."
The satisfaction of routinely mastering next-to-impossible trick shots keeps Shields motivated, as does the feedback he receives. "The TikTok community is overwhelmingly positive," says Shields, who receives thousands of comments per video, often such as "That was insane!" and "You just made my kid's day!"
Shields recalls one follower's heartwarming comment: The individual noted an ongoing illness, saying, "You motivate me to keep going because you never give up in your videos."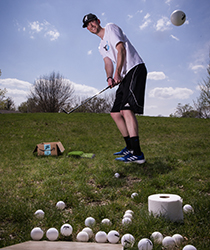 LON MONAHAN
As for the tricks themselves, Shields finds inspiration from various sources. "Half the inspiration is from other trick shots I see, but I add my own twist," he says. "The others are random thoughts that pop in my head at 2 a.m."
The majority of Shields' videos are filmed at his Urbandale, Iowa, home—some in the living room, several in the backyard, and many in the basement. His wife, Brittany (Corlew '12), occasionally assists. He records all of the videos on his cellphone, and he averages three new videos each week.
While some tricks only take a few hours to complete, Shields has spent days recording his most challenging shots. His longest to date—both in distance and time—was the feat of hitting a kickball off a baseball tee and into a basketball hoop that was 150 feet away. After nearly 12 hours at a local park, Shields made the shot.
What started as a hobby quickly developed into something much more than that, as Shields' videos continually go viral. He's been featured on ESPN's SportsCenter seven times. "My initial goal was to build a new trick-shot brand and potentially do this as a career," says Shields, adding that a career in trick-shot artistry is still his dream.
Shields doesn't have any full sponsorships, but he does have occasional endorsements through which he will include a company's product or apparel in his videos. (A former first baseman and golfer for the Raiders, he has also worn his Northwestern gear while conquering a number of tricks.) Shields is selective when choosing his sponsorships, noting that they have to fit his brand, the sports arena and his values.
With millions of social media followers, Shields doesn't take his new and thriving following lightly. "There are a lot of young kids who follow me on social media. I don't want to present something to them that I wouldn't want my kids seeing," he says. "The music and words I choose leave an impact."
Shields' TikTok profile also draws attention, as it includes the text "Jesus saves."
"I've had a number of kids reach out asking about that, and I get to share the gospel with them," says Shields. "I'm trying to figure out how to do that more."