Career & Calling
Northwestern makes preparing students for success and meaningful work central to its mission
BY ANITA CIRULIS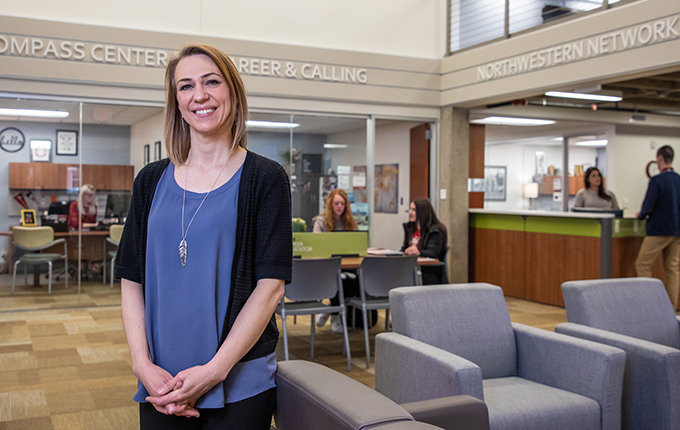 LEM MAURER
Major changes to Northwestern's career services are having a significant impact on students' preparedness for life after college.
"The expectations of students and their parents are high for a four-year degree," says Julie Vermeer Elliott '97, vice president for student life. "We really have to make it clear there's a return on investment—that we can deliver on the outcomes we are promising."
In response to that challenge, the Strategic Planning Committee adopted a new vision statement for Northwestern to be "the leading Christian college focused on student success and meaningful work for the common good."
Guided by that vision, a committee of staff and faculty spent a year re-envisioning a new center focused on careers and calling. Their goals were to ground the center in a Christian understanding of the significance of work in the life of faith, to better integrate the concept of vocation into academics and co-curricular programming, and to more effectively connect students with hands-on experiences that improve their work-readiness and leadership abilities.
Collaboration and networking with faculty, academic advisers, alumni, employers and student life staff were paramount, as was the development of student and faculty leaders trained to help students find their calling from God.
The philosophical change also came with a physical change. The center's offices were moved to the south side of the Ramaker Center, directly across from the campus ministry offices.
"I wanted higher visibility for the center itself," Elliott says. "The location of career services next to campus ministry communicates that faith and work belong together. It says that helping students discern their calling is central to what we're about in student development."
Moving the center also allowed it to include an office for the director of the Northwestern Network, who will increasingly focus on connecting students with alumni for internships, mentoring and job openings.
While the center was getting a new home, Dr. Elizabeth Pitts was hired as Northwestern's director of career and calling in the fall of 2019.
"I could not have asked for a better leader," Elliott says of Pitts. "She's just outstanding in every way: her vision, her leadership, how good she is with students, the respect she commands from faculty. She has an ideal background."
A Wheaton College graduate with a doctorate from George Mason University, Pitts has worked in Christian higher education for 20 years. Her first job after graduating was in career services, and she spent 10 years with the Council for Christian Colleges & Universities—first promoting CCCU off-campus study programs and then serving as a faculty member and internship director for the council's American Studies Program.
"When I started interviewing for the role and realized what a huge vision they had—how integral they wanted to make it, the support they were willing to offer, and the resources to make this a really standout program—that's when I became even more excited about the possibilities of this job," she says.
Pitts and Elliott settled on Compass Center for Career & Calling as the new name for the center—a moniker that ties in with the directional nature of Northwestern's name. Pitts quickly got to work on a framework that guides the center's efforts and makes sense to students, faculty, staff and parents. The Compass Center's "navigation plan"—with its four components of explore, experience, equip and embark—was the result.
Pitts and her staff created 12 how-to guides for everything from creating a LinkedIn profile to conducting a job search. They launched a new website (nwciowa.edu/compass-center), created in collaboration with Northwestern's marketing and communications office. And they're building partnerships with faculty to get career preparation embedded into the curriculum from students' initial First-Year Seminar course to their capstone Senior Seminar.
As of last fall, Northwestern students can also connect with one of six Franken Fellows—students hired by the Compass Center to serve as career mentors for their peers. Pitts and her staff, she says, "hired for heart and trained for technique." The Franken Fellows participated in a three-day orientation in August that included hands-on learning and observation of Compass Center staff doing career counseling. They prepared their own resumes, cover letters and online profiles and learned how to help others do the same.
"I love getting to know other students better and learning about them," says Franken Fellow Emily Bosch. "Dr. Pitts talked about how we should be gold diggers for the students here at Northwestern. We should be able to draw out the gold inside of them for a resume or job interview—to help them see the good in themselves so they can serve God's kingdom."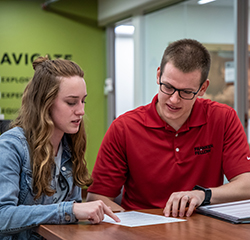 LEM MAURER
The Franken Fellows are the Compass Center's ambassadors, giving the center more visibility through events, programming and their presence at a "drop-in center."
"There's a lot of talk about it on campus," Bosch says of the Compass Center. "Our services are becoming more known thanks to our marketing efforts and word of mouth."
Chris Jelken, who graduated in May with a major in business administration–international business, was among the students who have taken advantage of the Compass Center's services. Following weekly meetings with Pitts, he connected with a Franken Fellow to get help with his professional documents. He also worked with Compass Center staff and the director of the Northwestern Network to line up informational interviews with alumni.
"A lot of the people I interviewed just blew me out of the water with what their jobs meant to them, how God called them to where they are, and the path they followed to get there," he says.
Now in the middle of a job search for which he feels well prepared, Jelken appreciates the support he gets from the Compass Center.
"It's like I'm stepping into the boxing ring, and I have a team in my corner that is looking for opportunities and helping me win the fight and come out on top," he says. "They're just great encouragers."

Adulting 101
Preparation for life after college involves more than just choosing a career and finding a job.
During the 2020–21 school year, the Compass Center's six peer career mentors, known as Franken Fellows, were charged with planning and presenting personal development events for their fellow students.
"Adulting 101" grew out of conversations that Dr. Elizabeth Pitts, director of career and calling, had with several Northwestern faculty members who recognized the need to teach students life basics not covered in the classroom.
Pitts made meeting that need an assignment for the Franken Fellows. "We had a brainstorming session about what they thought their peers wanted to know and what these faculty members were saying about those topics," she says.
Each Franken Fellow student was assigned one session of the series, depending on his or her interests and abilities, and then paired with a content expert—for example, an accounting professor for the budgeting session.
The first Adulting 101 class, "Meal Planning on a Dime," taught students how to prepare three budget-conscious meals from one rotisserie chicken. Participants left with one prepped meal for the weekend, recipe cards and some handy meal-prep containers.
The session on finances covered budgeting essentials, tithing and paying off student loans, while an interactive session on health and fitness explored the importance of maintaining a healthy lifestyle and a daily exercise routine.
Franken Fellow Emily Bosch, an accounting major, partnered with accounting professor Ray Gibler on the budgeting session.
"I actually spoke for part of my event, which was definitely a growing experience," Bosch says. "We tried to create a cool incentive for students to come. We gave out cash to students, and Professor Gibler and I encouraged them to go out and be stewards of that money."
The "Home Sweet Home" session provided an alumni panel discussing whether to rent or buy and how to find a church, make new friends and build community. The fifth Adulting 101 session focused on job benefits, covering things like co-pays, deductibles and premiums, and deciphering the meanings of HMO, PPO, FSA, HSA and 401(k).
Adulting 101 ended with "Dining Etiquette," during which students enjoyed a catered, three-course meal while learning proper manners in a formal dining setting.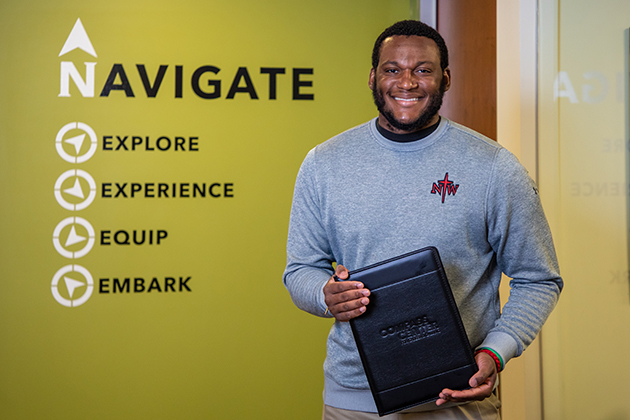 LEM MAURER
Job Search Incentive
A resume, cover letter and references are essential for any job search. And in today's digital world, profiles on LinkedIn and Handshake are increasingly as important.
Northwestern's Compass Center staff want every student to graduate prepared for his or her job search, so they're offering an incentive: Everyone who prepares those five items and takes the CareerExplorer inventory is presented with a padfolio bearing the Compass Center logo.
In a final end-of-semester push, Compass Center staff and the Franken Fellow peer career mentors hosted two evening help sessions featuring free pizza. "They brought in students I've never laid eyes on. They have access," says Dr. Elizabeth Pitts, director of career and calling, of her student assistants.
By graduation, 75 students earned their padfolio and had what they needed to connect with potential employers.