Maintenance Memories
6 Questions with Scott Simmelink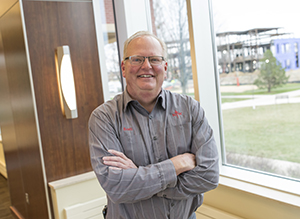 Scott Simmelink, director of maintenance and operations, is retiring at the end of February. He has served 34 years with Northwestern's maintenance department, the last 27 as director.
What was the most exciting Northwestern building project for you to be involved in?
Stegenga Hall. It came at a time when we needed it badly. It impacted such a large group of students and had quite a bit of wow factor to it. Another one that comes to mind is the Juffer Fieldhouse. I had the opportunity to give tours of the building to Ron and Peg Juffer every couple of months. I got to see their excitement and—knowing the impact Ron has had on so many people here—it warmed my heart.
What was your biggest maintenance headache?
The trailers for married student housing [located just north of what is now the soccer complex]. The water lines would freeze in the winter. Cliff [Leslie, Simmelink's predecessor as director of the physical plant] would call the students on those really cold days, tell them to keep the water running slowly and remind them we paid the water bill, but they would still forget and we'd have to deal with it. We got rid of the trailers around '91, and I never regretted it.
When were you most proud of your staff?
They've pulled off so many events. I'm always proud of them after Raider Days. There are so many set-ups from board meetings and lunches and dinners to Morning on the Green. The team really rallies around each other and rises to the occasion.

I also think of one winter right before Christmas break when we had a horrible cold spell. So many kids couldn't get their cars to start. Over half of our staff helped get students' cars towed over to the Van Gorp Building by the old Casey's. We blasted them with heat and got them to run. Students were very grateful for the help.
When did you lose the most sleep because of projects at work?
The summer of 1993. We were working on so many projects. The 8-Plex apartments were being moved to what is now known as the Courtyard Village. It had been so wet that summer, the move was delayed quite a bit, so we had to house kids in dorm lounges and President Bultman's basement early in the fall. We were starting on the construction of the Bultman Center and renovating the cafeteria and the south wing of Van Peursem Hall. We were also installing a new phone system. I didn't sleep well that summer, and I haven't ever since!
What will you miss the most?
The people. I get to work with and for some of the best people in the world.
What won't you miss?
Fire calls at 2 a.m.