A Special Legacy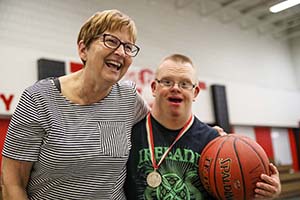 JOSH HARRELL, NORTHWEST IOWA REVIEW
Peggy (Vis '76) Koele is more likely to measure her coaching success in hugs and smiles than wins and losses. She has been coaching and encouraging special needs athletes in the Special Olympics for four decades, volunteering as the northwest Iowa area director and delegations manager for the last 23 years.
Inspired by two cousins with special needs, Koele always knew she would devote her professional life to special education. She recently retired after 40 years as a special education teacher in Rock Valley, Iowa, but her tenure with Special Olympics Iowa continues.
Koele began coaching for the organization in 1978 as a natural pairing with her position as an adaptive physical education teacher. Now as area director, she coordinates tournaments throughout the region while continuing to coach basketball, track and bowling.
Last May at the Summer Games, Special Olympics Iowa acknowledged Koele's selfless dedication with its highest volunteer recognition, the Ed Lehner Award. Not one for the spotlight, Koele emphasizes how many serve alongside her, including dozens of NWC students annually and her own family.
She identifies her most rewarding moments as seeing athletes try their hardest or getting a hug from a student after an event. "Nothing compares to being part of Special Olympics," she says.
BY BETH (NIKKEL '02) GAULKE
---
Galaxies Near and Far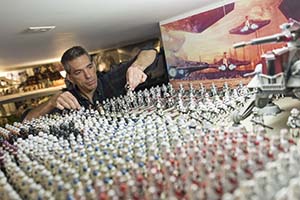 DOUG BURG
Randy Van Peursem '92, Northwestern's science support services professional, travels only between his Orange City home, his office a block away, and the Sunday evening service at church. No farther, as severe allergies affect his nervous system and can cause incapacitating symptoms if his diet and environment are not carefully controlled.
When people ask what he does for fun, Van Peursem tells them, "I head to the basement and enter different universes."
Eight Star Wars dioramas, one Lord of the Rings scene, and a grand total of 6,000 action figures take him to galaxies far, far away.
Van Peursem has been collecting since 1993, getting in on the action just before eBay and the market took off. He'd dropped out of medical school to manage his health; while house-bound for two years, he began the hobby as an outlet.
Fellow enthusiasts from as far away as China have added to his collection of figures, inspiring him to create the dioramas—some of which took 150 hours to build. The students he advises bring friends over for a blast of nostalgia.
While Van Peursem's life may seem as controlled as that of a stormtrooper with magnets on his feet (the secret to avoiding a falling domino effect on a diorama), there's one place he risked going to in December: the movie theater for the release of Star Wars: The Last Jedi.
Never underestimate the force—or Van Peursem.
BY AMY PHILLIPS
---
Robot Reboot
SUBMITTED PHOTO
As Rebecca Hanson '98 delivered her lines for a robot puppet made from a retro child's car seat, a camping lantern and vacuum hose, she looked around the Satellite of Love and got a little nostalgic for her college days.
"On set I was feeling homesick for Northwestern," Hanson says. "A group of us theatre majors would have Mystery Science Theater 3000 (MST3K) marathons on weekends when we didn't have shows. Those are some of my fondest memories."
Hanson is the first-ever female voice for the robot Gypsy in the Netflix reboot of MST3K, a '90s cult classic that is enjoying acclaim once again from viewers of all ages who enjoy its kind-hearted riffs on bad movies. Hanson also plays the clone Synthia on screen and has co-written several of the 14 new episodes.
The Second City alum honed her acting chops in Chicago's improv scene before moving to Los Angeles in October. Last summer she and her husband, Tim (who also writes for MST3K and performs as a "Bonehead"), toured with the show's first live nationwide tour, called "Watch Out for Snakes!"
"The show was fundamental in forming me as a comedian," Hanson says. "To be writing the funny stuff for the robots—it's so surreal."
BY AMY PHILLIPS
---
First-time Flippers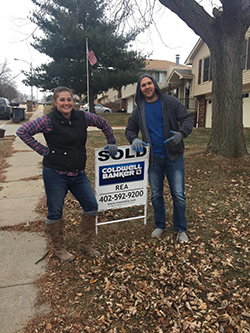 KARLTON HECTOR '04
The potential was there: the option of creating an open floor plan, an asking price that allowed room for a profit. Craig Hector '08 and his girlfriend, Liz Bartlett, bought a house in Omaha last December with the plan to flip it for resale.
And then they tried the sink.
"The first day, water was spraying everywhere," Hector says. "You're excited, and then reality sets in: You may be a little over your head."
The pipes had frozen and burst. The furnace and roof needed to be replaced. Floors, drywall and bathrooms demanded attention, as did an unwelcome visitor—a woodpecker who could not be deterred.
As Hector puts it, "Everything was bad about this house."
The real-life drama interested the DIY Network, which featured the couple in an episode of First-Time Flippers that aired in July. As Hector and Bartlett practiced new skills such as tiling, camera crews recorded the house's transformation—portraying the couple as competitive and Hector as "the dumb one."
"Liz was more put together; I was the stressed one—they gave me the hardest time," he says. "But I figured that's what we signed up for."
After six months of work, the couple sold their house for a profit of $33,000 (less the realtor's commission). By closing, the house was completely redone, save one hole.
The woodpecker had the last word.
BY AMY PHILLIPS