You've Got Mail
EDITED BY ANITA CIRULIS
ILLUSTRATIONS BY DAVE MALEC
Even in today's age of email and texts, nothing beats the letter or package from home when you're a college student. We asked our readers for mail memories from their years at Northwestern. Here are some of our favorites.
---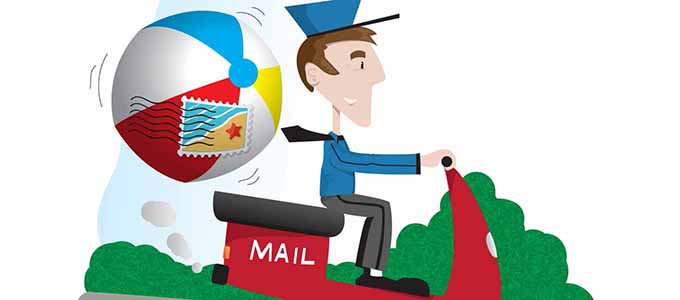 Weighty Competition
My sister and I competed during my first year of college to send the best mail to each other. A variety of things can be sent quite cheaply if they are under 13 ounces, like pool noodles, Frisbees and flip-flops! I sent her a pop bottle full of random things I collected with the NWC logo on them. She sent me a beach ball in return. My mom sent the best mail. A favorite was "Easter basket in a box." I dug through the Easter grass to find candy-filled eggs, notes from my siblings, and Mom's famous frosted egg-shaped cookies.
DEVIN JORDE '17
Eyota, Minn.
---
Missives From Mom
I was the first in my family to go to college, and it was a tough transition for my mom. Long-distance calls were expensive, so she wrote me a letter every single day, even on Sundays, which meant one day a week I would get two. My mom passed away five years after I graduated, and I'd give anything to have those daily letters back.
JAYNA (DEWAARD '95) FONTENOT
Marion, Iowa
---
Sending Warm Wishes
During my freshman year, we had a particularly cold winter day with a wind chill of minus 30 degrees. I was so cold, I called my mom in tears. A few days later, I received long underwear in my mailbox with a card that read, "Stay warm!"
KELLI (NEEVEL '12) KING
Wyoming, Mich.
---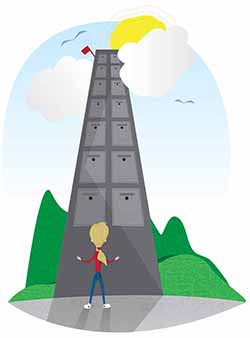 Tall Order
I'm only 5-foot-3-inches tall but was assigned a top-row mailbox in the RSC. I literally had to stand back or jump to see if anything was in my box. Or I asked one of the cute guys standing nearby to help me out.
VALERIE (DITTMER '87) KING
Marshalltown, Iowa
---
Gifts From Friends
Being from Arizona, I looked forward to letters from my dad and care packages full of goodies from my mom (always shared with friends). But one of the coolest things I got in the mail was a care package from my youth group filled with delicious treats and notes of encouragement from my friends back home.
REV. RICHARD MOORE '06
Payson, Ill.
---
Junk Mail
During my junior year, I began receiving a vast amount of mail sent to me as the "Director of Choir Ministry," "Science Professor" and "Chess Club President." After weeks during which I got about a dozen pieces of mail every day, my friend confessed that he filled out response cards with my information for every periodical in Ramaker Library. We both got a chuckle out of it until the mail kept coming and coming and coming! It filled first one and then two four-foot-square boxes. Soon "choir robes will be arriving soon" and "your payment is now due" notices began to arrive, prompting my friend to get on the phone and explain that his practical joke had gone a little too far.
DEB (FABER '85) VAN BUREN
Willmar, Minn.
---
Enclosed: Grace
One evening a bunch of friends and I decided to play poker in a real American casino. I rapidly lost $50. I regretted the poor judgment and prayed I wouldn't make stupid decisions with money ever again. Two weeks later, I received a letter from my host family's grandmother, who had never met me and who lived in Seattle. In the letter was $50 with a note: "God told me you needed this." I remember feeling both shame and gratitude for God's love and protection.
ROBERT BOGDANFFY '12
Bucharest, Romania
---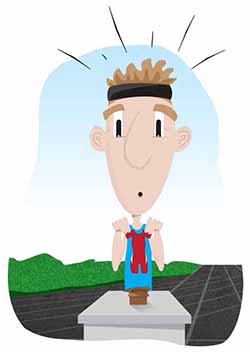 Tiny Tracksuits
During my junior year on the Northwestern track and field team, a few teammates and I shopped for new uniforms. We found a speedsuit unitard we liked, purchased 10, and had them mailed to my campus address. After weeks of anticipation, I received a notice that a package was waiting for me. With my friends at my side excited to see our new unis, I gave the slip of paper to the mailroom attendant. As we high-fived each other, one of my teammates joked that spandex, with its elastic nature, was capable of fitting in a small box. None of us were prepared, though, when I was handed a tiny 3-inch-square box. My friends laughed hysterically as I unpacked what turned out to be a Christmas mug.
REV. DARRIN DEVRIES '99
Newnan, Ga.
---
An Encouraging Word
My first year at Northwestern, I got a Kudos bar in my mailbox at the end of the fall semester with a note that read, "Kudos to you for making it to finals week!" It was a small thing, but it made my day—and I still remember it nine years later!
ERICA (GRABER '12) MILLER
Sioux Falls, S.D.
---
Voicebox
Every month my parents sent care packages from home. One day I collected my box and headed straight to class. I turned bright red when, randomly throughout class, a voice from the box said, "That was easy." My parents had sent me the Staples Easy Button to encourage me during finals.
Amy Smit '09
Harrisburg, S.D.
---
Dare to Dream
My most memorable piece of mail was from an anonymous encourager my senior year. It was a resident director job description. I had been too scared to apply, but that encouragement sent me on a path that led not only to being an RD for six years, but an 11-year career in higher education!
ANNA TABONE '06
Spring Arbor, Mich.
---
Home-Baked Treat
One day I got a notification for a package. It was from my mom, but I wasn't expecting anything from her. My friend joked that maybe Mom had mailed me a coffeecake. (We all loved her coffeecake, which she'd always send back with me after a break.) I opened the package and it was a coffeecake!

REBEKAH (WILSON '09) WAGNER
Sioux Falls, S.D.
---