Letters From War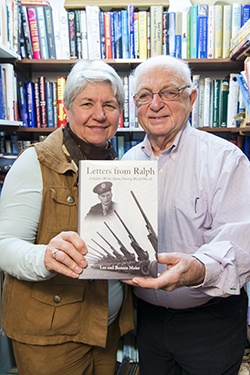 DOUG BURG
Drs. Lee '51 and Bonnie (Vis '65) Meier both took math classes from Ralph Mouw '36, '38 and had the ultimate respect for him, "a gentleman in the best sense of the word," says Lee. So when Bonnie learned 109 letters he wrote while serving in World War II were found following his 2009 death, she thought they should be preserved.
This winter the efforts of the Meiers and Mouw's daughter, Sandi Carlson '71, came to fruition: publication of "Letters From Ralph." The hardcover book includes letters Mouw wrote between 1941 and 1945 from U.S. training camps and European combat zones, where he served as captain of a field artillery unit that saw heavy fighting. Lee, a war buff, added text providing historical context.
Despite the tense situations Mouw was often in, he sought to assure his family he was OK. "He closed almost every letter with something like, 'I am well, and I hope you are too,'" says Bonnie.
At one point, Mouw wrote to his dad, "Just keep your chin up and have faith. That's what I am doing."
A month before his battalion fought its way into Normandy from Utah Beach, he wrote, "I have escaped serious injury too often not to believe in divine protection."
The Orange City native also revealed his sense of humor. "I almost always have running water in my foxhole—of course it's rainwater," he wrote in July 1944 from France.
BY DUANE BEESON
---
25 Years of Love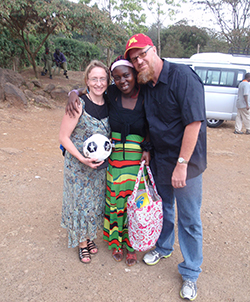 SUBMITTED PHOTO
A poster on a bulletin board outside the Career Development Center at Northwestern launched Nancy (Wollman '90) and Patrick Heilman '90 on a path that's still impacting their lives decades later.
The Heilmans were newlyweds finishing their degrees when the poster for Compassion International caught Nancy's eye. The $32/month sponsorship was a stretch at the time, but "I thought, 'This would be a cool thing to start in our marriage,'" Nancy recalled.
This year marks 25 years of marriage and of being Compassion sponsors for the Heilmans. Instead of a traditional anniversary trip, they celebrated with a Compassion tour of Kenya. They toured some of the more than 355 Child Development Centers the organization has established throughout the country in partnership with local churches, to see how Compassion works to change families' lives. The Heilmans also met a girl they had sponsored and exchanged letters with for 11 years.
"Seeing the work that Compassion does—it was just incredible," Nancy said. "It's so easy to think, 'That's so far away.' You get so engrossed in your life and career and raising kids, and you forget that there's a whole world out there. The sponsorship tour brings everything to life, and you can't ignore it anymore. I think that's what God wants: He doesn't want these to be people 'over there'—he wants these to be real people we care about."
BY SHERRIE BARBER WILLSON '98
---
Moving Experiences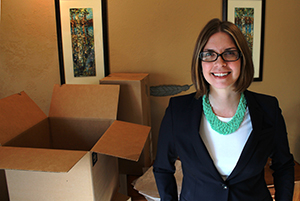 DAVID CHRISTOPHER TYSDAL
The morning of her move from her home of 33 years, Pam woke up with the flu. When the movers arrived, they brought 7UP and saltines, took her dogs to the boarder, and ensured the things they'd helped her select for the move to her much smaller townhouse were carefully packed, transported and put into place in her new home.
The movers were from Changing Spaces SRS (Senior Relocation Services), and Pam calls them "friends for life."
Started by two sisters in 2008, Changing Spaces is based in Lincoln, Neb. In 2010, when the sisters were seeking a new partner, Jeannine (Lovas '04) Bryant moved in. Today she's the sole owner of the niche company that, she says, moves much more than stuff. "We move lives."
Bryant's company specializes in helping seniors right-size when it's time to transition to a new home. It's full-service—and then some. Clients choose from a list of services that includes sorting, moving and removing. Changing Spaces also organizes and runs estate sales, sometimes under the direction of distant family members.
Staff members also laugh with clients, cry with them, and listen as the contents of attics, basements and closets spark memories and lead to stories that are sometimes painful, often wistful and always revealing about the lives the place has shaped.
BY TAMARA FYNAARDT
---
The Germinator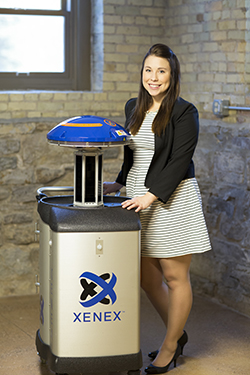 ALLEN-KENT PHOTOGRAPHY
Geri Genant '09 has some famous and forceful co-workers at Xenex Disinfection Services. Thankfully, she knows just how to push their buttons—literally. As implementation manager for Xenex, Genant regularly works with powerful germ-zapping robots, the sole product of the San Antonio-based company.
The most renowned robot is Saul, deployed in the hospital at Langley Air Force Base in November. In just five minutes, Saul can use intense ultraviolet (UV) light—25,000 times brighter than florescent lights—to kill the most powerful viruses on any surface of a room, a key to preventing the spread of the Ebola virus and other superbugs to healthcare workers and patients.
While Genant is thrilled to professionally geek out with chemistry terms her NWC professors would be proud to hear, she is most passionate about the Xenex mission to destroy the pathogens that cause healthcare-associated infections. Unlike earlier UV devices that used mercury, Xenex has patented technology using Xenon, which offers more power in a faster, environmentally safe way. Xenex robots like Saul are at work in more than 250 hospitals, long-term care and rehabilitation centers, and Defense Department and Veterans Affairs facilities.
Working closely with healthcare professionals in the training process, Genant loves to think of the impact made by the robots. "We can actually quantify how many lives we touch with this technology," she says.
BY BETH (NIKKEL '02) GAULKE