Harlan VanOort
Reverend Red Raider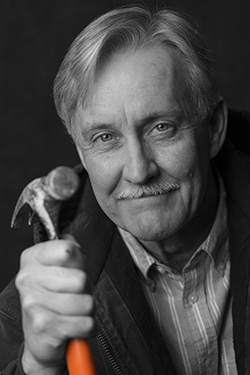 DOUG BURG
What have been some of your favorite memories as Northwestern's chaplain?
I remember with joy traveling with students on Spring Service Projects to such sites as Bluefields, Nicaragua, Jacksonville, Fla., and Denver; listening to students talk about life-changing experiences in chapel; watching students discover new ideas; and hearing them tell how God has called them to an adventure of service in God's kingdom. It's really fun to be a part of these experiences, and I hope my favorite memory is still ahead.
What was the best sermon you've heard preached in Christ Chapel?
Senior Brittany Vollmer [who lost her parents and two siblings in an automobile accident] offered one of the most powerful messages I have ever heard anywhere in a Sunday night Praise & Worship service last year. She spoke from 2 Corinthians 4:16–18, "We do not lose heart." If anyone would be tempted to lose heart, it would be her. But by faith, she looks to what cannot be seen.
You've helped students raise SSP funds by offering to dye your hair blue. Would you ever shave off your mustache for money?
My mustache is my wife's decision. Once, I shaved it before a trip, and she joked that if I didn't come home with the mustache, I need not come home at all.
You served as a pastor in Yakima, Wash., and at American Reformed Church in Orange City. What does each community have to offer?
Yakima has the best weather in the world—all of the seasons, but none severe. But I do like living in Orange City and the lack of traffic. I never expected to live here, or for 20 years, or to like it this much. I appreciate the compassion and the faithfulness of the people in both places.
Before you became a pastor, you worked as an electrician. How did you get into that line of work?
In high school and after, I worked as an electrician for my dad. I treasure the wisdom I gained from him and the sermon illustrations I still use.
What do you do to unwind?
I love to garden, read and play racquetball. I probably don't unwind much. But then again, I try not to get too wound up in the first place.