Looking Race in the Face
Members of the Northwestern College community take an honest look at racial biases, white privilege, and God's heart for racial justice and reconciliation
BY ANITA CIRULIS
PHOTOS BY ANITA CIRULIS, FJ GAYLOR, GEOFF JOHNSON AND DAN ROSS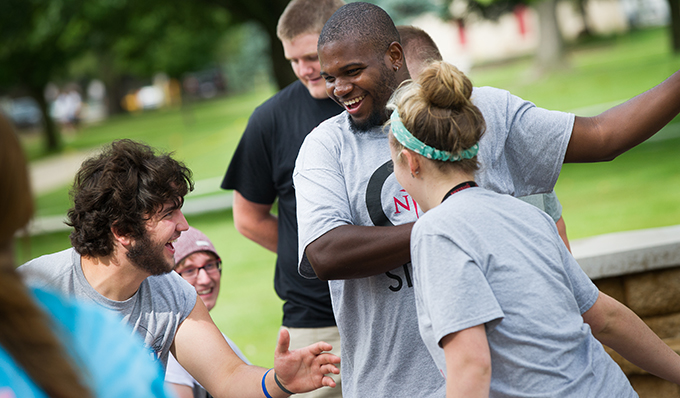 They call her Mom. Every Sunday afternoon during the school year, Julie Andersen fixes dinner for her family and as many as 10 Northwestern students. After the meal, they hang out in her living room, watching TV, talking, and doing laundry and homework. The students come from such distant states as California, Colorado and Virginia. They are black and Latino. Andersen is white. She's also, she admits, racist.
Andersen's story is one of grace, forgiveness and the transforming power of God. The administrative assistant for the college's maintenance department, she grew up in a small Iowa town. "I never knew anybody who was different from me," she remembers. Prejudicial attitudes and stereotypes bubbled underground in her community, revealed in conversations and comments she heard as a child.
Five years ago, Andersen discovered how much her environment had impacted her when a student of color got into trouble and she found herself judging him, gossiping and telling others, "We don't want that here." Then she heard a sermon about forgiveness and, convicted, wrote to the young man, apologizing for what she did.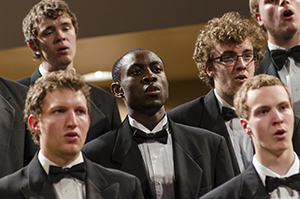 "He came into my office and had tears in his eyes," she says. "He told me nobody had ever said or done anything like that before." Andersen and her husband invited Sergio to live with them that summer, and though he's now back home in California, they talk every other week. "He's like my son," she says. "When he left, I learned what it felt like to have my heart break."
Through Sergio and one of his Raider teammates, Andersen formed connections with other minority football players and, sitting around her dining room table, heard their stories of what it's like to attend college on a predominantly white campus. Among them was Christian Butler '12 of Rialto, Calif., who remembers the culture shock he felt after arriving in northwest Iowa. Music, food, church, the ways people talked and dressed—even the style of playing the game and his teammates' superstitions—were all different.
"You start to internalize everything, [thinking] 'What am I doing wrong?'" Butler recalls. "There's an identity crisis that comes with that. You do so much bending to conform and fit in that you reject yourself at times. It becomes very uncomfortable. And then when you come home, you try to swing that pendulum back to the other side."
Such stressors create an environment in which, as Andersen puts it, "only the strong survive." Butler experienced that himself his first year at Northwestern. He returned after Christmas break; two friends from high school did not. "If I had to give you a time that was probably the hardest of my four years, it would be those first two weeks of spring semester," he says. "Snow was all over the ground, it was freezing cold, I had no roommate, and all my friends had left."
Despite his loneliness, Butler chose to stay. He also decided to do something about how he felt. In the spring of his sophomore year, he and Angelica Perez '12 started La Mosaic, a multicultural student club. "The idea was to form a group that would be like a family," he explains. "Where I could go and spend time with people I knew who were experiencing similar struggles to me. Where we could hang out, laugh and be ourselves." The group meets weekly, providing support and guidance, hosting forums, and showing and discussing relevant movies. Today, in addition to La Mosaic and the longstanding International Club, Northwestern students can also join Amigos and M'Afrique.

When Butler first arrived on campus in the fall of 2008, just over 3 percent of Northwestern's student body were students of color. Today that figure is nearly 10 percent, with the largest growth in Latino students—from 18 in 2007 to 61 last fall. It's wrong, however, to measure diversity success only in terms of numbers, says Dr. Kevin McMahan, Northwestern's associate dean for intercultural affairs. "Diversity in higher education is larger than the recruitment and enrollment percentages most are inclined to focus on," he explains. Also important, research has shown, are a multicultural and inclusive campus climate, vibrant intercultural student organizations, the curricular integration of intercultural learning, and faculty and staff diversity.
A year after La Mosaic formed, Northwestern hired Rahn Franklin as the college's academic support and diversity specialist. Franklin's college experience mirrors that of many of Northwestern's students of color. Originally from Kansas City, Mo., he, too, attended a predominantly white college in a small Iowa town, earning both a bachelor's degree and a master's in professional school counseling at Buena Vista University in Storm Lake.
Tasked with helping students achieve their full academic potential, Franklin knew Northwestern's minority students had retention and graduation rates that lagged 10 to 15 percentage points behind those of the student body as a whole. He also knew about the development of La Mosaic, about Julie Andersen's connection with guys on the football team, and about the work Dr. Tom Truesdell '01, director of academic support, was doing with students from diverse backgrounds.
"I'm a connector," Franklin says. "I see these things happening and I ask, 'What can we do to bring this together so it's focused and potent?' Lives were being changed—those who were serving, those who were being served, and observers who simply noticed what was happening. Those relationships were becoming biblically reciprocal, and I just wanted to help us find a way to expand to a larger number of students and a larger part of our community."
In 2013, Franklin worked with colleagues to start Futures, a program for any student who identifies as a student of color, a first-generation college student, or a student from a low-income family. Students who meet those criteria are invited to participate in the program, and those who accept attend an August retreat held prior to the start of classes. They are also connected with peer and faculty mentors and paired by Andersen with a local host family.
Prior to the start of the Futures program, Northwestern placed a request on its Facebook page for people to serve as host families. Some signed up; others questioned the rationale and need for creating a program that singles out students of color. Such a reaction, McMahan explains, stems from the belief that we live today in a post-racial society—or that the best defense against racism is to be colorblind.
In reality, he says, "We live in what I've heard called a 'racial smog'. It defines so much of what our interactions are and what we make of each other, whether we're honest—or even conscious of it—or not. So it's not so much colorblind as color silent. And if we're choosing color silence, then it just keeps the status quo in place."

America's racial history goes back to before the country's founding, as European explorers came into contact with the new world's indigenous people and assumed ownership of what had been tribal lands. When settlement began in the early 1600s, European-born indentured servants were replaced with slaves from Africa. In a country founded on the concept that all men were created equal, the only justification for the seizure of tribal lands and the continuation of slavery was one that held non-whites were inferior to whites.
As recently as the early to mid-20th century, scientists, biased by ideas informed by the society in which they lived, classified people into dozens of races and searched for evidence that differences in behavior and performance were due to biology. Higher disease and death rates among immigrants in urban ghettos, for example, were seen as proof of genetic inferiority rather than as the result of poverty and overcrowding.
In fact, race is a cultural and societal, rather than biological, reality. As the documentary Race: The Power of an Illusion explains, genetically, human beings are among the most similar of all species. Two people from different racial groups can have more in common genetically than two people from the same race. That truth, however, doesn't erase the impact of systems, policies and prejudices that create inequities and disadvantages due to the color of one's skin.
Dr. Chris Hausmann, a sociology professor at Northwestern, teaches a course titled Ethnicity, Power and Identity. "Historically, race has been a central factor in shaping who has a spot at the table," he says, "and not just historically, but today. Much of what we do in the course is coming to terms with the fact that being white still carries a ton of weight when it comes to every measure of standard of living and of wealth."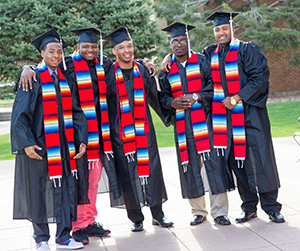 Dr. Val (Roman '93) Stokes has similar discussions with social work majors in the course Diverse Populations and Social Justice. "It's so ingrained into our systems and our daily life that we may not even see it—especially those who have privilege. To have privilege means you don't have to see the pain and the hurt of someone else."
That pain and hurt is inflicted in many ways. Butler tells of going into stores and restaurants and constantly being stared at, and of the time another student wanted to write on his arm with a black Sharpie to "see if it shows up." Denise Cowherd is a senior math major from Des Moines who has served as one of Northwestern's multicultural Interns and as a peer mentor for the Futures program. She says other students often want to touch her hair—and sometimes do so without asking.
"I don't mind educating people, but the way you approach me can change everything," she says. "So don't walk up to me and say, 'Do you wash your hair? Can I just feel it? It feels so interesting.' The only word you have for my hair is 'interesting.' I don't appreciate that."
Being on the receiving end of insensitive comments and actions like these, known as "microaggressions," is an all-too-common experience for people of color. Often whites are unaware of the offense they've caused, just as they are unaware of their own implicit biases—biases that research shows exist nonetheless.
"Caring for a particular group of students without dealing with our larger systemic issues is like putting a Band-Aid on a broken bone," Franklin says of his role at NWC. "I can't simply focus on making sure students who would be considered diverse are happy here. All of us have lots of work to do in terms of developing our intercultural competence and finding a way to become 'the beloved community,' as Dr. Martin Luther King Jr. called it."

In recognition of that fact, Northwestern's Multi-Ethnic Resource Committee (MERC), chaired by Franklin and Stokes, is leading the campus community in creating a "Vision for Diversity"—to accompany the college's "Vision for Learning"—in order to guide students' intercultural learning and preparation to pursue God's redeeming work in a diverse and increasingly connected world.
Throughout this spring, committee members have been meeting with a select group of 50 students, faculty and staff to discuss the role diversity plays in the college's mission as a Christian academic community engaging students in courageous and faithful learning and living. That vision will be drafted in May and finalized next fall, after which it will inform the development and assessment of institutional diversity objectives and programs—from curricular integration to the hiring of faculty and staff to research and scholarship.
Among those taking part in those discussions is Northwestern faculty member Dr. Michael Andres. In the early '90s, as a student at Reformed Theological Seminary in Jackson, Miss., Andres and his wife, Joan, joined an interracial, inner-city church.
To learn more
The following resources can help you learn more about race and racism in America:
Race: The Power of an Illusion, a three-part documentary series produced by California Newsreel
Disunity in Christ: Uncovering the Hidden Forces That Keep Us Apart, by Christena Cleveland
Divided by Faith: Evangelical Religion and the Problem of Race in America, by Michael Emerson and Christian Smith
"Why Are All the Black Kids Sitting Together in the Cafeteria?" by Beverly Daniel Tatum
Blindspot: Hidden Biases of Good People, by Mahzarin Banaji and Anthony Greenwald
"We loved worshipping at Voice of Calvary Fellowship," he says. "It was a very evangelical congregation, very Bible-centered, but we intentionally talked about issues of race and reconciliation." Ignorance about white privilege was replaced with understanding and empathy, while the multicultural services gave Andres a glimpse of the worship by every nation, tribe, people and language described in Revelation.
Those years, the religion professor says, shaped his calling and desire to awaken—particularly in white Christian college students—God's heart for justice and racial reconciliation. "I'm an evangelical and believe it's a relationship with God, but it's love God with all your heart, mind, soul and strength, and love your neighbor as yourself. How do we do that? We become people who are reconcilers. We become people who love, and love means going out of our way, it means feeling uncomfortable, it means connecting with people who are different from us."
Cowherd echoes Andres when she says, "We need to have these discussions because we can't love our neighbors as ourselves if we don't know what's going on with our neighbors—if we don't know the struggles of our neighbors."
Andersen admits being a reconciler is hard work, a role that calls for extra doses of humility and perseverance. "Through this journey, I've really learned about forgiveness," she says. "I've had to forgive, but I've also been forgiven, and I've been forgiven many, many times by students for the stupid things I say and do."
In forgiving and being forgiven, loving unconditionally and being loved, Andersen has gained a clearer understanding of all God has done for members of every tribe and nation—and what he calls us to do as well.