The Bucket List
ILLUSTRATED BY DAN LANDEGENT '85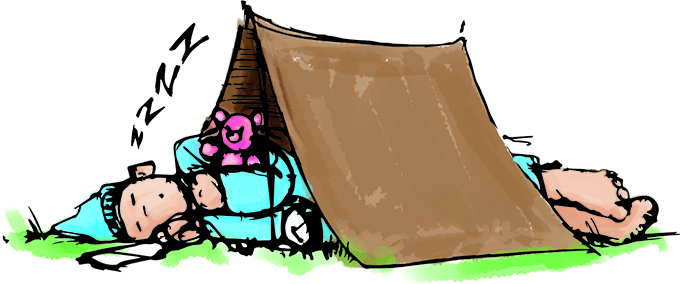 Commencement is just around the corner, so it seemed like a good time to ask Northwestern students what experiences they hope to have before graduation day.
Sleep outside at least once each semester
The men of Colenbrander Hall have this one in the [sleeping] bag, snoozing on the campus green before opening ceremonies of the Coly Olympics, a four-day competition each spring that includes events like an egg toss, mattress race and hot dog relay. And right before end-of-the-year exams, one wing of Colenbrander residents honors the memory of Heemstra Hall with their Stoop-a-thon, a Dead Week tradition that involves round-the-clock lounging on chairs and couches moved to the campus green.
---
Climb to the top of the Zwemer Hall tower
A mid-'90s renovation transformed the historic building's attic into offices, students can climb partway for a bird's-eye view of the green.
---
Catch a campus squirrel
There's no shortage on Northwestern's 100-acre campus, even though Professor Emeritus Carl Vandermeulen is no longer here to feed them outside the window of his Granberg Hall office (also gone).
---
Climb every tree on campus
Maybe this nature lover can help the one who's nuts about squirrels!
---
Compete in NC/DC
Northwest Iowa's version of American Idol pits Northwestern stars against Dordt performers.
---
Sit in every seat in the England Theatre
DeWitt Theatre's proscenium-style venue has 196 seats, so students will need to sit through a whole lotta drama to take a bow on this Bucket List item.
---
Eat at every table in the caf'
Much more doable. The caf' has 66 tables, so this one can be crossed off in less than a month by a student who eats three squares a day.
---
Be called the wrong name by Kathy
For students who eat regularly in the caf', it's not long before Kathy (Bonnecroy '73) Meendering, who scans their IDs at the caf' entrance, knows them and greets each one by name. She's almost always right, except with twins and look-alike siblings.
---
Visit the biology department's rat lab
Northwestern doesn't currently have a live animal lab. (Rats!) But floor plans for a new science building include a vivarium (for housing rats and other furry subjects), as well as garden plots and a greenhouse.
---
Learn human anatomy in the cadaver lab
Northwestern's cadaver lab is extraordinary for a college NWC's size. The cadaver lab contributes to science students' body of knowledge and preparation for medical and graduate school. Northwestern's cadaver is procured through the University of South Dakota's Sanford School of Medicine.
---
Spend the night in a non-residence building
"No. Not allowed," says Director of Maintenance and Operations Scott Simmelink. And he will not share what he knows about students who have spent the night in non-residence buildings so as to avoid giving anyone ideas.
---
Brush my teeth in all the bathrooms on campus
Could be biting off more than one can chew, unless students work alongside housekeepers in NWC's maintenance department in the summer and are privy to both men's and women's residence hall bathrooms in order to clean them (a job that might require scrubbing with a tiny brush).
---
Travel to at least five countries
A student with wanderlust could get a long ways by participating in the college's annual Spring Service Project trips, which include at least three overseas destinations (Haiti, the Netherlands and Nicaragua). There is also Summer of Service travel (team members will be in 11 different countries this summer) or study abroad opportunities, which include NWC's programs in Oman and Romania.
---
Land a hot air balloon on the campus green
For a price, Orange City resident Doug DeZeeuw '92 will give you the flight of your life in his hot air balloon (although touching down on the green might be hard to guarantee).