David Arnett
Making Chemistry F9U92N7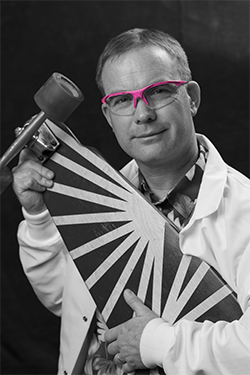 DOUG BURG
How did you become interested in chemistry?
My dad was a physician with a love for science. As far back as I can remember, we were always building kites or collecting butterfly eggs. At one point, my parents bought me a chemistry set, which I used to almost burn down the house. I had great science teachers in middle school, high school and college, and they challenged me and teased me and somehow got me to engage. I found I loved the creativity in chemistry. I later learned I love the math that underlies chemistry.
Did you always want to be a chemist?
I think everyone assumed I would become a doctor like my dad. But I never wanted that. I wanted to be an architect, but I think science got ahold of me pretty early on. Later I thought about applying to be an astronaut, and I've even thought about attending seminary.
What do you find fascinating about your field?
I just love light. It's a little mysterious, very beautiful and really powerful. I'm amazed at the number of ways we can use light to learn about molecules. My love of light really started in graduate school when I learned how to build a laser and got to explore ways to use it.
Has an experiment you've performed ever gone wrong?
Most of them do, at least initially. Fortunately, I like the process of troubleshooting and working through what might be going wrong. So I actually get really excited when something happens that I don't expect.
What's your favorite lab experiment for students?
We do a forensics-themed lab in which students are given urine and blood samples (all fake, of course) from Disney princesses who have recently died. They need to figure out what killed the princesses and if they were pregnant at the time of death, all based on the chemical makeup of the urine and blood. I also add in some irony, like Ariel the mermaid suffering from dehydration.
Got any good chemistry jokes?
Why did the chemist oppose carbon dating? Because it leads to carbon marriage. Here's another: Two atoms are walking down the street. One turns to the other and says, "I think I lost an electron." The other looks back and says, "Are you sure?" to which the first atom says, "Yes, I'm positive." A third: A photon checks into a hotel and is asked if he needs any help with his luggage. He says "No, I'm traveling light."
What do you do when you're not teaching?
I've always enjoyed athletics, and I'm pretty competitive. I used to be into soccer and running, but now it's CrossFit, racquetball and golf (both regular and disc). I also love tormenting my kids with dad jokes.