Good Medicine
Alumni physicians provide exceptional care and contribute to advances in their specialized areas of practice
BY TAMARA FYNAARDT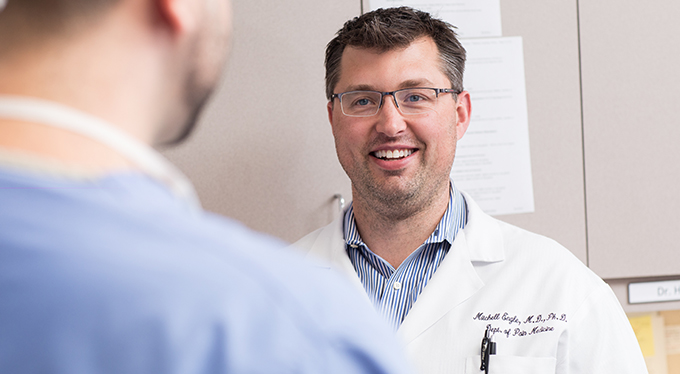 F. CARTER SMITH
Opioid abuse now kills nearly as many people in the U.S. as car accidents—33,000 overdose deaths in 2015 compared to nearly 38,000 traffic fatalities, according to the Centers for Disease Control and Prevention. It's an epidemic. And it's an area of concern and research for Dr. Mitch Engle '00, an anesthesiologist who specializes in pain medicine.
After graduating from Northwestern, Engle earned both an M.D. and a Ph.D. in pharmacology from the University of Iowa Carver College of Medicine. The dual-degree idea was "all Sara," says Engle, crediting his Northwestern mentor Dr. Sara Sybesma Tolsma '84 for assuring him he was strong enough in biology and chemistry to excel as both a doctor and a research scientist. "I would have done just medical school if not for her," Engle says, "and missed out on an area of medicine I really enjoy."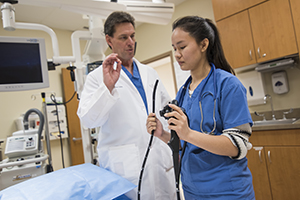 DOUG BURG
Engle's doctoral research in neuropathic pain and his anesthesiology residency—as well as graduate school mentorship by a well-known pain researcher—enabled him to land a fellowship in pain medicine at the world-renowned MD Anderson Cancer Center in Texas. He was offered a position when he finished, and he's been an assistant professor and pain medicine physician at MD Anderson since 2011.
Engle's patients come from all over the world, often because the cancer treatment they've been receiving elsewhere isn't working. They hope to participate in MD Anderson's drug trials and other therapies not yet available to the broader population of cancer patients. "Ten to 20 percent of my patients require having a translator in the room," says Engle, who also provides consultation by video or in person with oncologists and pain physicians at MD Anderson-affiliated hospitals in countries such as Ethiopia, Jordan and South Korea.
Engle fits the stereotype of a multi-tasking, yet focused, physician. In addition to overseeing a handful of studies—including one on responsible opioid prescribing—and treating his own patients (which includes attending to paperwork at night after his daughters are in bed), Engle directs MD Anderson's elite pain fellowship program, teaching and mentoring select physicians who are training to do what he does: lessen pain for patients living with cancer.
And dying with cancer. Engle says his most gratifying patients to care for are those who are getting close to the end of their journey. "My favorite thing as a physician is when I get to help a patient with a symptom burden—pain, fatigue and nausea are all symptoms of the drugs cancer patients take—so they can enjoy their last days, take care of important things in their life. When I get a letter after a patient has died thanking me because 'You helped him be able to spend his last two weeks telling his grandkids what he wanted them to remember'—that's the most rewarding thing to me."
---
Treating patients living with chronic disease is familiar territory for Dr. Corey Harthoorn '93. Now a family medicine physician in Norfolk, Neb., he spent eight years between 2004 and 2013 as a doctor in the African country of Malawi, where 75 percent of his patients had HIV/AIDS.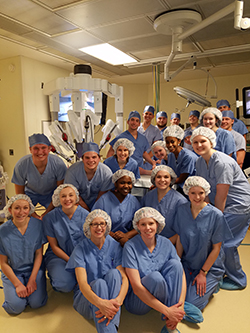 ELIZABETH HEEG '01
Harthoorn felt a call to missions and medicine as a senior in high school, a calling that was confirmed during a Summer of Service experience in El Salvador while he was a student at Northwestern. After medical school at the University of Iowa, he partnered with Serving in Mission (SIM) to practice medicine at a new AIDS clinic in Malawi's capital, Lilongwe.
The rate of HIV infection in Malawi in 2004 was 14 percent—eighth highest in the world—and the country was home to more than a million AIDS orphans. That's also the year antiretroviral drugs (ARVs) finally became available in Malawi. Harthoorn describes his years in the African clinic as the most rewarding of his medical career so far.
"People think I must have seen people die a lot," he says. "Yeah, I did. But once ARVs were available, I also saw a lot of patients live for years after being at death's door. They gained weight. They could go back to work. They could take care of their families. Not to mention, for those who didn't yet know the Lord, it gave them more time to hear the gospel. I became an HIV expert, and it was fun to take care of those patients and see them get better."
Now back in the U.S., Harthoorn still takes care of patients who are underserved with health care as a physician at an FQHC clinic (Federally Qualified Health Center). His patients are not nearly as poor as those he doctored in Malawi, but about half do not have health insurance, which requires creative caregiving and prescribing on Harthoorn's part to enable them to access and afford the specialized care they need. "Being poor in America is different than being poor in Africa," says Harthoorn. But it's still devastating when care that would make someone better is beyond the budget.
---
Dr. Karen Roetman '79 also has experience taking care of patients underserved by adequate health care. After medical school at the University of Iowa, one of her fellowships was in pediatric anesthesia at an inner-city hospital, Children's National Medical Center in Washington, D.C.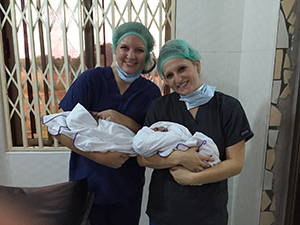 PHOTO SUBMITTED
Her patients, all under the age of 15, included drug addicts and dealers, as well as victims of child abuse and gun violence. Three patients—siblings—were severely burned when their uncle's cocaine lab blew up. "They were with us for a year getting skin grafts, surgery after surgery. They became like family to the hospital staff," she says.
Now based in Seattle, Roetman is part of an anesthesiology practice known for advances in regional anesthesia like nerve blocks that deliver pain relief to just one part of the body. "You go home after shoulder surgery with a catheter in your neck delivering drugs just to the affected area," she explains, as an example.
While Roetman supports and participates in the pioneering research of her anesthesiology colleagues, she's mostly focused on her own patients and the Virginia Mason Medical Center and University of Washington anesthesiology residents she supervises, overseeing their skill development and interaction with patients who are often in tense healthcare situations.
Anesthesiology is "never boring," she says. "You have to be always thinking and really engaged with the patient"—both before and while they are unconscious. "Surgery patients are stressed, and the anesthesiologist has just a few minutes to quickly develop a relationship and trust," says Roetman, who typically does about a dozen pre-surgery patient consults a day. Then she spends the bulk of her time overseeing residents as they put their knowledge of both human physiology and diagnostic medicine to use keeping surgical patients alive.
Roetman credits the late Dr. Edward Van Eck, who taught microbiology at Northwestern, for encouraging her into the field of medicine. When she started, women were a minority among medical school students and residents. She was one of two females among 28 residents, and she was asked during her first job interview about whether she planned to get pregnant. Now she's glad to see that one of the ways in which medicine has changed during her three-and-a-half-decade career is that both genders are represented nearly equally in many fields of medical practice.
---
Like Roetman, Dr. Darla (Vander Sluis '84) Olson is happy her physician colleagues are a more equal balance of men and women these days. When she began practicing as an obstetrician/gynecologist in the early 1990s, she was one of only a handful of OB/GYN physicians in the Grand Rapids, Mich., area, and she was initially ineligible for partnership in her male-dominated practice because—as a mother of small children—she wanted to work only three days each week.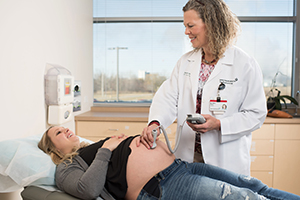 DAVID CHANDLER
By the time she left that practice 19 years later, she was a partner, and half her colleagues were women. And physicians of both genders felt free to adjust their clinic and on-call schedules around their other responsibilities. After several years as supervisor of OB/GYN residents in one of Michigan's Spectrum Health teaching hospitals, Olson has been back in private practice since 2013, caring for moms and babies in the Zeeland area. She hasn't kept track of the number of newborns she's delivered over the course of her career but estimates the tally is somewhere between 6,000 and 8,000.
Olson decided on a career as a doctor in high school, although at the time she had no idea how many years of education and training it entailed. "My grandma was a nurses' aide," she shares, "and she talked all the time about how much she loved taking care of people. She inspired both me and my sister, who's now a nurse."
In medical school at the University of Iowa, Olson rotated through various specialties, ruling out family medicine as lacking in procedures and surgery as lacking in patient interaction. During her obstetrics rotation, she fell in love. "I got to do procedures and also connect with patients from their teenage years through motherhood—both things I loved," she says. "Now I've been practicing so long I'm seeing babies I delivered become mothers themselves."
---
Concern for women and infants—as well as the chance to do procedures, surgeries and direct patient care—is what drew Katee (Wyant '13) Verhoef to OB/GYN as well. A third-year medical student at the University of Iowa, Verhoef's passion for women's health grew through short-term mission experiences during college and medical school in Haiti and Niger.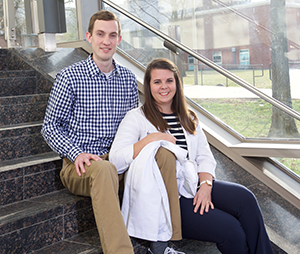 SUSAN McCLELLEN
In Niger Verhoef assisted an Iowa doctor doing surgeries to repair obstetric fistulas, a complication of prolonged labor and delivery that can leave women incontinent. Women with the condition in developing countries are often ostracized by their families and communities. "If they just had access to routine OB care, they wouldn't have problems like this," Verhoef explains. She describes the relatively simple surgical repair as "life-giving for the patients we saw, some of whom were younger than me."
Back in Iowa City, Verhoef and her husband, Adam '12, who's also a third-year medical student, have recently passed their board exams, and both are rotating through advanced clinical electives. Adam is training to be a family medicine physician because "he likes the whole womb-to-tomb spectrum of care and the diversity of patients and cases," Verhoef shares.
The couple spent the spring semester apart as Adam completed family medicine clerkships in Sioux City and Des Moines. Next year he'll participate in clinical rotations at the Karolinska Institutet in Sweden. Then the Verhoefs hope to find residency appointments together and eventually find a home in a community where Katee will care for obstetrical patients and Adam for everyone from infants to the elderly.
---
Northwestern senior Laura Hurley will graduate in May with a biology-health professions major and math and Spanish minors. She dreams of providing healthcare to women and children in a Spanish-speaking country.
Hurley's undergraduate experience has included mentorship by biology professors Tolsma and Dr. Elizabeth Heeg '01, as well as opportunities for healthcare internships in Nicaragua and Ecuador. She also is a research assistant for a Mayo Clinic physician who is conducting international health research.
Hurley wrote in her medical school application: "I believe these hands-on learning experiences form a strong foundation as I finish my undergraduate degree. … [G]lobal health work requires a resilient, passionate individual who is not intimidated by hard work … I am confident I am ready for the challenges and great rewards ahead."
Hurley has already been accepted to several medical schools. This fall she'll enroll at her first choice, Rush University Medical College in Chicago, where she plans to pursue both an M.D. and a master's in public health.
As a Northwestern graduate, she feels well prepared and expects to succeed. If her alumni colleagues' careers are any indication, there's plenty of evidence she will.

Distinguished Docs
When Northwestern College began naming distinguished alumni award winners in 1977, the inaugural honoree was the late Dr. Alfred Popma '24, an Idaho radiologist who served as the president of the American Cancer Society in the 1950s and is credited with developing the first educational materials describing proper breast self-examination.
Another cancer specialist, Dr. Kent Hoskins '84, was named a distinguished alumnus in 2012. He treats patients and teaches in the oncology department at the University of Illinois-Chicago and directs the university's Familial Breast Cancer Program, researching hereditary breast cancers.
Northwestern's list of notable alumni doctors also includes the late Dr. Robert Van Citters '44—dean of the University of Washington School of Medicine and cited by the Seattle Times as "one of this country's most imaginative and productive cardiovascular physiologists"—and Dr. Samuel Noordhoff '47, a world leader in cleft lip and palate surgery who spent his career in Taiwan and founded the Noordhoff Craniofacial Foundation to help Asian patients afford restorative plastic surgery.
Other physicians who've been named Northwestern College distinguished alumni are the late Dr. Robert Giebink '36; the late Dr. Alfred Pennings '42, '44; the late Dr. Stanley Vander Aarde '49, '51; Dr. Leo Landhuis '54; Dr. Don Van Etten '54; Dr. Bryan Den Hartog '81; and Dr. Mark Muilenburg '84.