Capitol Performance
BY ANITA CIRULIS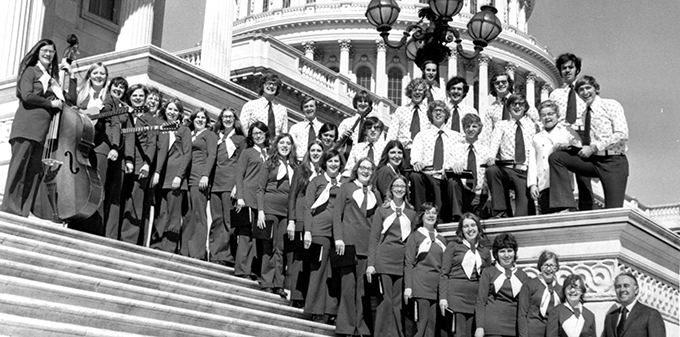 NORTHWESTERN ARCHIVES
The photo shows 34 Northwestern students posed on the steps of the United States Capitol, along with U.S. Rep. Wiley Mayne and theatre professor Dr. Theora England.
It was 1973, and the Choral Readers were on a 12-day spring tour to the East Coast. Performances were scheduled in churches and schools in Iowa, Illinois, Ohio, New York and New Jersey, but it was their time in Washington, D.C., and New York City that many alums describe as the highlight of the trip.
"It was exciting to perform on the Capitol steps," says Peggy (Heldt '76) Kenyon, who played guitar for the group. "That was a huge thing. We also performed inside the Washington National Cathedral."
Jay Dekker '74, from Fulda, Minn., remembers the view from the top of the Empire State Building and looking out the windows that form the Statue of Liberty's crown. "It was a great trip," he says. "For me—20 years old, from the farm—I'd never seen anything like that." In D.C., Dekker and his fellow Choral Readers also visited the Lincoln and Washington memorials and toured the White House.
The program that year included psalms; poems by Carl Sandburg, Henry Wadsworth Longfellow and Thomas Hood; a piece for a verse choir; and songs that included Pass It On, I Wish We'd All Been Ready, Here Comes the Sun and One Tin Soldier.
The combination of dramatic readings, music and Scripture is what drew Muriel (Dykstra '74) Loveall to the group after her freshman year at NWC. "I had never heard of Choral Readers, but after seeing them, I realized it was a chance to work with other people on something I enjoyed," she says. While Loveall, who went on to major in speech, appreciated the honor of performing at the Capitol, she enjoyed more the programs the Choral Readers presented in churches, where they had more contact with their audience.
It was Rep. Mayne from Iowa's 6th District who secured permission for the Choral Readers to perform on the Capitol steps and arranged for a photographer to take the group's picture—then made sure each student received a copy of the photo. He was also likely the one who delivered to President Richard Nixon the pair of wooden shoes the students brought with them from Iowa.
In a letter of thanks addressed to Nancy (Truitt '74) Vander Velde, Nixon expressed appreciation for the gift. "You were kind to want me to have the pair of wooden shoes as a remembrance," the letter reads, "and I was interested to learn that they were handcrafted in Orange City. We Americans are a people with a hearty appreciation of the heritage we have drawn from all nations."