Hitting the Books
EDITED BY ANITA CIRULIS
ILLUSTRATIONS BY DAVE MALEC
College students spend hours reading textbooks, doing research, conducting lab experiments and writing papers. We asked NWC alumni and students to share the best places on campus to concentrate on an assignment—and the best ways to stay motivated. Here are some of their favorite study haunts and habits.
---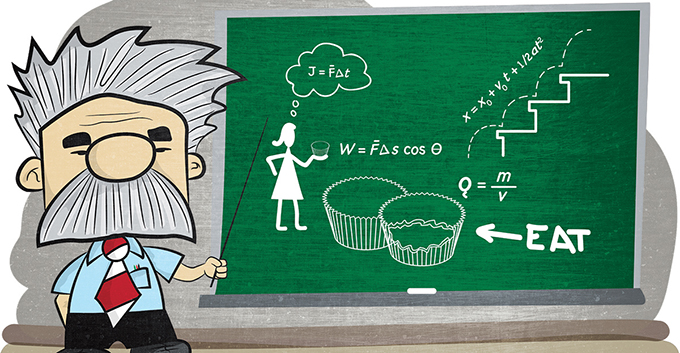 SWEET SUPPORT
Once while walking back to my dorm room after a particularly painful physics exam, I happened upon a Reese's peanut butter cup in the back stairwell of Fern. Because I was feeling a little down in the dumps about the test and the opportunity presented itself, I admit: I may have eaten it. From then on, whenever I had a physics test, or even a P-Chem test, my roommates would leave Reese's peanut butter cups on my desk so I wouldn't be tempted to eat anything off the floor.
EMILY NIENHUIS '16
Pullman, Wash.
---
COMPUTER OASIS
In the '90s, the best place to type papers was the computer in the Ramaker children's library. The second-floor room was usually empty and contained a lone computer next to a window that overlooked Highway 10 and the entrances to Zwemer and VPH, creating an ideal vantage point for people-watching. When the weather cooperated, I could open the window and enjoy a nice breeze. After dinner, I would grab a couple of cans of Coke, head up there and knock out a draft.
DR. TOM TRUESDELL '01
Orange City
---
CORNER VIEW
I used to study on the top floor (balcony) of Ramaker Library. I would head for the last study carrel on the northwest side. From there I could study without distractions and even take a quick nap. I appreciated the quiet but could also gaze out on the lawn to see any activity I might be missing out on. My first Northwestern boyfriend got me hooked on studying in the library, and it was a habit I continued all four years.
KAREN (SCHERB '85) BENES
Colorado Springs, Colo.
---
STAGED FOR STUDY
I love studying in DeWitt Theatre. The lobby and classroom are usually peaceful, with the occasional friends who pass by on their way to rehearsal. As a theatre major, I spend so much time in that building that it feels like home. Venturing to the faculty office suite to say "hi" to the profs and grab a handful of marshmallows makes for the perfect study break.
HANNAH WAMHOFF
Sophomore, Papillion, Neb.
---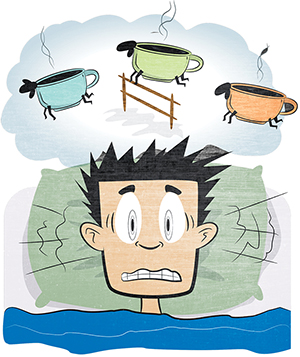 TROUBLE BREWING
During my sophomore year, I was living on the first floor of Colenbrander Hall. A room at the end of the hall was reserved for serious study, and since only a few of us were serious studiers, it was usually free. That's where I pulled my first all-nighter. The dorm parents furnished a coffee pot that was replenished all night long. And I took advantage of it, drinking nine cups of coffee between 10 p.m. and 6 a.m., when I finally laid down for a nap before my exam. I discovered the urban legend about sleeping with your eyes open is actually true, as I could not get my eyes closed even though my body was screaming, "Go to sleep!!" I swear I fell asleep with my eyes open.
Dr. John Hubers '76
Orange City
---
READING IN THE READY ROOM
I'm always running around campus for classes, meetings, events and rehearsals, so sometimes when I have an unscheduled hour, I study wherever I'm at just to save the time of walking somewhere else. One of my favorite spots when I really need to focus is the green room in DeWitt Theatre. It's almost always available, and it's in the back of the building so it's nice and quiet. The room is fully equipped with tables, a couch and some comfy chairs—as well as a huge whiteboard and full kitchenette. It's got everything a student needs to stay focused, comfy and fed.
RANDYL LYNN GETZ
Sophomore, Urbandale, Iowa
---
DOUBLE-BOOKED
I had two favorite study places. The first was a little room in the drama department's office under what was then the chapel. It was often empty at night, and I could close and lock the door and study without interruption. It was also where I met many students I tutored for a Western Civ class. The second spot was one of the two upstairs classrooms in Ramaker Library. I would study in one of those at night, as they were not used then. Occasionally couples found their way into those rooms, and I would say "Oops!" and find another space.
REV. PAUL NULTON '69
Vernon, N.J.
---
COMMUTER CAMARADERIE
I was married with a young son when I attended Northwestern, so I didn't live on campus. My favorite place to study was the commuter lounge, located in the southwest corner of the third floor of Van Peursem Hall. There was an odd collection of furniture, a small refrigerator and lots of camaraderie.
LAURA (DYKSTRA '84) HEITRITTER
Boyden, Iowa
---
SMELL OF SMART
Fall semester of my freshman year, I only had one final on the Thursday of finals week. Since I had lots of time to prepare, I tried to find many different places around campus to study so I could stay focused. My favorite was the basement of Ramaker Library. It was incredibly quiet since no one else was down there, and I could find inspiration from the smell of the old books.
SARAH HILKEMANN '08
Pierce, Neb.
---
STAKING A CLAIM
I always do my homework in one of the individual study rooms on the second floor of DeWitt Learning Commons. The room isn't much bigger than 4-by-6-feet, but it's my favorite spot on campus. I get there right when the building opens on Sundays to claim my territory.
JESSI CARVER
Sophomore, Urbandale, Iowa
---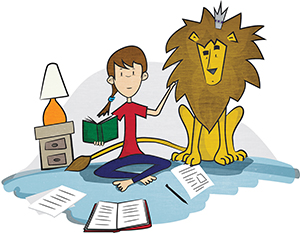 HELP FROM ASLAN
During the second semester of my senior year, I was student teaching. I found writing lesson plans and doing all the teacher prep wasn't something that could be done in the learning commons, Ramaker—or really anywhere there were people. I'm too much of a social butterfly for that. So I would literally lock myself in my dorm room, sit on the floor with all my teaching materials spread out around me, and play The Lion, The Witch and The Wardrobe on TV. I've seen the movie too many times to actually be distracted by it, but somehow the background noise and soothing voice of Aslan helped me concentrate.
NATALIE WHEELER '16
Orange City
---
HIDEAWAY
Being a commuter, I would drive to campus Monday through Friday and make the library my home away from home. On long Mondays, which sometimes began with an 8 a.m. class and ended with an evening class, I would slip into the seldom-used second-floor classrooms/meeting rooms in Ramaker Library to study. There were fewer temptations for socializing, and with those comfortable sofas, I could catch a much-needed nap after busy weekends.
REV. ROGER PUNT '72
Woodbury, Minn.
---
CANDY COATED
My roommate and I studied for our philosophy class with a two-pound bag of peanut butter M&Ms. We consumed so many that semester that we were able to cover our door with the bags. I also have fond memories of bringing a pillow and a coffee pot to the little study rooms in Ramaker back in the day...
DR. ELIZABETH HEEG '01
Orange City
---
EARLY MORNING DEW
Casey's had reusable mugs that you could fill with fountain pop for $1. We would head there before closing to fill up with Mt. Dew to make it through the night. I usually tried to do Monday and Tuesday's work on the weekend and then always work a day ahead so I wouldn't have to say no if someone called for a spontaneous midnight run to the "TH" (Truck Haven truck stop in Le Mars) for a giant cinnamon roll.
VALERIE (DITTMER '87) KING
Marshalltown, Iowa
---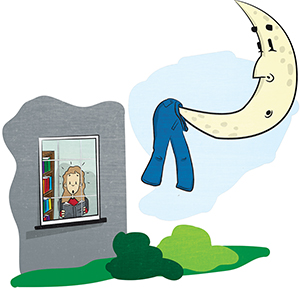 FULL MOON
My preferred study spot was on the upper level of Ramaker when it was still the library. I recall one final exam week when I happened to look out the window and catch a full view of someone's rear end. One Heemstra guy was mooning another out on the campus green!
DR. KARISSA CARLSON '02
Le Mars, Iowa
---
SOLITAIRE
If I really need to focus and get a lot of work done (like cranking out a 10-page paper), I like to shut myself into one of the individual study rooms upstairs in DeWitt Learning Commons. Otherwise, my favorite table in the learning commons is hidden behind some bookshelves and right next to a window. It's a bit secluded so there are less distractions, but I can still look outside, which makes studying more enjoyable.
ANNA STROH
Sophomore, Sioux Falls, S.D.
---
EXAM EXCUSE
I always studied in the library before tests, but during finals week I lived there. My goal was to spend all my free time in the library until I was done with my last exam. My sophomore year I was in an upstairs cubicle on the Wednesday of finals week. Most of my friends were done studying and had resorted to playing pranks on each other. My roommate came storming into the library, ran up the steps (he knew right where to find me), and informed me he needed my help because our wing-mate had finally crossed the line when he put a raw liver in my roommate's underwear drawer! I was happy right where I was, though, and told him I wouldn't be getting involved.
DAN SWIER '06
Orange City
---
ACADEMIC ALCOVE
Back when Hospers was a women's dorm, my favorite study spot was an alcove in the basement that had a few comfy chairs and a couch. During the day, this was a great place to hang out and play games with wing-mates, but after midnight, something special happened, and it was transformed into a place filled with muse and that ever-elusive element: motivation. Many a paper and project were completed in that beloved alcove—sometimes accompanied by music, but other times, just the sound of silence and the hush of a dorm that can only materialize in the early hours of the morning.

DR. EMILY DYKSTRA '10
Orange City
---