Wheel Love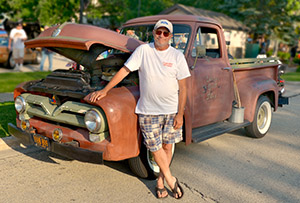 JOHN PHILIP
Larry Loven '72 can still picture the Chevy dealer next to the restaurant his parents owned in Midlothian, Ill. "I would drool over the cars they had on the lot," he says. He got his first car, a 1958 Galaxie 500, in high school, followed by a 1964 Ford Galaxie XL.
About 40 cars later ("I have a very understanding wife," he says), Loven is the president of the 160-member car club in Frankfort, Ill., and drives a 1955 Ford F-100 pickup that sat abandoned on a ranch for 12 years. He hauled it home, put in a new motor and turned it into a "rat rod." "It's not real shiny, but it's all new underneath and looks original," he says.
Loven typically buys and sells one or two cars a year. He looks for an original that needs work to be "street worthy," fixes it up and sells it at a reasonable price. "That's our vacation money," he says two days before a trip to Ireland, more than half of which was paid for by the sale of a 1959 Galaxy and a 1952 Chevy.
When he gets back, Loven will start looking for another car—maybe the one that got away. "I still wish I had my 1966 Ford Mustang Fastback 2 Plus 2."
Krista Van Gorp-Carnet '97
---
Made to Create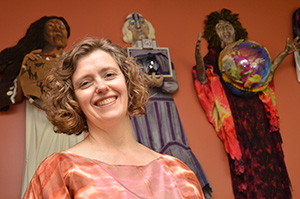 PAUL STOUB
For Liz (De Jong '93) DeBraber, worship and art are inextricably linked—from the time she was a child, drawing during church services, to last year when she staged a one-woman art show, For the World, at a church in Grand Rapids, Mich.
The show featured seven life-size female archetypes portraying themes conveying DeBraber's deep concern over the state of the world, from "Creation of the World" to "Poisoning of the World" to "Hope for the World." The sculptures demonstrated her wide-ranging artistic skills: silk-dying (to make the bodies), portrait painting (to make the faces), sewing, even a bit of carpentry.
DeBraber views the creative process as a means of feeling connected to God and to others. "The first verb in the Bible is create," she notes. True to that belief, she says the process of creating her show—from the Kickstarter campaign that funded it to the encouragement on social media as she documented her preparations—was as meaningful to her as the show itself.
"I couldn't have done it on my own," she says. "It was creating art in a community, which is a really profound experience, and that's how I think artwork should be created. I want to inspire people to find more love and beauty in the world because that points to the divine, and that's what I want my work to be: a beacon of light and love."
BY SHERRIE BARBER WILLSON '98
---
Of Minor Prophets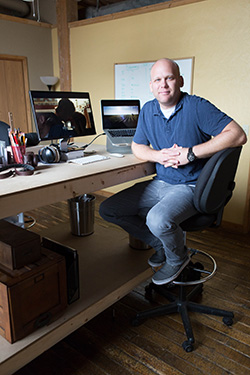 WES EISENHAUER
Among the Bible's colorful characters, Hosea stands out as unsuitable for Sunday school. God commanded Hosea to marry a prostitute. Their marriage was an object lesson for the Israelites, a visual of God's unconditional love, despite his chosen people's straying nature.
Joe Hubers '03 remembers his dad preaching about Hosea when he was a boy. "I didn't really grasp the sermon," he says, "but I was fascinated by it." As he grew older, Hubers understood Hosea's story as one of sacrifice, forgiveness and love—and his continuing fascination with it launched a film production company: From Here Pictures.
On a Saturday night in June, From Here Pictures' first feature-length film, directed by Hubers, premiered in his hometown of Sioux Falls. Of Minor Prophets stars Kris Kling '97 in the role of a church-going Iowa farmer and Cora Vander Broek '00 as an itinerant sex worker. Their characters—and their dubious relationship—are based loosely on the story of Hosea.
Theatre professor Jeff Barker wrote the script, and the film's cast and crew also includes Kimberlee Soo (Felton '94) and David White '92, Los Angeles; Rebecca Hanson-Ryder '98, Chicago; Jordan Born '11, Sioux Falls; and Ali Sondreal '13, Huron, S.D.
Of Minor Prophets is currently on the film festival circuit. Independent film fans interested in hosting a showing of the movie in their communities can contact Hubers. The film can also be pre-ordered via the film's website: ofminorprophets.com.
BY TAMARA FYNAARDT
---
Teacher of the Year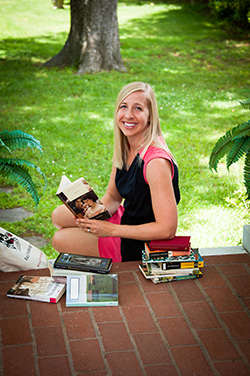 CRAFTS PHOTOGRAPHY
As a first-year teacher at an inner-city Nashville middle school, Mary-Celeste (Korte '05) Schreuder received an abrupt call from the principal: "You can't send any more students to my office," he said. "Handle it in your classroom."
Shocked and nervous, she brainstormed methods to alleviate the disruption caused in her class by students headed toward becoming gang members. Ironically, an elementary school behavioral chart with the promise of a Christmas party as a reward was all it took.
That was the biggest challenge in Schreuder's decade-long career—a career that led her to one of England's most elite boys' schools and now to a Christian school in Anderson, S.C., where she teaches high school English. She has exhibited her passion for her job and students in each setting, a trait that won her the 2015 Upper School Teacher of the Year Award from the South Carolina Independent School Association. She is the first finalist and winner from her 20-year-old school.
After her initial surprise, Schreuder's response turned to deep gratification. "Looking back at my career, I stand amazed at the utter failures and amazing triumphs I have experienced," she wrote as part of the nomination process. "Yet the essence of teaching—to inspire, love, heal and serve—has never left the core of my heart. To touch the mind and soul of another human is the greatest of all privileges."
BY BETH (NIKKEL '02) GAULKE