Tiny House, Big Ideas
Northwestern alum joins trend of living simply in a small space
BY AMY SCHEER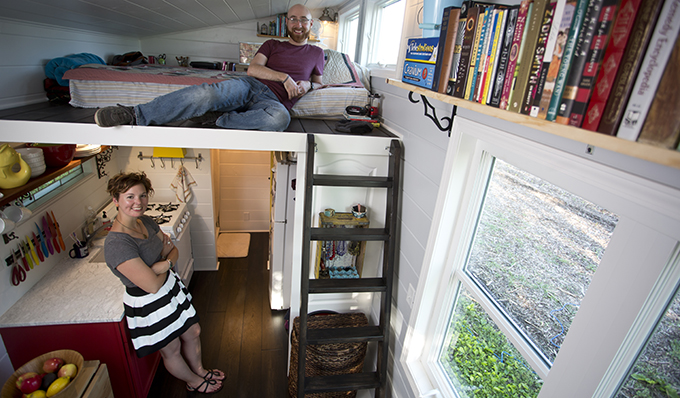 JIM HEEMSTRA '72
The yellow clock was a real find.
Standing 19 inches high with shelves hidden inside, the IKEA timepiece is an ideal storage space for small items. Its designer clearly planned for the product to be practical, yet probably never guessed customers like Jordan Plummer '09 and his wife, Sarah, would marvel, with deep gratitude, at how efficiently the clock holds their cooking spices.
"We were worried about kitchen storage," Plummer says. "But the clock's front swings open, and the shelves are four inches deep. We're trying to buy things that have more than one use, and this has two!"
The Plummers live in a house on wheels that is just 8 feet wide by 20 feet long. Called a "tiny house" (the term for living quarters measuring smaller than 400 square feet), their house was built by a Habitat for Humanity ReStore crew as a demonstration model for a home and garden show. Plummer's twin brother, Jonathan '09, who works for the organization, informed the couple about the project, and in April they bought the tiny blue house with white trim for $12,000.
Henry David Thoreau's Walden experiment can be considered a forerunner of the tiny house trend. His account of living in a cabin and off the land in the early 1800s inspired the houses that today represent a movement against materialism, emphasizing self-sufficiency, community and natural resources.
"It's not just about changing our living space," says Plummer. "It's a lifestyle. If we buy a book, we pass it on; things won't have a permanent place in our lives. We're freed up to spend more time and money on things that are important to us, like getting out and building our relationships."
When the couple wed in 2011, student loans made home ownership an unrealistic goal. The Plummers tried apartment living, first in Madison, Wis., and later in Ankeny, Iowa, where Plummer grew up. Tiny houses caught Sarah's eye, and after about a year of research, they moved from the larger of their two bedrooms to the smaller—a first step in downsizing their belongings, and a test to see if simple living was for them.
Plummer estimates the larger bedroom measured about the same size as their current house: 160 square feet.
Once you enter the Plummers' home, a mere six to eight steps will get you from the front door to the back wall. There, a yellow door with a rectangle of chalkboard paint opens to the bathroom, where a bucket with pine shavings acts as a composting toilet. The bathroom is right off the cheery kitchen, which sits under an 8-by-8-foot loft with a mattress. A nearby folding table has multiple functions: storage, additional counter space and—if you pull up the only chairs in sight—dining for two.
As is common with tiny houses, the Plummers' place is too small to be considered legal living quarters; instead, it's built on a trailer platform and licensed and insured as a camper. They're parked northeast of Des Moines on a farm whose owners were gracious enough to exchange space and basic utilities for labor.
Tiny house owners often need to find creative ways to live simply within the expectations of modern society, but cities are catching on. Spur, Texas, calls itself the first tiny-house-friendly town, adapting ordinances to allow houses off their wheels and onto a foundation. Some states are considering tiny houses as a step toward addressing homelessness. And after Hurricane Katrina, urban designer Marianne Cusato pioneered a new disaster recovery solution with her 308-square-foot Katrina Cottages.
It was at Northwestern that Plummer first encountered the idea of navigating God's world with an innovative spirit.
"Northwestern widened my perspective," he says. "My experience showed me how I can serve people, live my life and glorify God in ways that may be a little different—not cookie-cutter all the time. Great professors and staff were really supportive of a big-picture view of the world and formed my ideas on how I want to live. In a broader way, it's influenced everyday things in my life."
A marriage and family therapist, Plummer admits that small quarters might prove to be tough on a couple's relationship. They are intentional about giving each other "space," whether that's through leaving the house or using headphones when engaging in different activities.
Like Thoreau, the Plummers plan to give their experiment a go for at least two years. Until then, the yellow clock marks time in this tiny house, where simplicity is the spice of life.

Jordan Plummer's Instagram page
Tiny House Talk