Ripple Effect
BY JAYME ROZEBOOM '12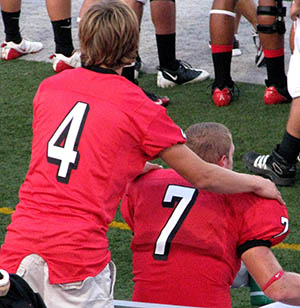 LISA (GROND '84) RENSINK
I wanted my son's name to have meaning and a purpose. Last October, my wife and I were blessed with the birth of Jett Derrick Rozeboom. "Jett" continues the letter "J" first name from my grandpa, James, to my dad, Jay '84, to me. Derrick was chosen to inspire Jett to be courageous and strong like the late Derrick Rensink '11.
I knew Derrick long before we met at NWC. He was hard to miss, standing 6 feet 6 and weighing 250 pounds. Competing against him on the gridiron and hardwood in high school was not fun. His presence was definitely felt.
Our first real conversation was memorable. As a nervous freshman on the Northwestern football team, I reported for three-a-days ready to take on the grueling 300- yard shuttles. I went all out and felt miserable afterward. When Derrick came over to introduce himself and shake hands, I puked about an inch from his white Nikes. But he just laughed and said, "It's all good."
We hit it off immediately and grew to have a special bond. Derrick lived on my Colenbrander wing, and we took numerous education classes together. We met up regularly in the summer to run routes. We built a relationship not only as a quarterback and tight end, but as friends. He took me under his wing and made me feel I was part of something special.
Derrick and I took jobs at South O'Brien Elementary in the fall of 2012. I taught special education and Derrick fourth grade, his room located directly above mine. I thoroughly enjoyed hearing through the ceiling his students laughing and yelling.
The respect and love Derrick's students had for him was incredible. He truly embodied the "Teacher as Servant" philosophy of Northwestern's education department. He respected and loved his students, and it was contagious.
All of the students in the elementary school knew Mr. Rensink by name. No other teacher had to bend down as far to give a kindergartner a high-five. The life he brought to his students and our staff was unprecedented. Each of his students went home feeling better about themselves than when they arrived.
When Derrick told me he was going to coach high school girls' basketball, I laughed. The intensity and intimidation he brought to the football field were enough to make me almost cry, let alone a group of teenage girls. Boy, was I wrong. Derrick was the ultimate head coach.
The girls fell in love with his up-tempo/high-intensity coaching style. From the minute he stepped on the court, he showed how much he truly cared about them. They played their hearts out as a result. Sure, he sometimes barked at them, but they knew he did so to encourage their best effort—on the court and in life.
Shortly after Derrick died in an auto accident in May 2013, I was asked to take over as coach. I thought of every excuse in the book to say no, but God kept bringing me back to it. It was one of the most challenging things I have ever done—and one of the best athletic experiences I've been a part of. The players and I developed a bond, in part through embracing our pain in the loss of Derrick. We were there to build each other up and carry on his name. God brought healing through this experience.
Northwestern's education department emphasizes the impact teachers and coaches can have on students, but it isn't something you can fully understand until you experience it. Derrick epitomized impact.
Derrick was known at South O'Brien for asking: "What will your wake be?" Like a boat, your journey and actions have an impact on those around you. What will your wake be? Derrick not only asked the question, he showed by his actions what it takes to impact others.
Derrick's ability to make a person feel part of something important will linger for a long time. My son will be proud to know of his great namesake. I pray he will inspire others the way Derrick inspired me every day.
Jayme Rozeboom taught and coached in the South O'Brien (Iowa) Community School District for three years. This fall he will be teaching fourth grade in Rock Valley and serving as an assistant football coach.