A Blueprint for Hope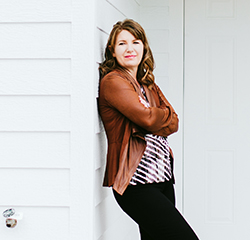 HALLIE SOSOLIK
Low-income families in West Texas have a place to call their own, thanks to a set of blueprints Stephanie (Hutchcraft '97) Hamby relies on.
The Lord's promises of hope and a future in Jeremiah 29:11 inspired Hamby, executive director of Galilee Community Development Corporation, to create the Jeremiah Plan Transitional Housing program for struggling families. Qualifying participants work with a coach to improve their current financial situation and create a realistic, long-term plan—all while living within the safety of stable housing.
"We take families who are on the verge of homelessness and help them get on their feet again," Hamby says. "It's become a launching point for them. They can make themselves successful much faster—and their kids can watch it happen too."
Galilee CDC provides other services for low- to moderate-income families in the Concho Valley, such as new home construction, affordable rentals, free repairs and accessibility remodeling.
Hamby served as director of client services for Galilee CDC for nearly five years before taking on additional responsibilities as executive director in November. She's seen grant applications rewarded with more money than she requested—proof, Hamby says, that God is blessing their work and honoring his promises.
BY AMY PHILLIPS
---
Adaptable Alum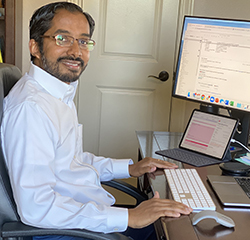 JENNIFER (RHINEHART) NATHANIEL
Sean Nathaniel '98 knows how to manage change.
One of the biggest changes of his life came when the native Sri Lankan followed his brother to Northwestern College. Nathaniel quickly became engaged in campus activities, participating in service projects and International Club, serving as a student ambassador, and playing soccer. He majored in business administration, met his future wife, Jennifer (Rhinehart '98), and even built the city of Orange City's very first website.
Upon graduation, Nathaniel worked at Wells Enterprises in Le Mars before joining a dot-com tech company in Omaha and then earning an MBA at the University of Nebraska. He moved to Austin, Texas, with his family and was chief technology officer at a public software company before starting 2020 with a career change. Nathaniel is now chief operating officer of CS Disco, a firm that makes cloud-based e-discovery software.
E-discovery—the process in electronic data is sought, located, secured and searched for use as evidence in legal cases—has been around for a while. CS Disco's value proposition lies in the modern technology that provides massive scale to handle large cases and complex workflows.
"In the cloud and artificial intelligence era, we are able to provide solutions to handle bigger workloads at unprecedented speeds, resulting in a competitive differentiation for our customers," says Nathaniel.
BY JARED KALTWASSER
---
Top Doc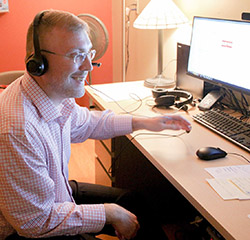 ANNIE MEHL CARROLL TIMES HERALD
In high school, Dr. David Nystrom '99 was mistaken for a beloved physician.
An elderly woman in the Sioux Center Walmart grasped his hands and thanked him for what he did for her husband. He thanked her back for thinking he was his father.
"The impact my dad had in their lives was huge," Nystrom says. "Dad influenced me a lot. He's a remarkable man."
The resemblance runs more than skin deep. David was named the 2019 Family Physician of the Year by the Iowa Academy of Family Physicians. His father, Dale, won in 2007, making them the first father-and-son pair to receive the award.
"Medicine has this tenet of do no harm," says David, "but in my opinion, it's do more good. I treat people like they're family. If they need a hug, I hug them. If they need a kick in the pants, I do that too. I don't offer perfection, but I offer my best."
David was nominated by patients from his former practice at St. Anthony Regional Hospital's Coon Rapids clinic. His nurse, Amy Wiskus, says patients would travel a long distance to see him.
"David is very caring," Wiskus says. "Providers are often in and out, but he took time to get to know people and answer all their questions."
David now practices telemedicine at an outpatient clinic in Carroll for the Veterans Affairs Central Iowa Health Care System.
BY AMY PHILLIPS
---
Creating Fresh Learning Environments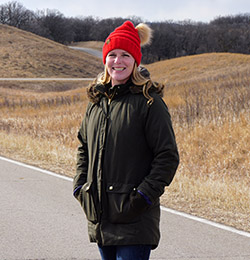 CELESTE RAPP
Since her days as a Minnesota farmgirl climbing bales and building forts, Kaley (Fahl '04) Poegel has always thrived in the great outdoors—and now she inspires kids to love God's creation like she does.
Poegel is a science and social studies teacher at Glacial Hills Elementary School (GHES), an environmental charter school that opened in 2007 in Starbuck, Minnesota. She significantly shapes the school's learning goals as one of two environmental education coordinators, integrating environmental literacy in all she teaches, including outdoor instruction at least one hour each week.
The school has doubled in size since its inception, but Poegel's main goal is the same: to create an engaging environment for learning about the environment. Literally immersing students in their education, she provides several hands-on opportunities, including butterfly tagging, a daylong water festival, and an annual school-wide Glacial Lakes State Park Day, when experts teach students about topics from pollination to outdoor survival. Poegel's sixth graders have won first place at a regional environmental education competition the past two years.
In November Poegel became an award winner herself when she was named the 2019 recipient of the Minnesota Association of Soil and Water Conservation Districts Teacher Award. Deb Mathies, director of GHES, says Poegel is deserving. "She is very conscientious about providing innovative environmentally aware educational activities for her students."
BY BETH (NIKKEL '02) GAULKE