Viral Interruption
Coronavirus upends college life
BY TAMARA FYNAARDT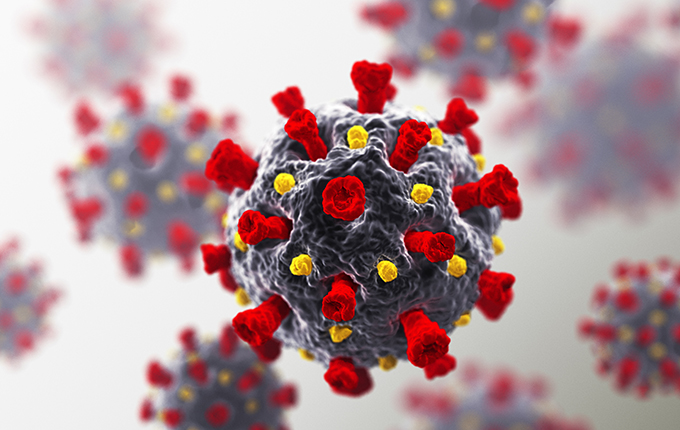 Sitting in the bleachers at the Raiders' first-round men's basketball national tournament game on Wednesday, March 11, Northwestern President Greg Christy kept an eye on his phone. Fifteen minutes into the game, he got an email saying that the remainder of the tournament would be played in front of family and essential staff only. An hour later, another email: All fans would be restricted from attending. By the following morning, the tournament was canceled. A different kind of March Madness was happening.
March 11 marked students' return to Northwestern's campus from spring break and the start of the last quarter of the school year. The frenzied, stressful, precious, too-short weeks are usually filled with final projects, a return to warm-weather studying and socializing on the campus green, and spring traditions like Colenbrander Hall's hog roast and Hospers Hall's cardboard-armor battle. Eventually, as the tulips start blooming, students say goodbye and make a mostly orderly exit before summer commences.
Not this year. On March's Friday the 13th, with coronavirus cases surging in the U.S., Northwestern administrators made the decision to send students home.
As students packed up, their professors became students in an accelerated course on plan-B pedagogy. Vice President for Academic Affairs Dr. Nate Phinney and the deans of each academic division had spent spring break preparing for what they feared was coming: a quick flip to online classes. They identified essential skills in Zoom videoconferencing and Blackboard online learning management and assigned each faculty member to one of 12 "in-house experts"—professors already skilled at using teaching technologies.
Dr. Rebecca Hoey, dean of the graduate school and adult learning division, and members of her team—who regularly deliver their curriculum online—quickly designed a week of training to ensure faculty who were used to face-to-face teaching were ready for recording and posting lectures online, leading digital discussions, and teaching in Brady-Bunch-looking Zoom classrooms.
"I'm so proud of our undergraduate faculty," says Hoey. "I know for many of them, it felt like their first year of teaching all over again, but they were dedicated to learning as much as possible about teaching and learning online in a very short time period—and they were determined to get it as right as possible."
On Friday, March 20, the semester restarted with a convocation livestreamed from Christ Chapel. Over the next seven weeks, improvisation became routine. Psychology professor Dr. Jennifer Feenstra, sensing students' need for soothing predictability, started each recorded lecture for her Honors Program class on wellness by imitating Mister Rogers: removing her coat and putting on a cardigan and comfortable shoes before saying, invitingly, "Welcome, students."
Disciplines with a hefty hands-on component had to get creative. "We gathered as a department—sitting 6 feet apart—and brainstormed," says art professor Emily Stokes. "We knew we couldn't assume students would have the same access to materials as they do in our campus studios, so we adapted, retooling printmaking assignments to drawing and asking them to create sculptures with food."
Last fall, when Dr. Sara Sybesma Tolsma '84 was planning her spring immunology course, she added Spillover, by David Quammen, to the syllabus. Spillover, which is also a PBS documentary, is about viruses that transmit from animals to humans, like Ebola and Zika—and COVID-19. So when classes went online and lessons in the lab were impossible, she changed course and led her students through study of a real-time viral crisis. They followed news of vaccine trials and used what they were learning to speculate about which had the best shot at succeeding.
Witnessing the impressive pivot from in-person to online classes, some higher education watchers are asking, as Jon Marcus did in an April 23 New York Times op-ed, "Will the Coronavirus Forever Alter the College Experience?" So far the answer seems to be yes—in some ways. And in other ways—especially at a highly relational college like Northwestern—no.
"We'll see our undergraduate faculty be better users of technology in face-to-face classes," predicts Phinney, "and hybrid approaches like assigning recorded lectures as homework to save class time for discussions and hands-on learning might become more common.
"Our students are grateful for what their professors did for them," he adds, referring to a survey he sent students at the end of the upended semester. "A small percentage felt like the online experience suited their learning styles, but for the vast majority—more than 90%—the experience of being a student online is not the one they want. They can't wait to come back."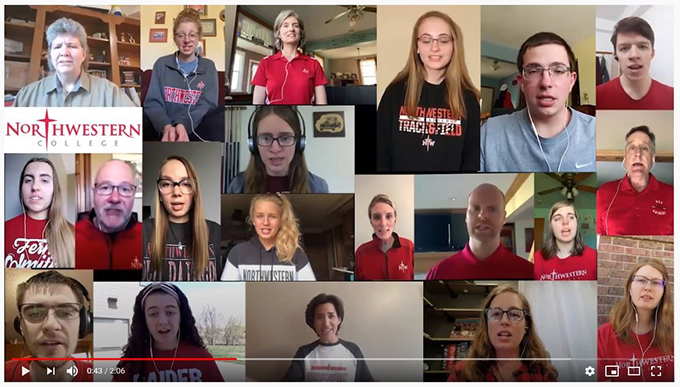 Room and Bored
Feeling disoriented and displaced (even though they were heading home), most students had left campus by March 18. Around 70, though, remained in campus residence halls and apartments for reasons that included internships, travel restrictions and viral outbreaks back home. By the end of the semester just 26 students were left, including roommates Colin Kaemingk and Landon Van Berkum, who sheltered in place in their third-floor Hospers Hall room.
Best friends since high school, Kaemingk is from Lynden, Washington, and Van Berkum is from nearby Everson—just three counties over from the state's coronavirus hotspot in Kirkland.
"It was pretty bizarre to walk across campus and not see any students or professors," says Van Berkum, describing twice-daily treks to the Hub Raider Grille, where a pared-down food service staff provided two takeout meals a day.
The majority of Northwestern professors made their online instruction and assignments asynchronous, which meant Kaemingk and Van Berkum could attend class and do homework on their own time. Outside of "school," they watched a lot of streamed TV and took solitary walks on Orange City's Puddle Jumper Trail. They also played an occasional board game with an Orange City area friend who was part of their Hospers Hall "contamination circle"—a student who'd lived next door to them before March 18 and had been quarantining at home since then.
The roommates finally went home the first week in May, when the on-campus semester would normally have ended. Like everyone everywhere, they're eager for things to get back to normal. Van Berkum says, "I'm really looking forward to when we can have, like, 10 people in a dorm room again, just hanging out."