When the Pandemic Hits Home
BY MARIA (SMITS '06) SIMMELINK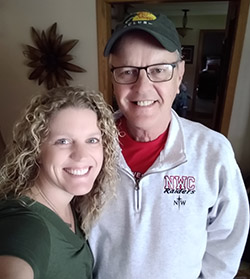 SUBMITTED PHOTO
In mid-March, there were very few confirmed cases of COVID-19 in Iowa, and Sioux County had none. Attention was on people who had traveled internationally—particularly to China—so we felt our family was immune.
On a Saturday night, my dad had what he thought was the start of a cold. By Monday he was feeling more rundown, and he stayed home from work. By Tuesday he had a fever and started feeling extremely weak. He had the worst headache ever, but still no cough or shortness of breath. My stepmom, Judy, had been keeping me updated, but we all thought there was no way this was COVID-19 since he wasn't coughing and he hadn't traveled anywhere.
On Friday morning, after he hadn't really eaten for a couple of days, she asked me to pick up some bananas and sports drinks. I planned to drop them off, as we had just started social distancing that week, but Judy asked if I was willing to pop in to see what I thought. Dad was on the couch, practically unresponsive due to weakness. Knowing he didn't want Judy exposed, I asked if he wanted me to take him to the ER, and he weakly gave me a thumbs-up.
On the way, he said I needed to tell the doctors to get rid of his headache and figure out how to give him some strength. Everything felt like so much work because he was so weak. Even talking was too much, so I needed to be his voice. His symptoms didn't quite fit the symptoms they expected from the virus at that time, but thankfully, they decided to test him. They also did a chest X-ray and saw he had bilateral pneumonia, so he was admitted.
Dad's coronavirus test results came back positive the next day. We were extremely thankful for the doctors at Orange City Area Health System; they took good care of him and kept us informed. On Sunday he was moved to Sioux Falls, where a lung specialist wanted to keep an eye on him. He stayed there for nine days and received great care. He had some extremely tough days—and probably tougher nights—but finally turned a corner and was able to come home.
We had been advised to keep quiet about the diagnosis and stay off of social media. People might blame my dad for his infection, and it could get messy. However, we knew the community would be supportive, and we needed their prayers. We also felt we should put a face on this disease so people would take it more seriously and be vigilant about social distancing.
I posted on Facebook about the diagnosis the day after Dad tested positive. It quickly attracted more than 500 reactions and nearly 300 comments—all supportive.
I can't even begin to express our appreciation for the love and care we received. While my whole family and Judy were isolating, we were so well taken care of by friends and church family—even by people we don't know well. They dropped off groceries and meals, care packages with games and activities for the kids, and essentials like soap and toilet paper. Some kids in Judy's neighborhood decorated her backyard with posters and her sidewalks with chalk.
Knowing the community was praying for Dad's healing brought us so much peace. Judy had already lost a husband, and my siblings and I had gone through the loss of our mom. We'd been in this valley before, when it didn't turn out the way we wanted and prayers for healing weren't answered on this earth. That experience can make it hard to pray.
We know God is good. We believe in his love and power. But we also know that not every prayer will be answered according to our desires. Being wrapped in prayer was probably the biggest blessing we received. We are so grateful.
Maria Simmelink lives on an acreage near Orange City and teaches first grade at Hospers Elementary. In 2003, her parents, Jim and the late Sharon (Mol '79) Smits, were named Northwestern's Parents of the Year. All three of her sisters are also Northwestern alumni.