Raider Expertise
A guide to things you may—or may not—need to know
AS TOLD TO ANITA CIRULIS
ILLUSTRATIONS BY DUHA LEE KAO
Ever wonder what's involved in flying a hot air balloon? Have a room that needs a new look? Maybe you want to train your dog, sell your home, minimize clutter or improve your video game play. If so, you're in luck. We found Raiders who can tell you how to do all that and more.
How to Fly a Hot Air Balloon
Doug De Zeeuw '92 is a hot air balloon pilot based in Orange City. He bought his first balloon 22 years ago, and three Northwestern alumni are part of his crew.
I've been around hot air ballooning since 1978. My wife and I enjoy sharing our hobby through some commercial rides, but we don't want it to be a business. We want to be able to fly our family, friends and crew.
To start with, you'll need a balloon, which will cost about as much as a new car. As with a car, there's a range you can pay—anywhere from $20,000 to $100,000.
You'll have to take ground-school classes and go through flight training, then pass written, oral and flight tests to get your private and commercial pilot license.
You'll need a way to transport your balloon. We have a small trailer that holds the inflator fan, basket, riggings and "envelope"—the balloon itself.
Plan to fly at sunrise or a few hours before sunset. When the sun is high and heating the ground, it creates thermals, or updrafts of warm air, which can cause turbulence.
Before flying, call flight service to file your flight plan and get a weather report. The report will provide information on weather conditions on the ground and at various altitudes. (For takeoff and landing, the wind should be 7 mph or less.)
With the help of your crew, prep the balloon for flying. Lay out your balloon in the direction of the wind. Have one crew member run the inflator fan while two others hold open the mouth of the balloon. A fourth crew member should pull on the line attached to the top of the balloon to keep it from rolling as it fills.
As your crew preps the balloon, run through your pilot's checklist to confirm all equipment—from ropes to the propane to your radio—is in working order.
Once the balloon is three-quarters full of air, ignite the burner to heat the air inside the balloon. As the interior air is heated, the balloon will begin to rise, requiring one or more of your crew, depending on the wind, to hold it in place using lines attached to the basket.
There's no way to steer a balloon, though you might get a different wind—speed and/or direction—at different altitudes. Any differences in direction, however, typically aren't more than 30 degrees in the evening.
Once you've identified a potential landing spot, radio your crew so they are aware and can request the landowner's permission, if necessary. Depending on the conditions, the landing could be a calm one in a small area or a lively one, which requires a larger area. Your chase crew will help you disassemble and pack up the balloon.




How to Choose a Personal Trainer
Had it been possible, Jessica (Regan '08) Knecht would have majored in track and field in college. Instead, she earned a public relations degree and started her own business, Knecht Fitness, training athletic teams and doing one-on-one personal training.
With everything moving digital, we are learning to pivot and adjust. I still work with clients, but now it's online through Zoom and FaceTime. Here's my advice if you're looking for a personal trainer.
Understand your why. Get clear on why you want to hire a personal trainer. Do you want to get in better shape for a class reunion or summer trip? Did you visit the doctor and find out you need to make lifestyle changes for your health? The answers to these types of questions will shape your training goals.
Explore your options. If you currently belong to a gym, ask if a personal training package is included in your membership. If that's not a built-in benefit, you can hire a personal trainer and train at their local gym. A third option is to hire an in-home personal trainer. Ask your family and friends for referrals. As a personal trainer, if you help your clients achieve results, the next opportunity is a referral away.
Review their certifications. Do research on their training experience and education. A fitness industry standard includes a certification from the National Academy of Sports Medicine (NASM). A minimum of five years of personal training experience provides a solid foundation for any new client. Price and training packages vary by gym and trainer.
Complete a fitness consultation. A majority of gyms and fitness centers offer a free fitness consultation. When considering a personal trainer, approach your first consultation like an interview. When I talk with potential clients about their goals and expectations, we review what they have for equipment and discuss any physical limitations or previous injuries. Then I build a three- or six-month personal training program. My client sets the weekly schedule by choosing to train two or three times per week.
Expect results. As a business owner, I do something unique. My suggested minimum is $30 per session, but I let clients determine their price per session during our first meeting. I encourage them to choose an amount that holds them accountable. The amount is an investment in achieving their personal goals. My goal as an in-home personal trainer is to teach and empower clients to establish a healthy fitness routine so they no longer need me. They have the necessary tools, a positive, healthy mindset, and the physical ability to do it on their own.
How to Sell Your Home
Amy Wienands '93 owns Amy Wienands Real Estate in Waterloo, Iowa. A realtor for 25 years, she employs a team of 30 people, and her firm ranks 59th nationally in annual real estate transactions.
Even in the midst of this coronavirus pandemic, people still need to buy and sell homes. Our mobile devices play an ever-increasing role in our lives, and that's true in real estate as well. Social media platforms like Facebook and Instagram can help you get past people's narrow search criteria and find the perfect buyer for your property.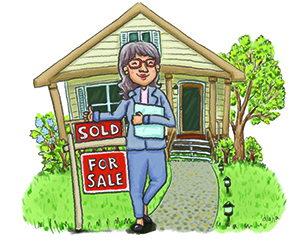 Go high tech. 66% of all buyers won't look at your home if it doesn't have a video attached to your listing. You have 2 to 3 seconds to capture someone's attention, and if your video isn't the right pace and length (no longer than a minute), you'll lose them.
Update your house. Almost 50% of our buyers are millennials—people under the age of 34. They don't want to spend time on renovations or deal with your wallpaper. They like gray and white, clean lines, upgraded appliances, quartz countertops and a great tiled shower.
Clear the clutter. What might look good in a walk-through isn't what looks good online. Remove everything from surfaces such as countertops, coffee tables, fireplace mantels and nightstands. This is especially important in the master bedroom and bathroom. And leave one corner of every room empty. People have to be able to look and see that there is space. Less is more.
Make a good first impression. Give your home curb appeal by freshening up the paint on shutters and giving your front door a pop of color. Trim hedges, add new mulch, update light fixtures, and edge the grass along walkways. And don't forget a welcoming pot of flowers on the stoop.
---
How to Faux Shiplap a Wall
In addition to serving as dean of Northwestern's Graduate School and Adult Learning, Dr. Rebecca Hoey is an avid do-it-yourselfer. She recently applied faux shiplap to the walls of a bedroom and tells how you can do the same.
I think Joanna Gaines on HGTV's Fixer Upper TV show got everybody started on shiplap. True shiplap boards have notches cut along their length in an alternating way that allows the boards to self-space and prevents water from getting behind them. Once commonly found on barns and sheds, shiplap is now often featured in new home construction.
An easier and less expensive way to try shiplap is to rip plywood sheets into 6-inch-wide strips. If you have a table saw, you can cut the boards yourself. Otherwise, have a lumberyard do it. Either way, you'll need some sandpaper to smooth the splinters off the edges of the wood. You'll also need a jigsaw to cut boards so they fit around doors, windows, light switches and outlets.
I was working with 8-foot-long strips of plywood. Start at the top of the wall, in one corner, and use a level to get the board straight. Attach the board to the wall with a finishing nail gun, one nail at the top of the board and one at the bottom, every 18 inches. If your walls are dark and you plan to paint the shiplap white, like I did, make sure you apply white paint on the wall where the spacing between the boards will be. Work your way across the wall until you have to cut your final board to fit. Using the leftover board to start the next row will result in naturally staggered vertical seams.
As you install the second row of boards, use a nickel to create spacing between the boards. I also used the nickel to create vertical spacing between the boards, but you may choose to place the boards close together so there are no vertical seams between them.
One final tip: If you have an old home, quarter round placed over the shiplap in the corners and between the wall and ceiling can help hide the gaps that result when things are no longer square.
---
How to Raise an Award-Winning Pig
Mason Post '21 is an agricultural business major who raises show pigs and had the Reserve Champion Yorkshire Boar at the 2018 Iowa State Fair.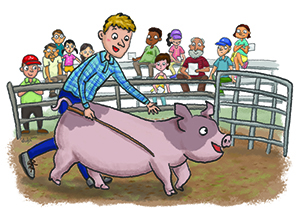 When selecting a show pig, health is the No. 1 consideration, because that will determine how efficiently the pig will grow and how long it will survive. Look at the pig's structure. You want a pig with a wide chest and butt. Check the angles of its legs by making an L shape with your thumb and pointer finger and comparing that angle to the angle of the pig's legs. The ideal pig should be able to walk easily and have toes that are square—neither bowed out nor pigeon-toed. Avoid a pig that is flat-footed or has weak pasterns.
Once you've selected a show pig, provide it with the right diet. Because water determines the amount of nutrients a pig can absorb, have fresh, clean water available at all times. Feed your pig a carefully balanced diet with the right proportions of carbohydrates, protein, and lipids (oils and fats). The proportions should be adjusted based on the pig's breed, gender, size, and skeletal and muscular structure.
The final step in selecting and raising a show pig is the preparation before and at the fair. For a month prior to the show, practice walking your pig each day. Wash and brush it to give it a clean look, and shave the pig's hair to make the pig look squarer and give it a show ring presence that will catch the judge's eye. Before entering the ring, brush off all bedding and spray your pig with water or another product to give it a shiny look. In the ring, drive your pig so the judge can see every angle of your hog, always keeping it between you and the judge.
How to Build the Perfect Playlist
In addition to a decade of work with the RiseFest music festival, Lee Stover '10 is a Christian hip-hop musician and the co-owner of Stovetop Productions, a company that specializes in disc-jockey entertainment for weddings, dances and parties.
I've always loved music. In college I had playlists for everything—including one I listened to as I fell asleep at night. For my business, I've got speakers, lights and computer programs for mixing music. I own probably 20,000 songs and subscribe to several services specifically for our industry.
You'll want to start with a music streaming service. Pandora, one of the first, lets you create radio-style stations based on your listening preferences. Other options are Spotify or Apple Music. Both offer free trials, celebrity-curated playlists, and paid subscriptions. Spotify also has a free version with ads.
Obviously, your personal tastes will play a role as you build your playlist, but you'll also want to consider the taste of others if you're creating a playlist for an event. Are they younger? Older? Fans of country? Dance pop? Hard rock? I usually start with older music—but music that is still danceable and popular—and work from older to newer music throughout the evening. That way I cater to everyone at the event.
As for keeping up with musical trends, the Billboard charts track what's popular on the radio. Spotify and Apple Music have curated playlists of what's trending. Another resource I'm utilizing more and more is the app TikTok. Trends explode on that app. A lot of younger people are into it and use it for music discovery. Because you can add songs to your TikTok videos, songs quickly go viral. Just search #trendingsongs on TikTok or click on the app's "Discover" tab.
How to Clicker Train Your Dog
Sydney Kolb '20 spent two years as a professional dog trainer with Canine Craze Performance Center in Urbandale, Iowa.
You'll need a clicker and treat pouch (available at most pet stores or online) fastened to your hip with a clip or belt. That way one hand can operate the clicker while the other dispenses treats. Begin by scattering some treats on the floor and pressing the clicker just before your dog gets one in his mouth. That will help your dog associate the clicking sound with the treat. Then start by practicing a behavior your dog already knows or is likely to do. Ask for the behavior, click when your dog does it, and immediately reward him with a treat.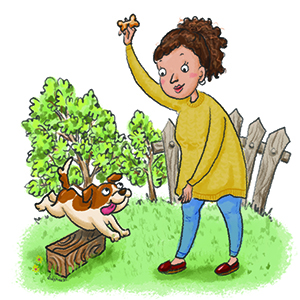 Timing is everything. It's important to click—just once—right as your dog performs the desired behavior. If you are teaching your dog to sit, click the moment her bottom hits the floor. If you're teaching her to stand, click as soon as her hips lock in an upright position.
Always be quick to present the treat, and always follow a click with a treat, even if the click was an accident. Also, only give the treat when your dog is in the position associated with your command. If you asked your dog to sit, click when he sits and feed him in a sitting position. If he stands up before you give him the treat, wait for him to go back into a sitting position.
Clicker training is very stimulating for dogs' brains. Keep your sessions short and end on a positive note with a behavior she does well. When working on a more challenging behavior, take breaks to practice easy commands to maintain your dog's confidence. Stick with it, and you'll have fun and see positive results.
---
How to Level Up as a Gamer
Cole Prescott '19 is the director of Northwestern's new coed esports program, which just completed its first year of intercollegiate competition.
Becoming a great gamer is not that different from perfecting any other skill. It takes some degree of natural ability, the right equipment, and lots and lots of practice.
Get your head in the game. While many people play video games to unplug and unwind, some aim for mastery. If you want to get better, you'll need to dial in on what you're doing. Improvement requires intentionality and focus.
Acquire the right gear. Whether you play on a PC or console, make sure your hardware fits your game. If you're a PC gamer, get a gaming mouse. If you play team games that rely on communication and coordination, buy a high-quality headset. A quick Google search will give you a good idea of where to start.
Do your research. Knowing more than your opponent gives you a competitive edge, while a lack of understanding will leave you confused and conquered. Soak up as much information as possible. Everything from basic game stats to complex YouTube demos will expand your mental arsenal.
Put in the reps. Pick one or two of your game's core skills and practice those concepts over and over before moving on to the next set of skills. How you practice will vary depending on the skill, but the idea is to focus on a subsection of your game.
Perform the reviews. The morning after a football game, my high school football team would gather to review game footage. The concepts and drills we practiced that following week were based on discoveries made during our weekend film sessions. Film review for video games is no different. Review your matches a day or two after you've played them and use what you discover to help guide your practice.
---
How to Start a Beehive
Dr. Laurie Furlong is an entomologist and Northwestern biology professor. She has been beekeeping for eight years.
For Christmas one year, my husband gave me The Beekeeper's Bible, a beekeeping course and a beehive. It's one of the most thoughtful gifts anyone has ever given me, but you don't have to be an insect-lover like me to keep bees.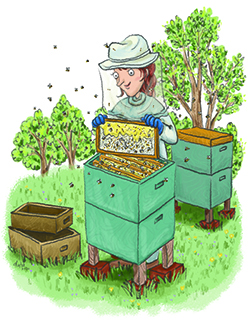 Do your homework. In addition to The Beekeeper's Bible, there are all sorts of YouTube videos. Find other beekeepers who are more experienced and can give you advice. We belong to the Siouxland Beekeepers, an association of beekeepers in northwest Iowa.
Buy your supplies. A beehive will cost around $200; a beekeeping suit with hat, veil, gloves and smoker, $100; and a nucleus colony, or "nuc," with a queen and several thousand bees, $150. Purchase bees in April or May. There are plenty of plants flowering at that time—maple and apple trees, dandelions, clover—so there's good forage for them. We get our bees from Minnesota. You don't want to purchase them from too far away, because bees are sensitive to the climate.
Set up your hive. If you live in town, you'll need to check your city ordinances regarding keeping bees. You might be able to have a hive if you live on the edge of town. We live in the country and have an acre planted with native prairie plants. Otherwise, find a farmer who will allow you to set up your beehives on his or her land.
Register your beehive. This isn't required but protects your hive. When a beehive is registered, farmers aren't allowed to crop dust within a mile of your hive between the hours of 10 a.m. and 6 p.m. when bees are likely to be out foraging in the fields.
Monitor your hive. Bees are better off if you leave them alone, but you'll want to check your hive every three to four weeks. Early in the spring, before your bees collect a lot of nectar and start making honey, treat your colony for mites. Repeat in the fall after you've collected your honey. In February, you might need to feed them sugar water if they don't have enough honey to make it through the winter. If they swarm because the colony gets too crowded, make sure there's a new queen and add another hive box.
Collect your honey. Mid-August is the best time to do this—before the goldenrod is out—because when the bees are collecting pollen from that plant, the honey smells and tastes bad. Smoke the bees, take the combs, put them in a centrifuge and spin the honey out.
Enjoy! It's delicious, it's fun, and it's local. We're not doing it for profit. I love watching the bees go in and out, returning to the hive with their little pollen packs filled with different colors of pollen. There's joy in seeing the process. It makes me feel closer to creation and to my Creator.
How to Work Toward a Zero-Waste Lifestyle
Deb Schleusener '97 became interested in caring for the environment while living in Seattle. Now working in human resources at Boys Town in Omaha, she continues to do her part to be a good steward of God's world.
We've been told for years to recycle, and that's great, but most U.S. recycling is sent overseas—and in 2017, China stopped importing plastic waste. So when it comes to the saying, "Reduce, reuse, recycle," recycling should be the last resort.
Zero-waste living aims to significantly reduce the trash sent to a landfill. As I read articles and learn more, I'm finding ways to do things differently. For example, I use toothpaste tablets that crumble and foam as you brush, eliminating the waste of plastic toothpaste tubes. I keep a bag in my purse with a reusable straw and silverware for when I go to restaurants that have disposable items. I've worked on switching to cloth napkins and handkerchiefs, and I reuse cereal box liners in place of waxed paper or Ziploc bags. (This "soft plastic" can also go in grocery store bins where you return plastic bags.)
Omaha has a commercial composting farm, so I save my food scraps in a paper bag in the freezer until I'm ready to take it to the compost site. Even bathroom trash like paper tissues, cardboard cotton swabs and hair is compostable. Omaha also has a zero-waste market, Exist Green, which is a bulk store where you bring your own containers for refilling things like shampoo and detergent, as well as foods like rice and olive oil.
I'm far from living completely zero waste, but each month I learn something new and aim to make little changes that eventually make big differences. After being more mindful about packaging before I buy—as well as composting, reusing and recycling—I now typically only need to take out the rest of the trash once every four to five weeks. I'm just trying to be more thoughtful about the world, what God has given me, and how I am taking care of it.
(If you want to learn more about zero-waste living, check out goingzerowaste.com, litterless.com/journal, wastelandrebel.com, consciousbychloe.com and treadingmyownpath.com.)
How to Become a BBQ Expert
Al '84 and Cindy (Rus '84) De Vos are both Kansas City Barbeque Society (KCBS) Master Certified Barbeque Judges. As such, they've judged BBQ at the American Royal and the World Championship BBQ Contest. They also compete themselves under the team name of Big Al's Smokin' Good BBQ.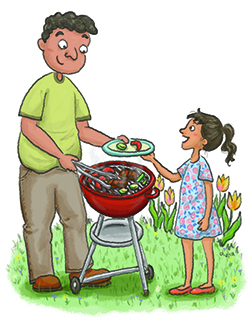 As judges, we've met stars of the BBQ Pitmasters TV series, including Myron Mixon and Big Moe Cason. What they're doing is not that much different from what people do at home. If you want to improve your BBQ skills, show up at a contest the night before, walk through the booths and talk to the contestants. They're not going to give you their secret spice rubs, but they'll talk to you and answer your questions.
Different regions of the country have different styles of BBQ. In Kansas City, you have a sweet, tomato-based sauce. In the Carolinas, vinegar- and mustard-based sauces. Alabama is known for a white sauce that is mayonnaise-based. In Memphis, they use a dry rub instead of a sauce, while in Texas, their tomato-based sauce has more heat.
There are plenty of recipes online, and companies like Weber and Traeger also have recipes available on their websites. If you have a favorite store-bought sauce, check out its ingredients to get an idea of what you like and then search for recipes with those ingredients. You can even take a sauce you like and add to it. When you're making tweaks, however, write down what you did so you can replicate what you liked.
Finally, beware of using too much sauce. The sauce should complement the meat—provide a flavor layer or profile. You don't want so much sauce that you don't taste the meat.
---
How to Minimize Clutter
Jeannine (Lovas '04) Bryant is a professional organizer and the owner of Changing Spaces SRS, a senior move management company in Lincoln, Nebraska.
Everyone is unique, but we're also very much the same. Common clutter areas people struggle with are books, paperwork, clothing and kitchen items. Here are some tips for adding order to your life.
Everything in your home should have a place where it lives. Not only will this help you find things, but it gives you a clear picture of what you own. If all of your office supplies are in one place, you'll know how many boxes of envelopes you have.
Utilize the power of counting. Actually count, for example, the number of books, coffee cups, bedsheets, pants and shoes you own. Going through the counting exercise is like stepping on a scale. Until you see the number, you don't really know.
Determine how much is enough. Enough is a decision, not an amount. Think about how much of a particular item you need. (When it comes to linens, for example, my recommendation is no more than two sets of sheets per bed.) The size of your closets or number of your bookcases will play a role in those decisions. Remember, you don't need more storage space; you need less stuff.
Be a good steward. As Christians, our responsibility is to make sure our possessions are being used well. If they're not, then let's donate them so they are.
Take one room at a time. And if one room is too overwhelming, then do one closet or drawer. Rather than starting in your basement, begin with a room you use the most, because that will make the greatest difference in your life and help keep you motivated. One trick is to set a timer for 30 minutes. After 30 minutes you can quit or—if you've created some momentum—keep at it for another half-hour.
How to Protect Your Home from a Fire
A 30-year veteran of the Orange City Fire Department, Dan Roghair '88 serves as assistant fire chief. In 2019 he was named the Iowa Firefighter Instructor of the Year.
With cigarette usage declining, cooking has become the No. 1 cause of house fires. Someone forgets something on the stove or moves a grill into the garage or underneath an overhang, and suddenly you have a fire. If you want to reduce the chances you'll have to deal with what can be incredible smoke, heat or water damage to your home, be careful while cooking. In addition, take these steps:
Use LED candles. Many house fires are started by a candle left burning unattended. There are flameless candles available now that mimic the flickering effect of a burning wick.
Avoid space heaters. Today's ceramic heaters are much better than the open-coil heaters of the past, but heaters can dry out wood after years of use and start a fire. If you must use one, always have someone present in the room.
Clean out your dryer vent. You can buy a brush attached to a flexible wire for $10 or $15. Use that tool to loosen the lint and then run your dryer to blow the debris outside.
Don't overload outlets. Use surge protectors to plug in multiple devices, and if a breaker trips, investigate why. It could be a bad breaker—or it could be a sign there's an electrical problem. The cost of calling an electrician pales in comparison to the cost of a fire.
Keep a fire extinguisher handy. I recommend having at least one 5-pound extinguisher in your home. Because the powder in them settles, turn it upside down and tap on it once a year. And don't store it too close to your stove. You want to be able to reach it if you need it.
How to Find Relief from Migraines
Dr. Jono Taves '13 is a physical therapist and the owner of Novera Headache Center in Colorado Springs, Colorado.
Many migraine sufferers have an underlying neck injury that causes difficult-to-detect inflammation. When bad enough, the pain signal is confused by the brain as pain in the head or face, causing sensitivity to light and sound and leading to nausea, numbness and tingling. X-rays, MRIs and CT scans don't detect this type of injury, and most neurologists don't realize the importance of evaluating for loss of movement. For relief, try these three steps:
Find a good "manual therapist"—a physical therapist who specializes in hands-on treatment. It's imperative for subtle head and neck movements to be evaluated and treated appropriately.
Check your sleeping position. This is one of the first things I review with new patients. Don't sleep on your stomach. Side sleepers or back sleepers have healthier necks. People who think they are side sleepers often end up in a twisted pseudo stomach position. Try hugging a pillow to keep from rolling forward, and place a second pillow between your knees.
Move frequently. You may think resting will bring healing for a migraine, but you likely will benefit from changing positions and taking frequent walks.
---
How to Build a Treehouse
Doug Smit '89 held several construction jobs before getting his social work degree from Northwestern as a nontraditional student. He now serves as the director of mental health and family services at Hope Haven Inc. and lives in Ireton, Iowa. Anyone interested in building a treehouse, he says, can't be afraid of heights.
I promised my granddaughter I would build her a treehouse. I bought the lumber the weekend before the 4th of July and then sketched out a plan. That's how I operate, but there are a lot of websites with blueprints and step-by-step instructions. Our treehouse is 10 by 12 feet, with a 6-foot deck on the front.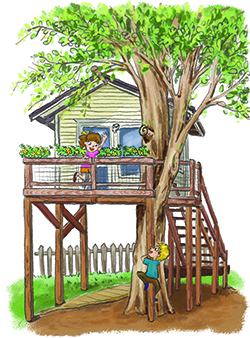 First, I dug four holes for the corner posts, lined up so the treehouse is attached to the tree at one corner. After cementing them in the ground, I added a couple of additional posts for support and then framed up the floor. The floor joists are 2-by-12s, 16 feet long and heavy, so raising them 12 feet in the air was a feat. Once those were in place, a sheet of plywood provided the flooring.
I framed the walls on the treehouse's floor, installed windows and outside sheeting, then stood them up, braced them, and nailed them down. When I had both sides of the rafters in place for the roof, I asked my wife if she wanted a loft—because if so, now was the time to do it.
There's a series on Animal Planet called Treehouse Masters. My treehouse is nothing compared to what that guy builds, but the show provided a lot of inspiration. Our treehouse is like a small house. It's insulated and has electricity, heat and air conditioning. It's furnished with a love seat and chair, and there's a queen-sized mattress in the loft.
The grandkids love it, and it's a great place to go for a Sunday afternoon nap. Our treehouse was also the setting for the wedding of our neighbor's daughter in April. Because of COVID-19, they couldn't hold the ceremony in a church, so she was escorted down the steps of the treehouse and married while family and friends watched, spaced 6 feet apart in our yards.
How to Grow Your Own Food
Every summer, Pam Vlieger '83 and her family raise nearly all of the vegetables they eat in a year. The Northwestern printing services manager is also known to share extra produce with college faculty and staff on a first-come, first-served basis.
I started with a 10-by-12-foot plot and now have a garden that is 26 by 200 feet. While I do the biggest share of the canning and freezing, my husband, son and grandchildren all help with weed and pest control, as well as with harvesting.
Pick your spot and start small. Place your garden where it will get 10 to 12 hours of sun a day—preferably more morning than late-afternoon sun. Our rows are 30 inches apart, so take your length in inches, divide by 30, and that's how many rows you have to work with.
Test your soil. It needs the right nutritional content. Soil with a balance of all macro and micronutrients grows better produce and helps prevent weeds, which love an imbalance.
Decide what to grow. We use non-GMO and heirloom seeds purchased from Seed Saver's Exchange, Baker Creek Heirloom Seeds, and Hudson Valley Seed Co. Our seed potatoes come from Wood Prairie Farm. Order early for the best selection! I usually order seeds in February.
Plant at the right time. Plant when the ground has the correct moisture content and the soil temperature is at 55 to 60 degrees Fahrenheit. If you plant when the ground is too wet, it will turn hard and your plants and seeds will have a difficult time establishing a good root system. If the temperature is too cold, you run the risk of your seeds not germinating, and eventually, they may rot.
Rotate your crops. Diagram your garden so you know where things were planted. That way you're not planting the same thing in the same spot year after year. This helps soil biodiversity and prevents certain pest problems. We also use companion planting (tomatoes with onions and peppers; beans with peas; broccoli and cauliflower with root vegetables; squashes on both sides of the sweet corn; potatoes that go where the sweet corn was planted the previous year).
Go natural. . We avoid all synthetic fertilizers, pesticides and herbicides. We plant a cover crop of winter rye in the fall to help prevent the loss of nutrients, and we use a no-till method, only breaking the soil where needed to plant seeds and plants. Weeds are controlled with a layer of hay placed on the ground after the plants have sprouted, but you can also use leaves and grass clippings if they haven't been sprayed with any chemicals. We use worm castings to help fertilize the seeds and plants. Tomato plants get 1 teaspoon of Epsom salt and 2 crushed egg shells in their planting holes to prevent blossom end rot and certain types of blight. Powdered diatomaceous earth sprinkled on plants is a natural way to kill pests. The fossilized silica remains of tiny, aquatic organisms absorb oils and fats from an insect's exoskeleton, causing bugs to dry out and die.
Get advice. Supplement your food by going to a local farmers market and asking questions while you shop. Small producers need and appreciate your business. Seek them out and develop a good business relationship with them. Facebook is another resource. I belong to a couple of different groups where I can ask questions, get a heads up about different growing situations, and find out what to do when.
Expect that things won't go perfectly. Weather conditions are different every year, so you will have new challenges and different results. Last year we planted two banana pepper plants and were rewarded with three small peppers. We also planted six jalapeno pepper plants and had such a bumper crop that I nearly had to beg people to take them!