Brittany Joy
Alum shares story of unimaginable loss and journeying toward light
BY TAMARA FYNAARDT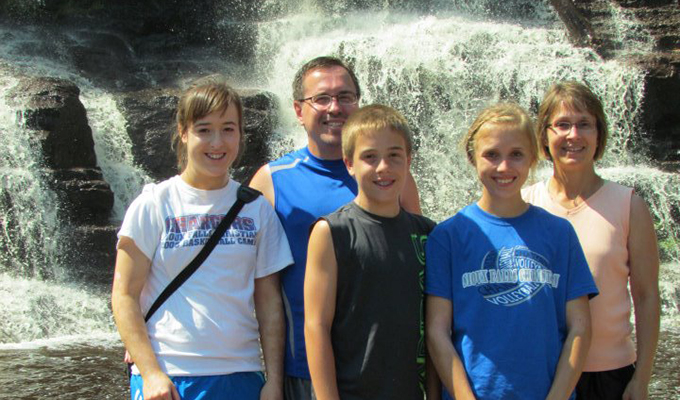 Submitted Photo
"I can't imagine." It's almost always what people say after Brittany Vollmer '15 tells her story of losing her whole family when she was just 20.
It was a Saturday, Feb. 23, 2013. The Northwestern sophomore was with a friend in DeWitt Theatre, watching a Shakespearian comedy. At intermission her resident director, Hannah McBride '09, ushered her into a private room off the theatre lobby where President Greg Christy and a police officer told her that her family had been in a car accident near their hometown of Sioux Falls. Three members—her dad, her sister and her brother—had died on the scene. Her mom had been airlifted to a trauma center but also died. Hannah remembers Brittany asking, "So they're all gone?"
All gone: Jim (52), a hospital social worker and soft-hearted dad; Julie (48), a nurse and devoted, attentive mom; Alyssa (16), a committed student-athlete and extroverted sister; and Caleb (13), a sports enthusiast and quick-witted, playful brother.
Losing one family member is devastating. Losing all of them? Unimaginable.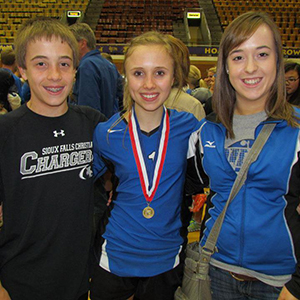 Submitted Photo
While other Northwestern students made spring break plans, Brittany and members of her extended family planned a funeral service, the first one she'd attend in her life. News of the Iowa college student who'd lost her whole family was picked up by media outlets across the country. Cards, tributes, stuffed animals, prayer shawls and other comfort-gifts poured in, as well as donations to a fund for Brittany's college tuition. After a few weeks, Brittany returned to Northwestern and began the arduous task of continuing to live, one day at a time.
Brittany likes talking about her family, describing their individual personalities and remembering moments, big and small, that make being part of a family so ordinary—and so precious. She says it's not hard telling people about her mom, dad, Alyssa or Caleb or even what happened to them. The hard part is afterward. "When I finish telling about the accident, then it hits me again: That really happened. It's not just a story. It's actually someone's life. Mine."
Brittany's friends describe her as funny and fun-loving, athletic with a competitive spirit to match. Outgoing and quick to laugh, Brittany Joy is well-named. She loved attending Northwestern and was both excited and apprehensive about graduating last spring. Finishing college was a goal she wasn't sure she'd achieve.
"Just getting through college after the accident was tough," she says, crediting members of the NWC community with sometimes pushing, often pulling her through. "The support I got at Northwestern blew me away," says Brittany. "Notes and letters from people I didn't even know." She kept them all. "They remind me of all the people who prayed for me. I like to imagine some of them are still praying for me."
Brittany describes Northwestern friends and friends' parents who were there for her around the clock, sticking close, making arrangements and meeting practical needs. She's grateful for professors who helped and cared for her in exceptional ways—both academically and personally—as she grieved and struggled to find her new normal.
Hannah became more than an RD to Brittany, and the two remain close friends. On the first- and second-year anniversaries of the accident, Hannah accompanied Brittany as she revisited the events, starting at the DeWitt Theatre and ending in Hannah's Stegenga Hall apartment where Brittany stayed that February night her world crashed down.
Where Brittany sees struggle during her years in college, others see amazing strength: "She'd been picked as a resident assistant for her junior year," Hannah explains. "After the accident, I told her not to worry about it; we'd find someone else. But she wanted to go ahead. And she was a great RA for her wing—very thoughtful and always there for her girls."
During her last year at Northwestern, Brittany participated in the Chicago Semester, student-teaching in an urban classroom. It was the first time she shared her story with a new community, and she was overwhelmed by her students' expressions of empathy. Even though none of them had experienced what she had, they understood her as someone who's suffered but keeps going. When she started her first job as a sixth-grade math teacher this fall, Brittany shared her story again, knowing it would be a good connection to make with her students: to be vulnerable among middle schoolers who are dealing with their own tragedies. To model bravery—and resilience.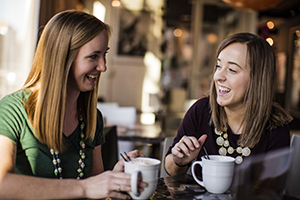 Geoff Johnson
Today Brittany teaches at Lewis Central Middle School in Council Bluffs, Iowa, and shares an apartment with Northwestern friend and fellow former RA Rachelle Cole '14. She keeps a collection of photos, home movies and other reminders of her family close: her dad's cologne, her mom's Bible and two treasured letters, cozy sweatshirts from all four family members to sleep in. For warmth she also has a quilt made by her mom's co-workers from Julie's nurse's scrubs.
Brittany is a big fan of sports and board games. She likes being 10 minutes from Omaha's zoo and the shops and restaurants of the city's rejuvenated Old Market. She visits Sioux Falls frequently, sometimes staying in the house where she grew up—which remains filled with her family's things—but most often staying with friends who have become family.
Darci Wassenaar was Brittany's high school volleyball coach at Sioux Falls Christian School. She learned of the Vollmers' accident during a school event that Saturday night and drove straight to Orange City. "She was the first person from home who came to be with me, and it hasn't stopped," says Brittany, who now has her own room in the Wassenaars' home and has added Darci, Brian and their four sons to the pictures she shares when she talks about her family.
"I can't put into words how much they mean to me," she says. "If I'm having a hard time, which still happens a lot, Darci is the first person I call. She listens. She cries with me. She encourages me. She respects when I am sad, mad—even when I vent my frustration to her. Her support has been unconditional.
"With the Wassenaars and my grandparents and aunts and uncles—who've become more important to me—I have a lot of love in my life."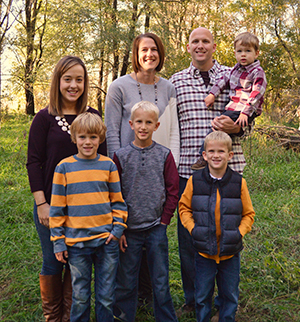 Submitted Photo
And the future? "I don't think that far ahead. I think about making it through the next month—sometimes the next week—sometimes just the day."
The number of days she's made it through feels like a real accomplishment. "It's still heavy. The focal point of my thoughts is my family, and it's hard not to think about how much more joyful everything would be if they were still here."
Brittany believes God is sustaining her, even though she wrestles with agonizing "Why?" questions it seems even God isn't answering. "Before the accident I felt God's presence in my life—his comfort, his strength—through my family. Now I don't experience it in the same way."
Often, she explains, it's hard to feel anything beyond just a deep longing to have her family back. In the aftermath of a tragedy that would surely challenge anyone's faith, Brittany is grateful for close family members and friends who keep encouraging her to both remember and rediscover God's truth for her life now.
During the fall of Brittany's junior year, a friend arranged for her to have lunch with the Rev. Dr. Jerry Sittser, Northwestern's former chaplain who was on campus as a board member. He told her about an accident with a drunken driver that had killed his wife, his mother and his four-year-old daughter. He said he'd written a book, A Grace Disguised, about deep grief and God's enduring grace. Brittany knew of it; she'd been given several copies.
"He cried when he talked about his family, but I don't think I did when I talked about mine," Brittany says. "It hadn't even been a year. I was still numb. The only thing I remember clearly from our conversation is a dream he told me about."
Sittser described a recurring dream in which he was running, frantic, trying to escape a cloud of creeping darkness. The faster he ran, the larger the shadow loomed. He shared his nightmare with a friend, and the friend said it reminded him of a metaphorical truth: If you run toward a setting sun, you'll never reach the light. Face the darkness and walk through it. Brighter light is on the other side.
Brighter light—greater joy. Brittany isn't there. But she keeps going.